Mar-a-Lago: Such A Sweet Deal At Twice The Price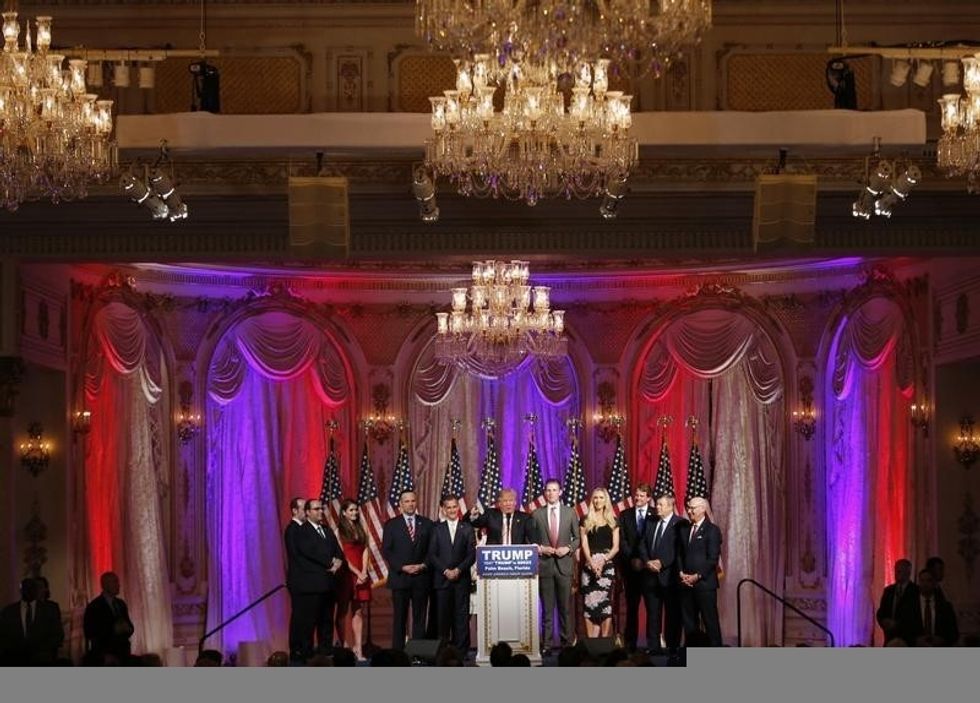 Welcome future members!
We here at beautiful Mar-a-Lago appreciate your enthusiasm at the prospect of joining our luxurious club, located on the almost-private island of Palm Beach.
Since November, we've been swamped with so many applications that we've decided to increase our initiation fee by 100 percent. Contrary to numerous fake news reports, we're not doing this to cash in on Mr. Trump's being elected president. That would be greedy and low-class.
The real truth is that we're planning some amazing new services and breathtaking renovations. When you see what we have to offer, we think you'll agree that paying $200,000 for the Mar-a-Lago lifestyle is actually a bargain.
Those of you who've visited our website know that one of our most popular "six-star" amenities is croquet. This is the sport where you dress up like Jay Gatsby and whack a hard ball through a series of bent coat-hangers that have been whimsically arranged on a wide green lawn.
Raising the club's initiation fees will allow us to upgrade our famous croquet operation. The traditional wooden balls will be replaced by ones made of authentic elephant ivory, supplied by Mr. Trump's older sons.
Another exciting change is coming to our renowned lunchtime bridge games. Each deck of playing cards will soon feature a hand-painted likeness of Mr. Trump as the king of hearts, and of Mrs. Trump as the queen of diamonds.
Winning bridge teams will be allowed to take home one of these special decks, which will also be on sale for $49 in the Trump Boutique.
Tennis is another beloved pastime here at Mar-a-Lago. In the months ahead we plan to re-surface our seven-star courts with bright new clay chosen by Mr. Trump's personal colorist. In addition, we'll be installing adjustable nets that will be strung at varying heights during the season, depending on the state of Mr. Trump's forehand.
For those of you who don't play tennis, bridge, or croquet, be assured that Mar-a-Lago still has much to offer for $200,000 — elegant suites, eight-star dining, and a service staff whose visa status is unassailable.
And let's not forget the magnetic presence of Mr. Trump himself.
Many prospective members have inquired about club protocol when the new president is in residence. Obviously, because of security issues, life at Mar-a-Lago is a bit less carefree during Mr. Trump's visits.
The tanning salon is closed to members and guests, though all other spa facilities operate under normal hours. Our nine-star beach club across the street also remains open — don't be too surprised if you see big Bill O'Reilly on his paddleboard!
Throughout the compound, the Secret Service is a visible presence. We discourage members from interacting with the agents. Please don't try to buy them drinks. Don't ask to see their guns. Don't tug playfully at their ear buds.
We are a social club, but these agents have a serious job to do. We expect our members to use common sense. When Mr. Trump is on the property, leave your croquet mallet on the croquet lawn. Do not bring it into the bar.
If you happen to see Mr. Trump in our 10-star restaurant or 11-star lobby, please don't try to shake his hand, pat him on the back, or touch his hair. We advise you to wave from a distance.
In the event Mr. Trump comes over and speaks with you, keep the conversation light. Golf is always a safe subject. For instance, he loves talking about the killer slope of the 18th green at Trump International, or that crazy dogleg on the 16th at Doral.
Come on — how many other private clubs give you the opportunity to schmooze with the leader of the free world? Not that we'd ever use that as a sales tactic, because it would be tacky and wrong.
Mr. Trump envisions Mar-a-Lago as a resort for all the people, including those Rust Belt voters who got him elected. And while we'd love to offer them a patriotic discount to join our club, it really wouldn't be fair to all our millionaire members who shell out the big bucks.
So, for one and all, the post-election price is $200,000. We do take personal checks.
An absolutely true news item: The initiation fee to join Donald Trump's private club, Mar-a-Lago, has been doubled from $100,000 to $200,000 since his election to the presidency.
IMAGE: Republican U.S. presidential candidate Donald Trump speaks about the results of the Florida, Ohio, North Carolina, Illinois and Missouri primary elections during a news conference held at his Mar-A-Lago Club in Palm Beach, Florida March 15, 2016.   REUTERS/Joe Skipper