What Makes March Madness So Deeply, Beautifully American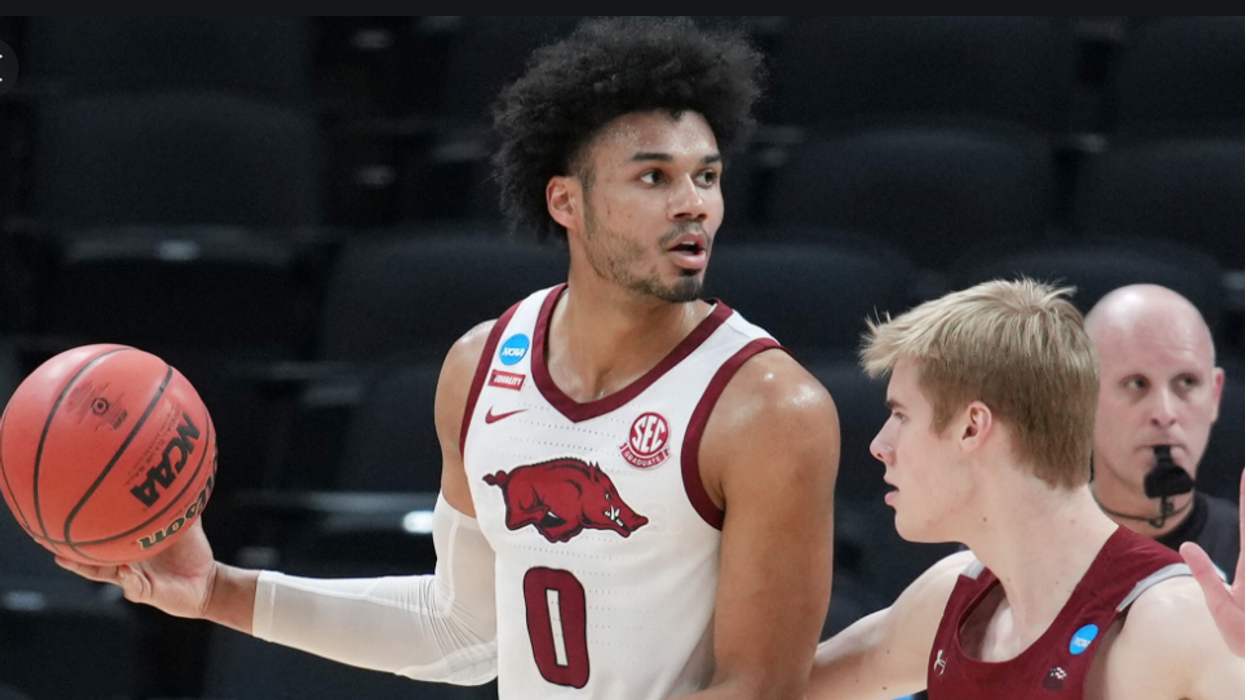 To give you some idea, my personal Road to the Final Four, as the TV announcers call it, began in junior high. My buddy Don and I were apprentice basketball junkies, shooting buckets and getting into pickup games every afternoon. New Jersey kids, we became obsessed with the great Jerry West—"Zeke from Cabin Creek," they called him—and his West Virginia Mountaineers.
There wasn't much college basketball on TV back then, but we followed West's exploits from WWVA radio in Wheeling, which came booming in after dark. West Virginia was to us a remote and fabled land. We reveled in tales of Jerry West's carefree backwoods childhood, so different from our own. (Basically a fantasy too: West had a troubled family, and has struggled with depression all his life.)
After the games, WWVA played country music. I became probably the only kid in school to own three Hank Williams albums, not to mention Jim and Jesse and the Virginia Boys. By day, I listened to blues musicians like B.B. King and Bobby "Blue" Bland on WNJR in Newark. This led indirectly to my enrolling at the University of Virginia, to marrying an Arkansas coach's daughter, and eventually following her home from school.
Speaking of remote and fabled lands.
But I'm getting ahead of myself. West's Mountaineers made it to the 1959 championship game, losing by one point to California. My own fascination with what's now called "March Madness," however, was only beginning. To me, the NCAA men's college basketball tournament is the nation's premier sporting event, and I'm so glad it's back.
For sheer Americana, nothing tops it. I still feel great gusts of Woody Guthrie-style patriotism just reading the first-round matchups. The Creighton Bluejays vs. the Gauchos of Cal Santa Barbara: An Omaha Jesuit school playing an elite public university with its own beach. Or how about Iona College (New York) vs. Alabama (Tuscaloosa)? Oregon vs. Virginia Commonwealth? I could go on.
As somebody whose imagination has always functioned geographically, one of my favorite rituals is the pregame player introductions. I mean, how often does Muscatine, Iowa see its favorite son (Joe Weiskamp, Iowa Hawkeyes ) featured on national TV? He has three teammates from Cedar Rapids, one from The Bronx, and another from London, England.
"This land is your land, this land is my land…"
For no particular reason, I've always pulled for the Hawkeyes. Also the Kansas Jayhawks, Oklahoma Sooners, Rutgers, and Virginia. For reasons I probably needn't explain, I've always enjoyed watching Duke lose.
By now I guess it's clear that I watch more college basketball on TV than is entirely consistent with sanity. Always have. The good news is that the coach's daughter thinks this relatively normal behavior. It beats a lot of bad habits men are prone to develop.
For that matter, Razorback basketball did more than anything else to make me an Arkansas patriot. Back when we first moved to her hometown, I felt like a stranger on the sports page. It was all football, all the time. Twelve games a year, 353 days of talking about it. Snore.
I wasn't sure I could hack it living here.
Then Coach Eddie Sutton arrived from, yes, Creighton University, and the local sporting culture has never been the same. He recruited three wondrously talented black Arkansas kids, Sidney Moncrief, Ron Brewer, and Marvin Delph—the so-called "Triplets"--they soon made the cover of Sports Illustrated, and everything changed. And not just on the sports page.
The basketball Hogs became the national team of Arkansas; I became a local patriot. Nobody here will ever forget U.S. Reed's 1981 miraculous half-court buzzer-beater defeating defending National Champion Louisville. Reed's feat led to the diverting spectacle of Texas Coach Abe Lemons—the sardonic Will Rogers of college basketball—"Calling the Hogs" on national TV.
Nearly every serious fan of March Madness has similar memories. Here in Arkansas, of course, we still savor the 1994 National Championship, all the sweeter for defeating Duke in the title game. I'd written a profile of Nolan Richardson for a local magazine, predicting big things for the then-embattled second year coach whose first Arkansas team had struggled with players unsuited to his full-court style.
My reasoning was simple: Having attended many basketball practices in my day, I found his well-organized and uniquely challenging. His physical presence and personal charisma made his players fear and love him. He knew talent when he saw it. Not everybody does. He'd won big everywhere else; he'd win big at Arkansas. Simple as that.
Anyway, it's been years since the coach's daughter and I have missed watching a Razorback game together. We even watched Arkansas win the 2000 SEC Tournament in a Manhattan hotel room, arriving fashionably late to my own book party.
And if your team loses? Pick another. There are 64 of them, from sea to shining sea.