After The March: How To Take Action In Trump's First 100 Days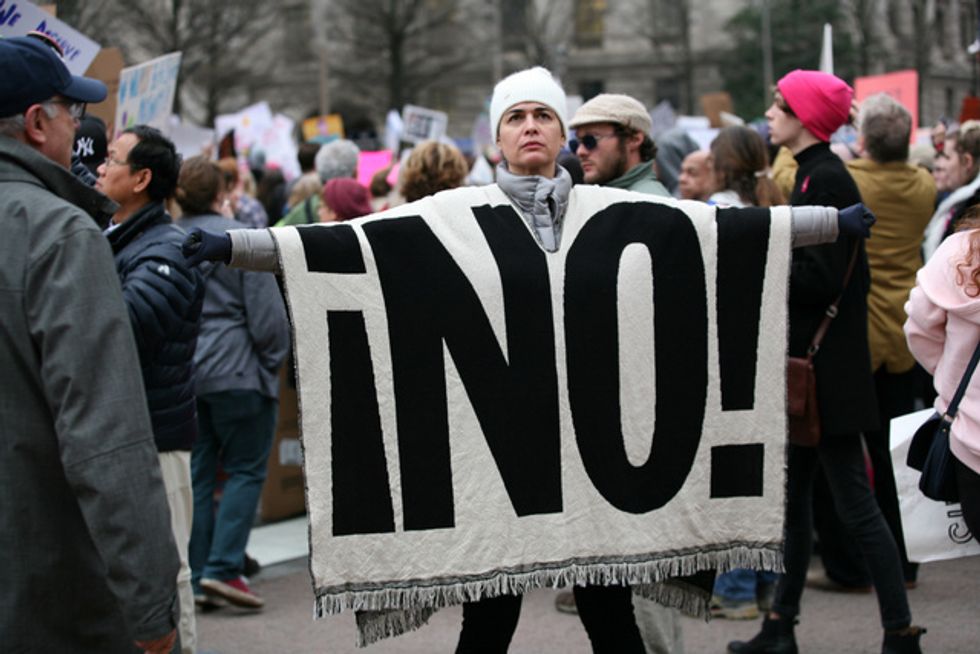 Reprinted with permission from AlterNet.
On Saturday we marched. This week, the work continues.
While the pundits of the world were wringing their hands over the limits of protest, and whether anti-Trump Americans can harness the defiant joy of the marches into sustained activism and electoral change, they ignored that some activism has already gotten started. Former Jason Chaffetz (R-Utah) staffer Emily Ellsworth wrote a series of viral tweets in the first two days after the election, which turned into Call The Halls, a guide explaining how to call your representatives the right way.
Phone calls are not always enough, but a flurry of them made an impact when they spurred a reversal of the GOP decision to eliminate the Office of Congressional Ethics. More recently, they may have helped to delay the votes for Betsy DeVos, and have put pressure on reps not to gut the Affordable Care Act. Letters can be recycled, emails can be deleted. So can online petitions. Calls, as Ellsworth explained in a New York Times interview, "[bring] a legislative issue right to the top of the mind of a member…It makes it impossible to ignore for the whole staff. You don't get a whole lot else done."
Ready to take the next step beyond calls? Try speaking to your representatives in person. The writers of the Indivisible Guide, former Democratic staffers blindsided by the Tea Party, wrote a guide telling people how to show up.  That means going to Town Halls and other public events, as well as making spontaneous visits to your representatives' district offices. It means staging sit-ins, as the NAACP did at at one of Jeff Sessions's district offices to oppose his nomination as Attorney General.
While multiple progressive groups will continue to issue specific calls to actions, call scripts, and meeting guidelines for various appointments and legislation in the coming days, it's important to make sure you have three basic principles down before you arrive, or even pick up the phone. Get ready. The Resistance is a marathon, not a sprint.
1. Organize locally 
The Tea Party accosted Representative Lloyd Doggett (D-Texas) who, as two staffers and contributors to the Indivisible Guide wrote in the LA Times, was "mobbed in an Austin parking lot by protesters carrying Revolutionary War battle flags and signs denouncing "socialized healthcare." Their simple chant, which would soon become familiar, was, "just say no."
As the Indivisible Guide's writers explain, the Tea Party acted by "focusing on members of Congress in their home states and districts, pushing them to use every available tool — legislation, letters, public statements, media interviews — to oppose Obama's every move." They also only focused on their own representatives. Many people in the Trump era are trying to call and visit elected officials that don't represent them, which, according to Ellsworth, the Indivisible Guide, and representatives themselves, is a waste of time. However, "By keeping relentless, local pressure on progressive members of Congress, we can embolden them to stand firm."
2. Play defense 
Until Democrats can find a unified series of policies to stand behind, the focus is simple: oppose, oppose, oppose. Think a progressive version of Mitch McConnell. As explained in the LA Times:
The movement's members understood that if they tried to choose among competing conservative priorities, their coalition would fracture. Rather than putting forward plans to stimulate the economy or to improve the healthcare system, they chose to "just say no." The tea party kept its movement strong, broad and unified by concentrating relentlessly on opposition.
As the midterm elections get closer, this strategy may shift to playing offense with specific policies, but only when and if the party can actually stand behind them.
3. Remember, they work for you 
Members of Congress want to keep their jobs. When all else fails, voters still have that leverage. They can raise all the money they want, but if they don't have the votes, elected officials won't stay in power. They love power. It's a weakness. Use that weakness to your advantage.
Beyond this foundation, members of MoveOn.org, the Working Families offerred a few more points during a conference call attended by at least 30,000 people on the night after the March:
Find a group  of like minded constituents in your district. MoveOn.org, the Working Families Party, and the Indivisible site all have group locators. Or, start you own and register with one of them. Remember to keep it local.
Spontaneous visits to district offices are good. Don't alert the office, but do alert the local press.
That said, plan your visits and your asks. Decide what the subject of the visit is, who will be speaking, and in what order. Keep it brief.
There are so many important pieces of legislation to fight against, but while the cabinet selection is on, start with rejecting Trump's nominations. There will be plenty of calls to action for specific legislation going forward.
Tell personal stories. For example, when arguing against Tom Price, make sure the person speaking has personal experience with the Affordable Care Act.
Don't take No for an answer. Your Senator works for YOU. Be persistent.
Record everything. You can take notes, you can ask to record audio or even film. Just make sure there's a record of the visit. This will help you stay on track, and have evidence to give the press later.
Don't assume that your Democratic representatives will vote the way you want them to. Go to their offices and tell them what you want them to do.
Ilana Novick is an AlterNet contributing writer and production editor.
IMAGE: A woman displays a blanket at the Women's March. REUTERS/Canice Leung