Marchers, Mayors Defy Venezuelan Government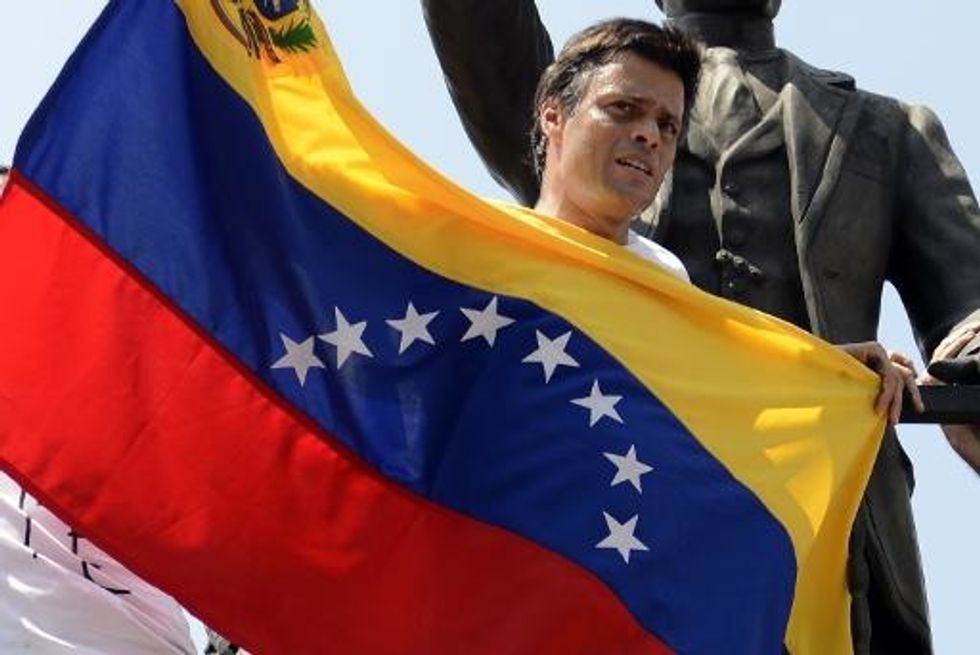 By Mery Mogollon and Chris Kraul, Los Angeles Times
CARACAS, Venezuela — Venezuela's government and opposition marchers were headed for a showdown Wednesday while several Caracas borough mayors defied a supreme court order that they clear barricades in parts of the capital where demonstrations against President Nicolas Maduro have now entered a second month.
Opponents to Maduro have organized a march in downtown Caracas in observance of the Flag Day national holiday, even as the government has vowed to stop marchers because they have no permit. National guard members in riot gear were seen posted in several points along the proposed march route Wednesday.
Maria Corina Machado, an opposition deputy in the National Assembly and a leader of protests against high crime, inflation and scarcities, had called for students and other Maduro opponents to march from Plaza Venezuela to the Public Defender's office to demand the release of students and others detained over the last month.
Meanwhile, supporters of the government have called for a competing march that also will end up in the same area as the protesters.
Police in riot gear blocked a march Monday by doctors and other health workers to protest the lack of medical supplies in city hospitals. On Tuesday, opposition groups in Valencia reported 12 were injured in clashes with police and in Merida at least 16 people were injured.
Also on Tuesday, the official death toll since protests began Feb 12 rose to 23 with the death of 24-year old Daniel Tinoco, a student in San Cristobal, the capital of Tachira state, the scene of some of the most violent protests.
Residents in the Chacao area of eastern Caracas reported a four-hour confrontation Tuesday night between protesters and national guardsmen, who fired several tear gas and rubber bullets to disperse crowds. Chacao is an affluent neighborhood once governed by former mayor Leopoldo Lopez, who remains jailed after his arrest Feb. 18 on incitement to violence charges.
The supreme court order that local mayors clear streets of barricades came after the mayors issued a joint statement over the weekend vowing that although they disagreed with the closures, they would defy any government effort to "intervene" in their local governments because it wasn't local police duty to "deal with public order problems."
"We support and accompany the massive and peaceful protest that has been expressed overwhelmingly in the streets of the principal cities of the country," said the statement signed by Carlos Ocariz, David Smolansky, Gerardo Blyde and Ramon Muchacho, all mayors of Caracas suburbs. "We are not going to attack human rights of those who demonstrate in this manner."
In a related matter, Chrysler announced it was shuttering for 60 days its car assembly plant in central Carabobo state for lack of auto components, although it will continue to pay 1,150 employees. The announcement comes one month after Toyota announced it was scaling back in Venezuela for similar reasons.
AFP Photo/Leo Ramirez