Marijuana: From Demonization To Legalization To Celebration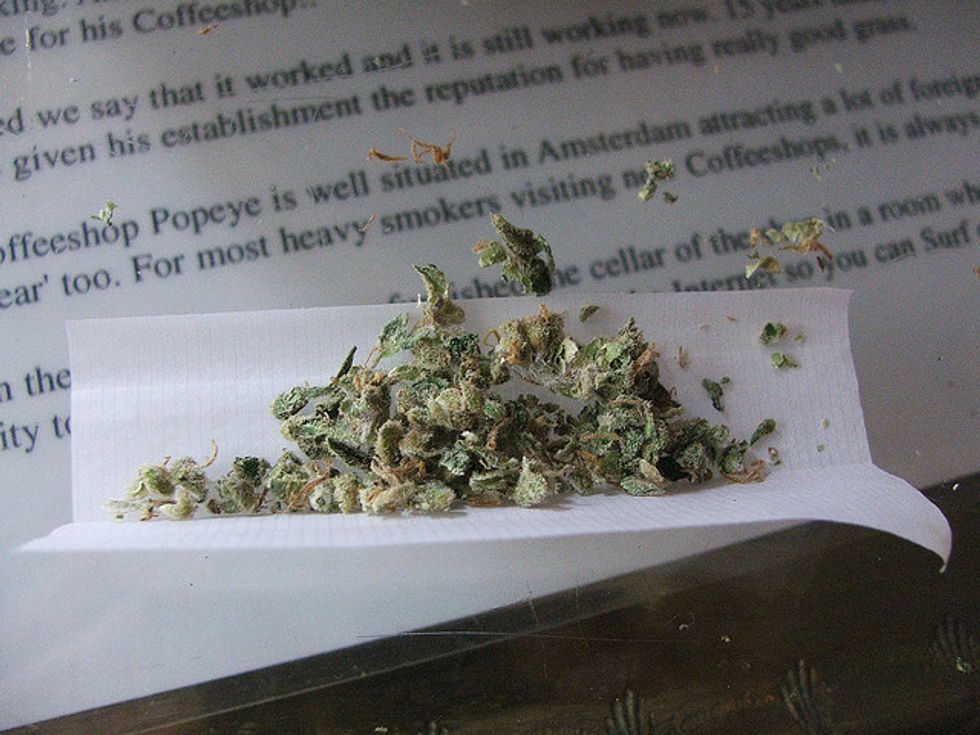 Earlier this year, music legends Willie Nelson and Merle Haggard teamed up to make a pro-marijuana video titled "It's All Going to Pot."
And, apparently they were right, for I've now learned that even the state fair is going to pot — literally. A press release from the organizers of the D.C. State Fair exclaims: "It's true! For the first time ever, we're hosting a new contest for local cannabis growers to show off their plants' finest buds." They're not just blowing smoke, for it turns out that Washington, D.C., voters passed a referendum in November to legalize marijuana — even to allow locals to grow up to six plants at their residences.
With the nationwide renaissance in urban agriculture, why not invite the proud cultivators of the happy weed to show off the finest produce from their pot plots? After all, state fairs already have contests for the best ice cream, pickles, home brew, compost, flower arrangements, crafts, and such — so it's not a stretch to see who can win the Marijuana Bud Blue Ribbon. The buds are to be judged on characteristics such as appearance, smell, and stickiness, but not such consumer-satisfaction qualities as "duration of high" or "development of mellowness." In fact, contrary to the judging of the Tastiest Tomato category, the entry form for the Best Bud Contest specifies rather sternly that judges "will not sample or consume your submission." That's probably smart, since the whole panel of judges could dissolve into uncontrollable giggles halfway through the sampling.
From the demonization of marijuana to legalization and now to celebration — it's a trajectory of progress that reflects some mellowing in society itself. As the D.C. State Fair people put it, "Now that it's legal, we wanted a way to highlight this new freedom while also showing off the agricultural talents of the District's people."
And with marijuana prohibition finally ending in states and cities across the land — including full legalization and/or commercialization not just in Washington, D.C., but also Alaska, Colorado, Washington State, and Oregon — who better than our friend Willie Nelson to lead the way for weed quality and social responsibility?
The iconic musician and intrepid fighter for justice has announced that he will market his own marijuana brand, "Willie's Reserve," and open a group of stores selling top-quality pot and paraphernalia. "I feel like I was buying so much of it, it's time to start selling it back!" Willie excitedly said of his new weed venture. "I am looking forward to working with the best growers in Colorado and Washington to make sure our product is the best on the market." A tireless champion of small farmers, civil liberties, the environment, common sense and the common good, he plans to start rolling out his stores and products (including hemp goods) this year, and he'll expand further as states' laws allow. In the typical Willie way, the stores will be "the anti-Walmart model," with a core purpose of helping expand the market for small, energy-efficient, environmentally sound growers.
Over the years I have cited Willie's work in calling for legalization and restoration of hemp farming in America. I've also called repeatedly for an end to the Orwellian, Kafkaesque drug war that has criminalized the cannabis equivalent of cocktail hour — 750,000 people are arrested each year for marijuana-related offenses.
And now, I salute the innumerable grassroots activists who've steadily pushed America from the darkness of marijuana madness to being able to light up a "Willie" without getting busted! So to Willie, Merle, the D.C. State Fair and all the longtime champions of this struggle for normality, "This bud's for you!" Find out more about marijuana legalization at the Marijuana Policy Project (mpp.org) and the National Organization for the Reform of Marijuana Laws (norml.org).
To find out more about Jim Hightower, and read features by other Creators Syndicate writers and cartoonists, visit the Creators Web page at www.creators.com.
Photo: Nina J. G. via Flickr