Maryland Governor Martin O'Malley Rips Rick Perry In <i>Washington Post</i> Op-Ed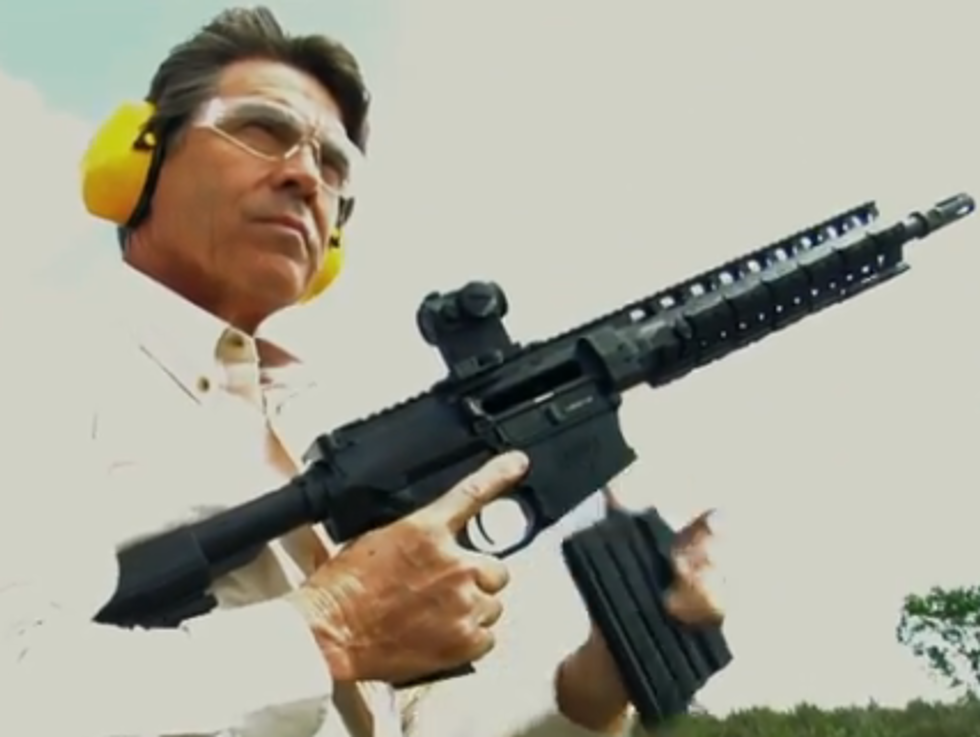 Maryland governor Martin O'Malley thinks Texas governor Rick Perry should take a page from his governing record — not a tour of his state — to spur job creation in Texas.
O'Malley, a Democrat and potential 2016 presidential candidate, took to the opinion pages of the Washington Post on Wednesday to defend his own record and air his grievances with the Republican Perry. As Post readers perused the op-ed page in the morning, Rick Perry was visiting the Beretta gun manufacturing factory in Accokeek, MD as part of his business tour of the state.
This isn't the first time Perry has toured a Democratic state in an attempt to lure businesses to Texas. In February 2013, he and Governor Jerry Brown (D-CA) got into a public spat over Perry's "business recruitment trip" in California. Brown's office pointed to California's business-friendly record to dismiss Perry's trip.
"I can understand why Rick Perry is interested in California. We were the national jobs leader for most of the last year with 257,000 new private sector jobs," said Kish Rajan, director of the Governor's Office of Business and Economic Development. "But business relocations only account for 0.03 percent of annual job losses in California. At that rate of growth, it would take 20 years to lose just 1 percent of our businesses to relocation."
Similarly, O'Malley called attention to the business climate Maryland enjoys, to rebuke Governor Perry. His argument: Perry's conservative record in Texas has not helped Texans find jobs or move into the middle class; his own liberal policies in Maryland, however, have been beneficial to his constituents.
First, the Maryland governor offered statistical data to show how Perry's conservative policies have been detrimental to Texans searching for work.
"Perry and like-minded Republican governors subscribe to the slash-and-burn economic philosophy — a belief that 'less' will somehow become "'more,'" O'Malley argued. "In Texas, he has implemented this vision with gusto, cutting taxes and slashing funding for critical middle-class priorities such as public schools, higher education, health care and infrastructure. The results? Texas ranks 49th in high school graduation, 10th in the rate of poverty and 50th in the percent of residents with even basic health insurance."
O'Malley then compared job and income numbers to show how Maryland and Texas match up.
"My administration has made Maryland a better place to do business by focusing on middle-class and sustainable jobs. In addition to being No. 1 in median income, the median wage for hourly workers in Maryland is $14.17 vs. $12.00 in Texas, which lags the national median of $12.80," the op-ed reads. "And while Texas leads the nation in minimum-wage workers, the U.S. Chamber of Commerce ranks Maryland first in the nation in innovation and entrepreneurship, second in concentration of science, technology, engineering and math jobs and third for its 'talent pipeline.'"
O'Malley also talked about Maryland's superior public education, to account for his state's high marks. "Maryland did more than any other state to hold down rising college tuition costs," he wrote. "We modernized infrastructure and invested in growing sectors such as biotechnology and life science, green technology and clean energy, aerospace and advanced manufacturing."
It's unlikely Perry will take O'Malley's advice; he's actually moving in a completely different direction. Instead of investing in schools and a higher median wage for hourly workers, Perry is lobbying gun manufacturers to move their businesses to the Lone Star State. For example, after Connecticut passed a gun control law, Perry reportedly tweeted to a Connecticut gun manufacturer: "Texas is still wide open for business!! Come on down."
Image via Governor Perry's YouTube