Massachusetts Is Set To Legalize Marijuana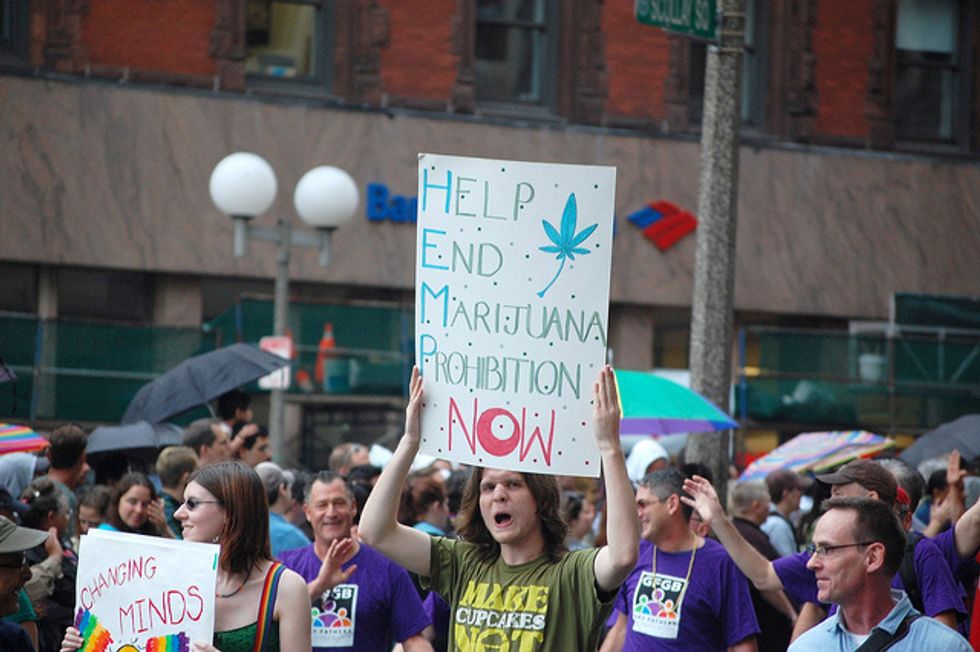 By this time next year, marijuana will likely be legal in the Bay State for adults 21 and older. Last December, Marijuana Policy Project backed the Campaign to Regulate Marijuana like Alcohol, and they turned in a sufficient number of signatures to send their indirect initiative to the Massachusetts statehouse. This week, the legislature officially began discussing the measure, which would legalize, tax, and regulate marijuana. If approved individuals would be able to possess up to an ounce outside their home, or 10 ounces in their home.
By law, the legislature has the option of simply approving the initiative now. Alternatively, they could let it go on the general election ballot for the voters to decide its fate directly.
Some of the most prominent politicians in the state have made it very clear they don't support the measure currently before the statehouse. In a bipartisan op-ed published just last week, Governor Charlie Baker (R), Attorney General Maura Healey (D) and Boston Mayor Martin J. Walsh (D) wrote, "Our emergency departments and drug treatment centers are beyond capacity, and our first responders are stretched to their limits. We should not be expanding access to a drug that will further drain our health and safety resources."
Yet there is little they can do to stop marijuana legalization from coming to Massachusetts. Voters in the state have repeatedly used the ballot initiative process to embrace marijuana reform over the objections of their political leaders.
In 2008, roughly two-thirds of the public voted to decriminalize possession of less than an ounce of marijuana, and in 2012 they approved an initiative legalizing the use of medical marijuana by a similarly lopsided margin. It now appears the voters are ready to move forward on their own again.
A recent UMass Amherst/WBZ poll found that 53 percent of registered voters plan on supporting the legalization initiative, while only 40 percent plan to vote no.
By historic standards, those are very strong numbers for a marijuana legalization ballot measure. At this point in the election cycle, it's polling better than several other past successful legalization initiatives.
Last cycle a SurveyUSA poll of Oregon from June 2014 found that state's legalization initiative polling at 51 percent "yes" to 41 percent "no" — it ended up winning with a margin of 56-44. Similarly, a PPP poll from May 2014 found Alaska voters48 to 45 in support of marijuana legalization. That November, Measure 2 was approved with just over 53 percent voting for it.
As it stands, the Regulation and Taxation of Marijuana Act in Massachusetts is strongly favored to win. It would mark another landmark moment for the legalization effort.
Photo: Pro-legalization activists march in Boston in 2010. Flickr user Josh McGinn.