Mastriano Campaign's Secret Meme Page Is Cesspool Of Bigotry And Extremism
@next2godwin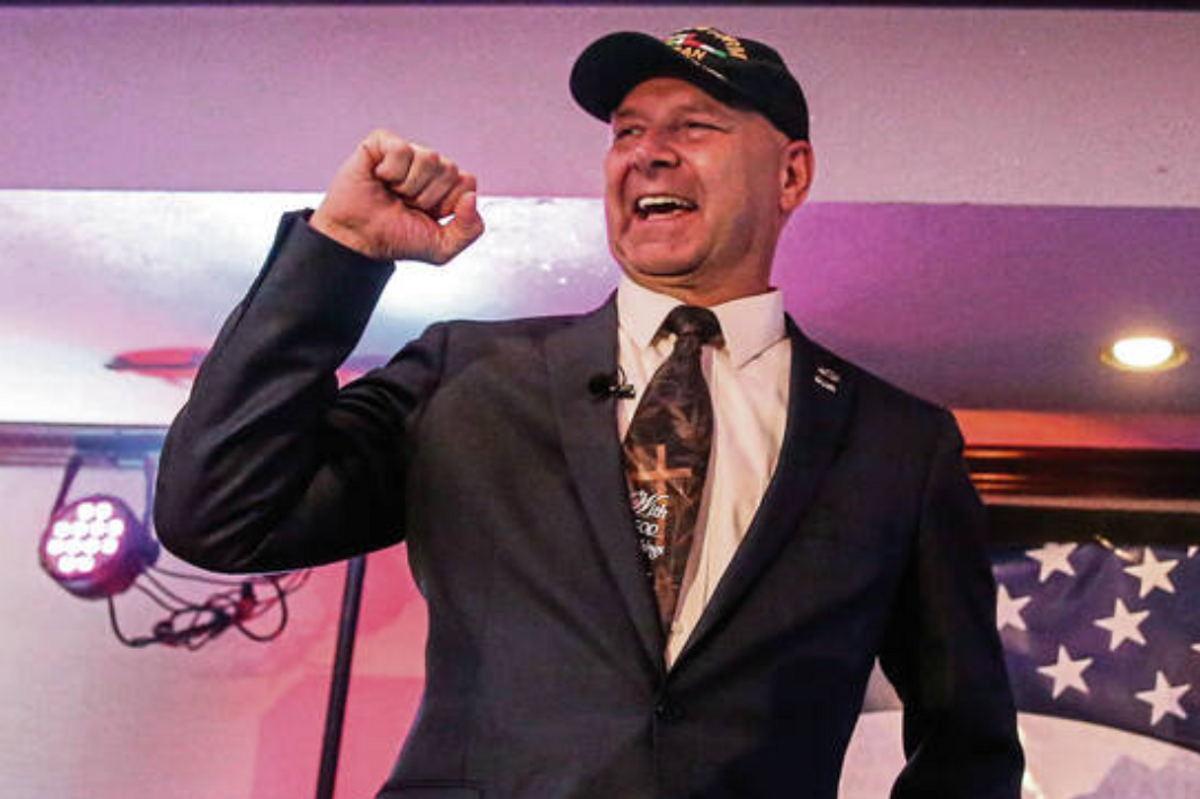 Doug Mastriano
The official campaign Facebook account of controversial Pennsylvania GOP Gubernatorial nominee Doug Mastriano has been secretly overseeing a Facebook group that has for months espoused fringe far-right ravings and vitriolic memes, the Daily Beast reported.
The public group, Mastriano Memes, is an echo chamber for disseminating groundless conspiracy theories and extreme right rhetoric with memes targeting trans people, migrants, Democrats, and other perceived "enemies" of the right, operating freely and with no moderation from the social media platform.
Given Mastriano's penchant for lies and ties to election deniers, antisemites, anti-vaxxers, and Christian nationalists — some of whom are at the helm of his spluttering campaign — it is not shocking that such extreme content, sometimes contained in up to dozens of posts daily, has gone unchecked by Mastriano and other admins, all of whom enjoy access to tools that control what members can post.
Recentposts in the group, the Beast's Roger Sollenberger noted, have poked fun at troubles that have rocked the Democratic party, most notably the stroke that Pennsylvania Democratic Senate hopeful John Fetterman suffered, with one user writing, "I wonder how many months the real doctors gave Fetterman to live."
Sickeningly shared for comedic sport is a tweet from Jack Posobiec, a far-right conspiracy theorist, labeling Fetterman a "vegetable" and a meme characterizing the lieutenant governor as Frankenstein's monster, subservient to Biden.
The near-assassination attempt of Paul Pelosi, the 82-year-old husband of House Speaker Nancy Pelosi (D-CA), at the hands of a Trump-supporting hoax peddler was also subject to collective ridicule within the group, as it has been from other Republicans.
Despite significant new details about the attack debunking myriad conspiracies peddled by the right, from figures at all levels of the GOP, including former President Trump, Mastriano supporters in the group have continued to promote falsehoods about the case and mock Paul Pelosi, who was hospitalized and had to undergo brain surgery following the break-in.
Neither Mastriano, an election denier himself, nor Facebook's content moderators have removed posts in the group pushing election fraud conspiracies, including a link to a Newsmax article pushing voter fraud lies, which Facebook's fact-checkers flagged for "false information" but never removed.
Found in Mastriano's nest of dark conspiracies are QAnon memes that depict President Joe Biden as a pedophile; an unhinged post that refers to abortion as sacrificially offering infants to "lucifer"; a meme calling the FBI Nazis, undoubtedly for the bureau's seizure of classified documents from Trump's Mar-a-Lago resort; and baseless allegations accusing Democrats of "pushing to let porn in our schools."
Former Firrst Lady Michelle Obama and successful Jewish financier George Soros — frequent targets for mockery, outlandish allegations, and outright lies — are oft-targeted in the group, the latter with antisemitic tropes, one of which portrays him as a puppet master.
Xenophobic memes flooded the group after Republican Florida governor Ron DeSantis tricked and illegally flew migrants to Martha's Vineyard, per the Beast. A meme cheered DeSantis for getting "all the scary brown people off our island," and another termed the migrants' arrival an "invasion."
Drag queens, WNBA Star Brittney Griner, and, again, Michelle Obama were hit with transphobic attacks, many of which have yet to be deleted, while state Attorney General Josh Shapiro, Mastriano's Democratic challenger, frequently mentioned in the group, is oftenattacked, too, as are other prominent Democrats.
Mastriano, an active administrator of the group, has since doubled down on years-long inflammatory rhetoric and far-right activism — spreading covid misinformation, doubts about the 2020 elections, and falsehoods about his involvement in the January 6 riot — as well as his proximity to far-right extremists and white supremacists.
Mastriano's campaign did not respond to the Beast's request for comments, and nor has it deleted the memes mentioned above, as of Wednesday morning.
Despite laughable sanitization efforts by Fox Host Tucker Carlson in softball interviews, recent polling has evocatively outlined Shapiro's nearly double-digit lead over Mastriano, of whom half of Pennsylvania voters hold an unfavorable opinion, a New York Times/Siena College survey found.
Among likely voters, 43 percent of females, 52 percent of African Americans, 52 percent of college degree holders, and 45 percent of voters over 65 find Mastriano "very unfavorable," according to the poll.
"The margins are even better for Shapiro, and I think it's an indication of the types of campaigns, the types of resources, and the fit with the electorate," Chris Borick — a political science professor at Muhlenberg College, in whose poll 55 percent of voters viewed Mastriano unfavorably — told the Morning Call.
"You have to have other pieces in place [to grasp victory in the cycle], Borick continued. "And I think it's fair to question whether the Mastriano campaign has those pieces in place. At this point, looking at our polls, and other polls, it seems there's not much evidence of that. Time's running out."