Mastriano Would Charge Women Who Get Abortion With Murder
@kerryeleveld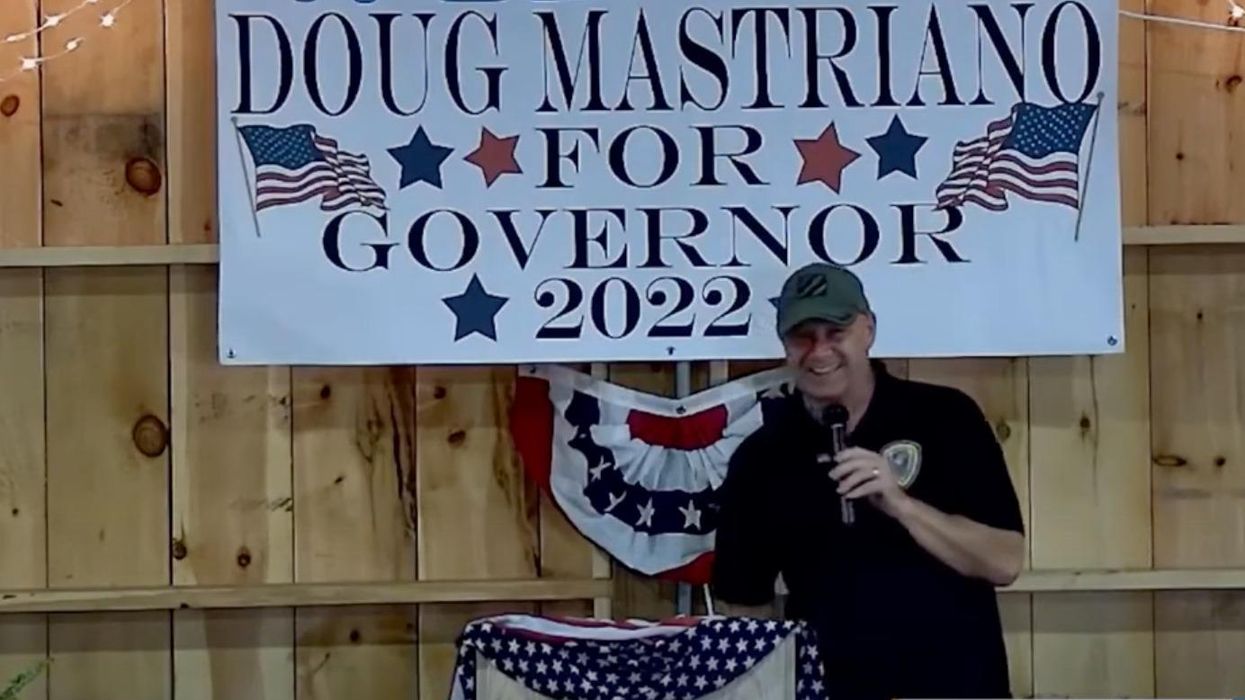 Youtube Screenshot
New audio uncovered of GOP gubernatorial nominee Doug Mastriano reveals him plainly saying in 2019 that women who have an illegal abortion should be charged with murder.
Mastriano, a Pennsylvania state senator, was discussing an abortion ban bill he had sponsored that would have outlawed abortion after a fetal heartbeat could be detected, typically around six weeks into a pregnancy. NBC News uncovered the audio of Mastriano's interview with radio station WITF in which he was asked if a woman who has an abortion at 10 weeks, which would be considered an illegal abortion under the proposed bill, should be charged with murder.
Mastriano initially dodges by contextualizing the question. "Is that a human being? Is that a little boy or girl?" he offers. "If it is, it deserves equal protection under the law."
But pressed for a response a second time, Mastriano bluntly confirms that he believes murder charges are in order.
"So you're saying, 'Yes,'" asks the interviewer.
"Yes, I am," Mastriano responds.
Before Mastriano won the GOP primary and went dark on abortion, he had called it his "No. 1 issue" and said he wanted to ban abortions without exception, "period."
But the revelation that he wants to charge people who have illegal abortions with murder is surreal. In May, a Politico/Morning Consult poll found just 16% of adults support imprisoning women who get abortions, while 73% of Americans oppose it.
On the bright side for Mastriano, he has now locked up the fringe group of voters who favor putting women behind bars for what in some cases is standard health care for people who experience complications during the course of their pregnancy.
The Shapiro campaign, on the other hand, is plenty happy to forfeit the fringes for the remaining three-quarters of sane voters.
"Doug Mastriano has said his number one priority is banning abortion with no exceptions for rape, incest, or the life of the mother — and now, it's clear he also wants to prosecute women for murder for making personal healthcare decisions," Shapiro spokesperson Manuel Bonder told NBC in a statement. "Mastriano has the most extreme anti-choice position in the country — and there is no limit to how far he would go to take away Pennsylvania women's freedom."
Wow. NBC obtained a 2019 interview with Republican nominee for Pennsylvania governor Doug Mastriano.

Q: Are you saying that a woman who decided to have an abortion [under your proposed bill] should be charged with murder?

A: "Yes, I am." https://t.co/ffuPrzoWiRpic.twitter.com/78HEuxX8cJ
— Sawyer Hackett (@SawyerHackett) September 27, 2022
Reprinted with permission from Daily Kos.