Mayor Names LA's First Latino Fire Chief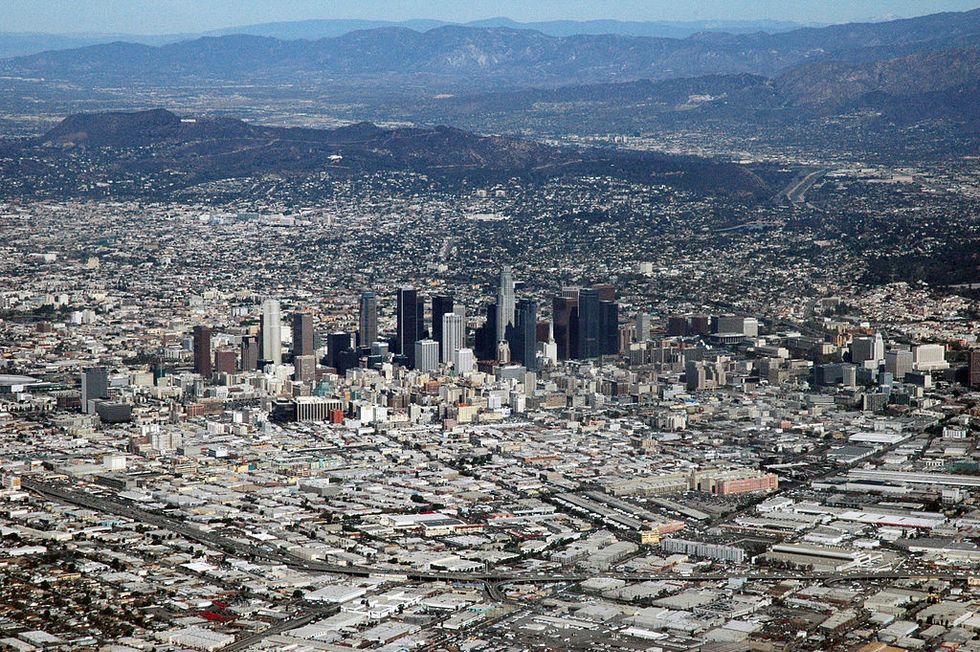 By Ben Welsh and Robert J. Lopez, Los Angeles Times
LOS ANGELES — Los Angeles Mayor Eric Garcetti has named the first Latino to lead the city's Fire Department as it struggles with an onslaught of criticism over staff reductions, lagging response times, slow progress in hiring women, and minorities and outdated technology.
The choice of Assistant Chief Ralph M. Terrazas, a Los Angeles native who was raised in Wilmington and lives in San Pedro, was announced Tuesday by Garcetti after a nationwide search for a replacement for former Chief Brian Cummings, who resigned under pressure last fall as the agency's troubles multiplied.
"I want to fight, with the mayor, to reform the Fire Department," Terrazas said after being introduced at a City Hall news conference.
Garcetti said the 54-year-old Terrazas would be the first Latino chief in the department's 128-year history and "the best of insider and outsider" to lead the agency forward. Terrazas' appointment must be approved by the City Council, which the mayor said he expects to happen in August.
Minutes after Terrazas' selection was announced, the city's influential firefighters union released a statement congratulating him, but also warning that rank-and-file members will resist a series of changes being discussed for the LAFD, some of which have been supported by the mayor and previous fire chiefs.
Terrazas worked his way up through the department over the last 30 years and recently was a top chief overseeing dozens of firehouses serving the southern section of the city.
He also helped establish and lead the LAFD's Professional Standards Division, created six years ago to reform a troubled discipline system roiled by discrimination and bias complaints that led to millions of dollars in taxpayer-funded legal payouts.
If confirmed, Terrazas will be paid $292,000 annually and take charge at a crucial juncture for the LAFD, which has more than 3,200 sworn members and has been buffeted by a series of recent controversies and deep, recession-driven budget cuts.
Earlier this year, the department was forced to overhaul how it hires firefighters amid concerns about nepotism and a failure to recruit significant numbers of women and minorities. The agency has also been struggling to upgrade its aging technology and create a unit to analyze response time and other operational data. The unit was approved after Cummings and other top fire officials admitted to misstating how fast rescuers get to victims during emergencies.
Cummings announced his retirement in October, three months after the inauguration of Garcetti, who made improving the LAFD a cornerstone of his successful campaign last year.
Terrazas has been a member of Los Bomberos, an organization that has represented Latino firefighters in the department.
Another top candidate for the job, Interim Chief James G. Featherstone, took temporary command of the department in November. Garcetti thanked Featherstone for his service, but added that Terrazas had the best combination of experience in the field and in managing complex administrative tasks. Terrazas has a master's degree in public administration from California State University, Los Angeles, according to his online resume posted at LinkedIn.
Recent LAFD chiefs have had short tenures, with three moving in and out of the office in the last eight years. Terrazas would be the 18th person to serve as chief of the LAFD.
Jacqueline Zarate, president of the association of Latino city employees, recalled working with Terrazas during functions planned with Los Bomberos. "He'll do a great job," she said. "He's going to look at what's best for the needs of the entire city and not just Latinos."
Photo via WikiCommons
Interested in national news? Sign up for our daily email newsletter!