McConnell Finally Backs Russian Hacking Investigation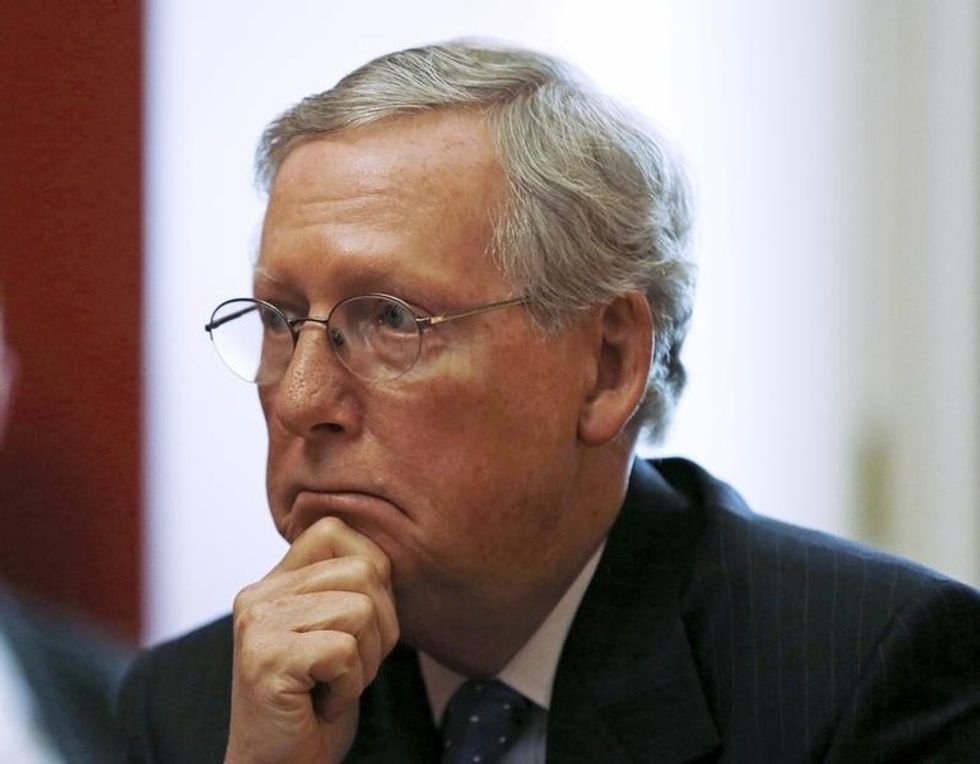 WASHINGTON (Reuters) – U.S. Senate Republican leader Mitch McConnell decried Russian hacking aimed at interfering in the 2016 presidential election and backed an investigation on Monday, even as President-elect Donald Trump dismissed concerns about the matter.
"Any foreign breach of our cyber security measures is disturbing and I strongly condemn any such efforts," McConnell said at a news conference. "This simply cannot be a partisan issue."
McConnell said it "defies belief" that Republicans would be reluctant to investigate activity reportedly intended to help Trump.
"The Russians are not our friends," McConnell said.
Some lawmakers have called for a special committee to investigate the hacking but McConnell did not back that idea, saying he has confidence in reviews by the Senate Intelligence and Armed Services committees.
The Washington Post, citing sources briefed on the matter, said that when congressional leaders were informed in September about a CIA assessment that Russia had intervened on behalf of Trump during the campaign, McConnell expressed doubts about the veracity of the intelligence.
McConnell said on Monday he had the highest confidence in the intelligence assessments of U.S. agencies, especially the CIA.
"The CIA is filled with selfless patriots, many of whom anonymously risk their lives for the American people," he said.
It was not clear how the House of Representatives would respond to the hacking and calls for investigations. House committees have not announced plans for hearings and Republican House Speaker Paul Ryan issued a statement criticizing Russia but blasting what he termed "exploiting the work of our intelligence committee for partisan purposes."
Ryan said the House Intelligence Committee has been "working diligently" on cyber threats and would continue to do so.
'CONSPIRACY THEORY'
Senator Charles Schumer, who will be Democratic leader next year, said he welcomed McConnell's support for "a deep and thorough bipartisan investigation" with access to all relevant intelligence.
Trump and his staff have repeatedly dismissed the reports as "ridiculous," blaming them on Democrats unhappy that Trump defeated Democrat Hillary Clinton in the Nov. 8 election.
"Can you imagine if the election results were the opposite and WE tried to play the Russia/CIA card," Trump said on Twitter on Monday. "It would be called conspiracy theory!"
A second tweet said, "Unless you catch 'hackers' in the act, it is very hard to determine who was doing the hacking. Why wasn't this brought up before election?"
McConnell blamed Democratic President Barack Obama's administration for trying to reset relations with Russia for eight years while Moscow "expanded its influence, intervened in Crimea, eastern Ukraine, Syria, and attempted to bully the Baltic countries."
The U.S. government accused Russia of trying to interfere with the election process a month before Election Day. A statement from the Director of National Intelligence and the Department of Homeland Security said the hacks could have been authorized "only by Russia's senior-most officials."
Separately on Monday, nine Democratic and one Republican electors led by the daughter of the House Democratic leader, Nancy Pelosi, wrote to James Clapper, the U.S. Director of National Intelligence, requesting a briefing on the hacking reports before the Electoral College formally decides the election on Dec. 19.
(Additional reporting by Susan Heavey; Editing by Bill Trott)
IMAGE: Senate Majority Leader Mitch McConnell (R-KY) (C) listens to reporters during a question and answer session with reporters on Capitol Hill in Washington October 20, 2015. REUTERS/Gary Cameron