McConnell Frets Over Possible Senate Loss
@FAWFULFAN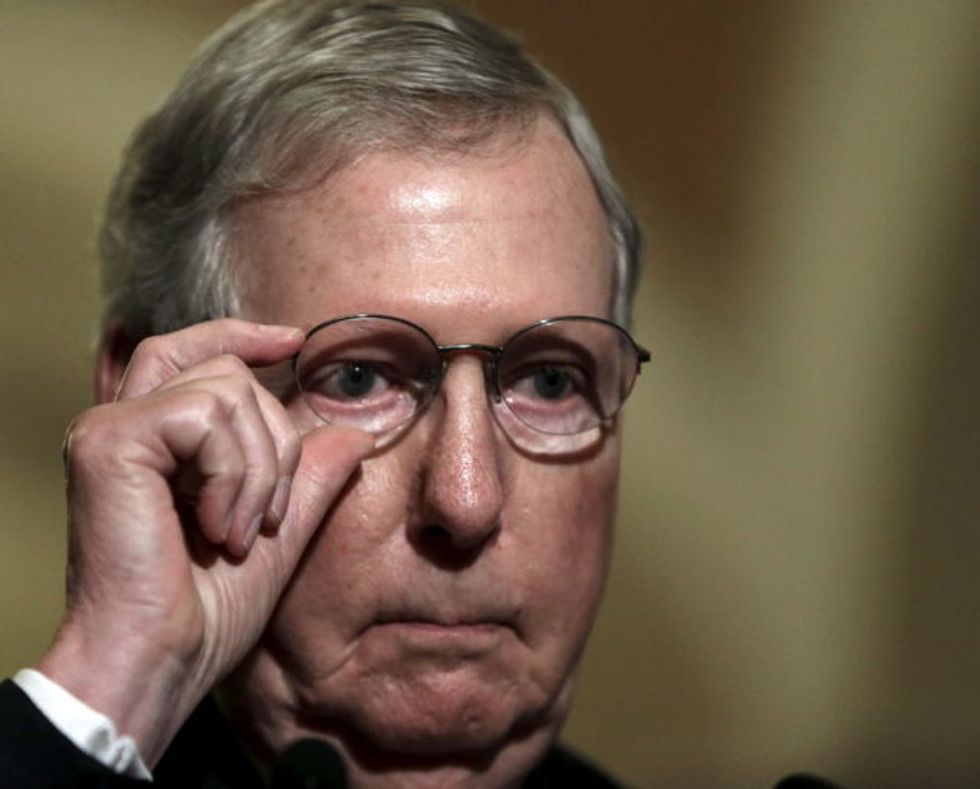 Reprinted with permission from AlterNet.
Democrats pose a grave threat to the Republican House majority for the fall. The latest Quinnipiac poll shows Democrats leading the generic congressional ballot by 14 points, with a 15 point lead among independents and a 20 point lead with women.
But less attention has been devoted to the possibility that Democrats could retake the Senate, and for good reason: the map is stacked against them. 24 Democratic seats are up for election, versus only 9 Republican seats. And 10 of those Democratic seats are in states President Donald Trump carried.
But according to the Washington Post, one person is now taking seriously the chance of a Democratic takeover of the Senate: Republican Senate leader Mitch McConnell.
Senate Majority Leader Mitch McConnell (R-Ky.) on Tuesday sounded some of the most doubtful notes of Trump's presidency that Republicans will keep the upper chamber of Congress, telling reporters, "I hope when the smoke clears, we'll still have a majority."

His comments came as Republican strategists and officials fretted over a fresh round of private polling on the Senate races, while public polls registered further erosion in Americans' approval of Trump. "Shipwreck" was how one leading strategist described the situation, adding an expletive to underscore the severity of the party's problems.
As the Post notes, such an outcome was once considered "unthinkable." But the problem for Senate Republicans is that, while they started out with a massive geographical advantage, the map keeps shrinking for them, and growing for Democrats.
Numerous states where Republicans hoped to compete against Democratic incumbents are now looking out of reach due to poor recruiting and Trump's unpopularity, like Michigan, Wisconsin, Ohio, Pennsylvania, and especially Virginia, where the GOP immolated their chances against Sen. Tim Kaine by nominating Corey Stewart, a Confederate sympathizer with ties to white nationalists.
Republicans are still credibly in play against Sen. Bill Nelson in Florida, Sen. Claire McCaskill in Missouri, Sen. Joe Donnelly in Indiana, and Sen. Heidi Heitkamp in North Dakota, and possibly Sen. Jon Tester in Montana. But they are not consistently ahead in any of these races. Some of the candidates, like Kevin Cramer in North Dakota, are struggling to justify Trump's policy decisions like tariffs. Others face scrutiny for their own records, like Josh Hawley in Missouri, who is currently part of a lawsuit to strike down protections for pre-existing conditions.
Meanwhile, some other Senate races in deep red states where everyone assumed Democratic incumbents would be in danger seem to simply be fizzling, like West Virginia, where Sen. Joe Manchin is comfortably ahead of state attorney general Patrick Morrisey.
On the flip side, Democrats are expanding their offensive efforts. Originally, the only states thought to be serious candidates for Democratic flips were Arizona, where Sen. Jeff Flake is retiring, and Nevada, where Sen. Dean Heller is the only GOP incumbent defending a state Hillary Clinton won. But polls now also show Democrats competitive in Tennessee, where popular former Democratic governor Phil Bredesen is facing far-right firebrand Rep. Marsha Blackburn, and Texas, where El Paso Rep. Beto O'Rourke has built a gigantic grassroots operation against infamous Sen. Ted Cruz. This last race in particular seems to worry McConnell, because even if Senate Republicans manage to defend Texas, doing so will cost them tens of millions that they wanted to spend against Democratic incumbents.
Some polls even show that depending on what happens in the first round, Democrats could win Mississippi, where they have a star recruit in former Rep. Mike Espy.
If a Democratic takeover of the House would be a nightmare for Trump, a Democratic takeover of the Senate would be an absolute disaster. It would mean his opponents chair every single investigative committee in Congress, and would also put an end to his unchecked confirmations of far-right judges.
It is little wonder that Republicans are desperate to ram through the Supreme Court confirmation before the elections are held.
Matthew Chapman is a video game designer, science fiction author, and political reporter from Austin, TX. Follow him on Twitter @fawfulfan.