McConnell Joins Pelosi To Denounce Trump's Syria Catastrophe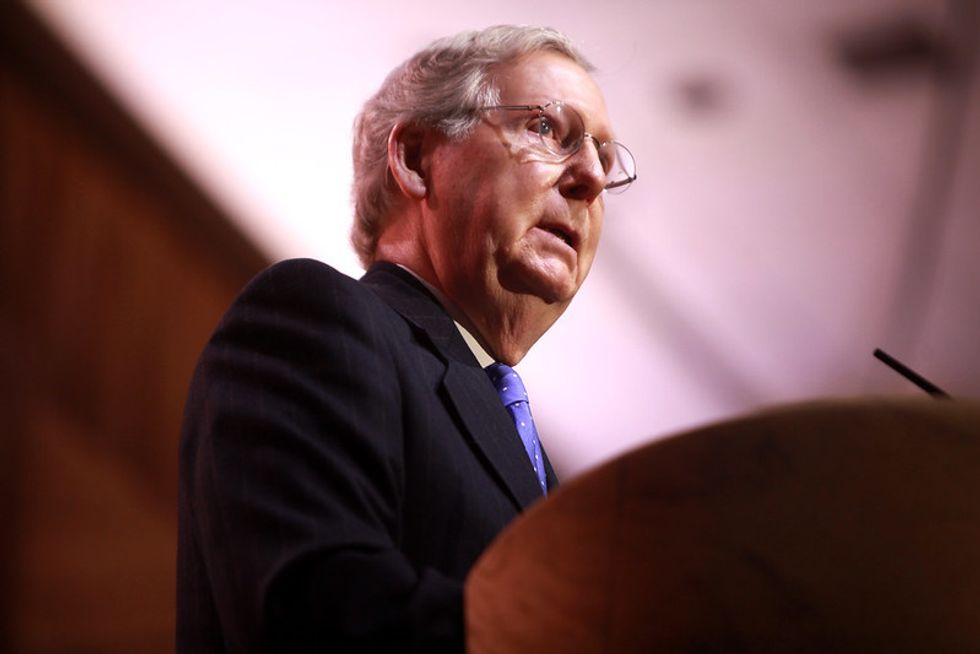 The hits just keep on coming for Donald Trump — from his own party.
After the House, led by Speaker Nancy Pelosi, passed a  resolution Wednesday opposing Trump's actions in Syria, Senate Majority Leader Mitch McConnell said he wants to hold a vote on a resolution as well.
In fact, McConnell said that his "first preference is for something stronger than the House resolution," according to Bloomberg's Laura Litvan.
The House resolution condemns Trump's decision to pull troops from Syria, abandon the United States' Kurdish allies, cede Syria to Russia and Iran, and create instability in a region that could lead to the rise of ISIS. The resolution passed with strong bipartisan support, in a 354-60 vote.
Republicans have been unusually vocal about their disapproval of Trump's decision, though many of them refused to call Trump out by name and have wrongly blamed others for the mess Trump created. For example, Rep. Liz Cheney (R-WY), blamed the impeachment inquiry for the Turkish assault on the Kurds.
Still, some major Trump defenders, including Sen. Lindsey Graham (R-SC), have been outspoken against Trump's move.
Graham and Trump got into a war of words Wednesday, with Trump dressing down Graham in a bizarre and unhinged news conference at the White House.
"Lindsey Graham would like to stay in the Middle East for the next thousand years, with thousands of soldiers and fighting other people's wars," Trump said in response to Graham's criticism.
That Republicans are willing to criticize Trump on Syria, but not on his apparent attempt to strong-arm Ukraine into investigating a potential 2020 Democratic rival, puts the party in an awkward position of simultaneously defending and criticizing Trump.
Nevertheless, Republicans' open castigation the head of their party is likely to add to the list of problems on Trump's plate, and possibly make him even more unhinged than he's been since the impeachment inquiry began.
Published with permission of The American Independent