McConnell, McCarthy Challenged As Hill Republicans Bicker Over Wreckage
@next2godwin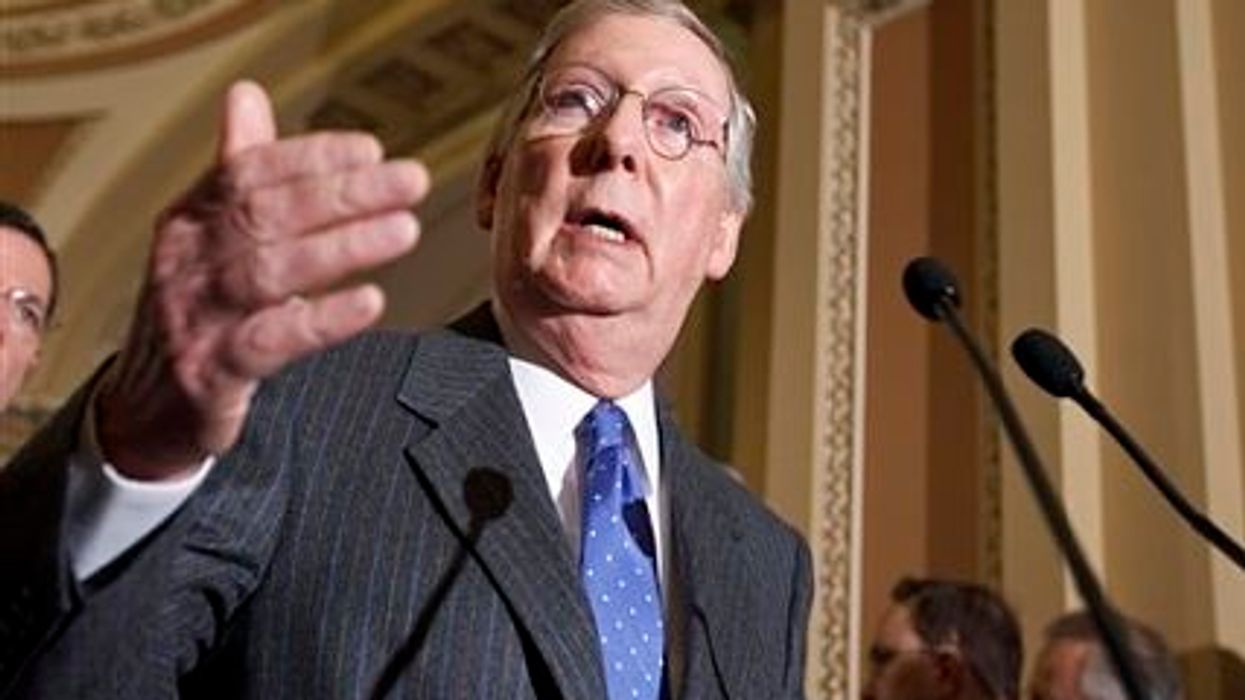 Calls are growing from within the GOP for their Congressional caucus to hold off on leadership elections in light of the party's underwhelming midterm performance and narrowing path to victory in both chambers.
As things stand, the partisan breakdown of the forthcoming 118th Congress remains unclear: Major networks called the Arizona Senate race for Sen. Mark Kelly (D-AZ) late Friday, putting Democrats in a prime position to grasp a 51 - 49 majority in the U.S. Senate, with incumbent Democratic senators Catherine Cortez Masto (D-NV) and Raphael Warnock (D-GA) favored to outdo their Republican challengers.
NBC News currently projects a slim GOP House majority of "220-215" in the next Congress, with a "+/- 7" margin of error, positing — regardless of insurrectionist Rep. Lauren Boebert (R-CO)'s sudden lead in Colorado's third Congressional district race — the slight but real possibility Democrats could hold the House, albeit by a tiny margin.
Despite this remarkable outcome on the horizon, which has stunned lawmakers of both parties, Senate GOP leaders reportedly plan to hold leadership elections next week, inciting the ire of other right-wing lawmakers demanding a delay and posing a direct challenge to McConnell.
Senators Cynthia M. Lummis (R-WY), Josh Hawley (R-MO), Marco Rubio (R-FL), Mike Lee (R-UT), Rick Scott (R-FL), and Ted Cruz (R-TX) have publicly demanded the postponement of next week's secret election, in which McConnell is expected to win re-election, the Washington Postreported Friday.
Hawley and Cruz have called for a stay in GOP Senate election proceedings until after the Georgia Senate runoff on December 6, the Post noted in its report.
\u201cExactly right. I don\u2019t know why Senate GOP would hold a leadership vote for the next Congress before this election is finished. We have a runoff in #GASenate - are they saying that doesn\u2019t matter? Don\u2019t disenfranchise @HerschelWalker\u201d

— Josh Hawley (@Josh Hawley) 1668186082
\u201cIt makes no sense for Senate to have leadership elections before GA runoff. \n\nWe don\u2019t yet know whether we\u2019ll have a majority & Herschel Walker deserves a say in our leadership.\n\nCritically, we need to hear a specific plan for the next 2 yrs from any candidate for leadership.\u201d

— Ted Cruz (@Ted Cruz) 1668199494
"We are all disappointed that a Red Wave failed to materialize, and there are multiple reasons it did not," Johnson, Lee, and Scott wrote in a letter circulated to other GOP senators, according to Politico.

"Holding leadership elections without hearing from the candidates as to how they will perform their leadership duties and before we know whether we will be in the majority or even who all our members are violates the most basic principles of a democratic process," the senators added.
Rubio tweeted Friday that leadership elections should not hold until the party is "sure that those who want to lead us are genuinely committed to fighting for the priorities & values of the working Americans," a sentiment Hawley quickly agreed with.
A Rubio advisor told the Post that the senator wants "Senate Republicans to figure out 'what in the world happened' before they elect their next leaders" and didn't rule out Rubio, who won his race by a large margin, going for a leadership spot.

According to CNN, the internal back-biting may have been incited, to some extent, by the beleaguered former President, Donald Trump, who is seeking to shift blame for the GOP's devastating midterm losses to McConnell, presenting a new headache for the Senate minority leader.
Representatives for McConnell didn't return the Post's request for comment. However, Senate GOP leaders are moving forward with plans to hold the election despite the bubbling dissension, reports Politico.
"After presentations from candidates, and there is every opportunity to address questions from every member, we will complete leadership elections," Sen. John Barrasso, chairman of the Senate Republican Conference, wrote to his colleagues on Friday afternoon in a letter, an excerpt of which Politico published.
Tough Reality For House Republicans
Republican lawmakers in the U.S. House, who — like their Senate counterparts — believed they would cruise to a smashing victory, are finally contending with the reality that the GOP might fall short of a large majority, if they win at all, quashing their prospects of enacting pre-planned legislation and leadership maneuvers.
The Post reported that House Republicans understand Democratic votes would be crucial in a lower chamber narrowly dominated by the Republican Party.
"It's an unworkable majority. Nothing meaningful will get passed," a senior House Republican told the Post on the condition of anonymity.
In a statement to the Post, outgoing Rep. Peter Meijer (R-MI) blamed the Republican party's grim outlook on the extremism perpetuated by its conspiratorial far-right caucus, which culminated in the January 6, 2021, attack on the U.S. Capitol by a mob of Trump supporters.
"By midnight on January 6, it was obvious that if we continued to sleepwalk down the path of crazy we'd face a rude awakening," Meijer said.
"Instead of facing those facts, the GOP spent the last two years heading in the same direction and actively avoiding any internal reckoning. After Tuesday, we have no choice but to heed voters when they say that 'the grass is green, the sky is blue, and by the way, you just got your ass handed to you.' But waking up to that reality is going to be rough," he added.
Like McConnell, House Minority Leader Kevin McCarthy has pushed on with his speakership bid, defying opposition from factions of House Republicans opposing his efforts.
On Friday, Rep. Matt Gaetz (R-FL) said in a tweet that the House GOP ought to "put our star players in a position to shine brightest so that we can attract more people to our policies and ideas" and denounced McCarthy and his allies as the "C-team."
"There are people who swear upon firstborn children that they'll never vote for McCarthy," an aide to a senior Republican lawmaker told the Post, anonymously discussing internal party consternations.
Members of the House's far-right pro-Trump faction, the Freedom Caucus, have also reportedly withheld their support for McCarthy's drive until its laundry list of demands is met, per reporting by the Post and CNN.