McConnell Suspected Of Partisan Abuse Of Power (Again)
@FAWFULFAN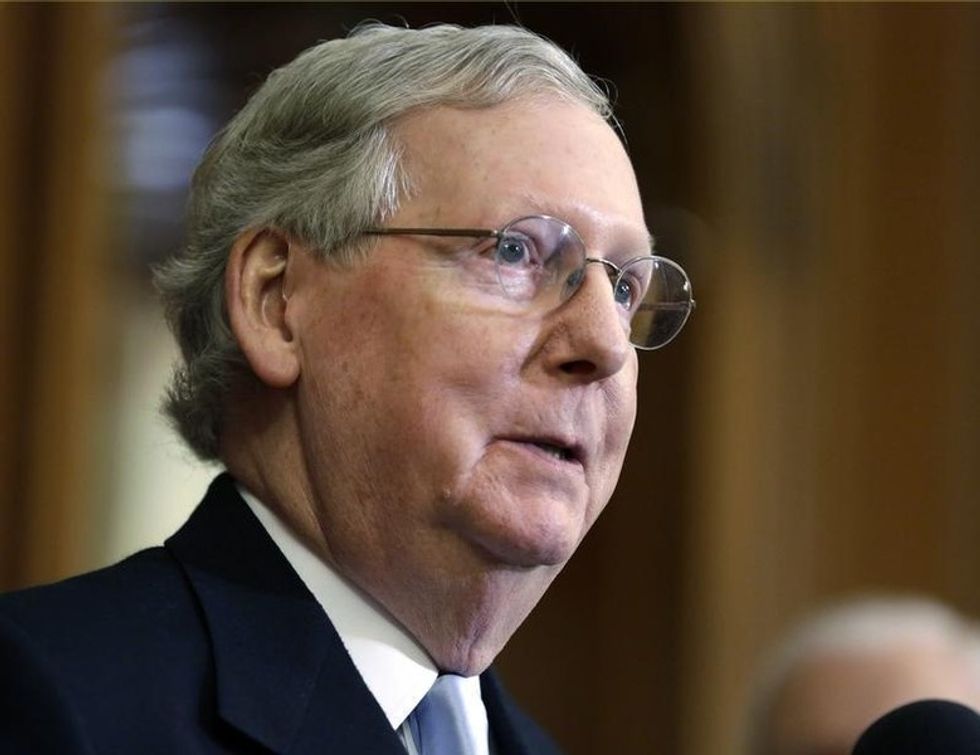 Reprinted with permission from Shareblue.com
Senate Majority Leader Mitch McConnell (R-KY) is no longer confident he can keep his GOP majority this fall. It's apparently so bad, he's resorting a desperate Hail Mary tactic: keeping the Senate open so long that red-state Democrats will be trapped in Washington and unable to go home to campaign for re-election.
At least, that's what sources tell the conservative Washington Examiner.
According to the new report, White House legislative liaison Marc Short told a private gathering of GOP donors that McConnell wants to extend the workweek so vulnerable Democratic senators in states Trump won are "tied up from campaigning."
McConnell has not confirmed this is his motivation for the proposed longer workweek, and his spokespeople have claimed the longer weeks are intended to force through Trump's nominees in a timely manner.
But changing the calendar to trap campaigning Democrats in D.C. would not be out of character for a Senate leader whose career has been defined by twisting and upending Senate rules to injure his opponents.
From stealing a Supreme Court seat, to arbitrarily silencing Sen. Elizabeth Warren from reading Coretta Scott King's criticism of Jeff Sessions, to abusing budget rules so Democrats had no say in the GOP tax scam bill, to crushing bipartisan efforts to protect special counsel Robert Mueller, McConnell has time and again thrown ethics out the window to get his way.
And McConnell has good reason to worry about his prospects of unseating Senate Democrats in a fair fight.
2018 was once thought to be a prime chance for GOP Senate pickups, due to the sheer number of Democrats facing re-election in states Trump won. But day by day, the GOP's position in these Senate contests has sagged under the weight of subpar candidate benches, scandals, and Democratic voter enthusiasm.
In Ohio, the strongest Republican opponent against Sen. Sherrod Brown withdrew. In Florida and North Dakota, the GOP got their preferred candidates in Gov. Rick Scott and Rep. Kevin Cramer, respectively. But Scott's newest polling is lackluster, and Cramer is hurting himself making weird sexual analogies about Sen. Heidi Heitkamp. In Missouri, GOP frontrunner Josh Hawley is struggling to disentangle himself from Gov. Eric Greitens' horrific sexual assault scandal. In Indiana, GOP candidates are in open war over who is the best Trump sycophant, but poll poorly for the general election. In Pennsylvania, Trump's preferred candidate has ties to Holocaust deniers. And in West Virginia, Republicans are frantically trying to stop a convicted criminal from winning the primary.
Meanwhile, Democrats are starting to go on the offensive for Republican Senate seats. They won Alabama's open seat last year. Arizona and Nevada's Senate races have been predicted to be competitive from the start. Now, Democrats are even making serious plays for Mississippi, Tennessee, and Texas.
So if McConnell wants to remain leader, abusing his powers to cut Democratic campaigns short may be one of his only remaining options.