McConnell To Trump: 'Stick To The Script'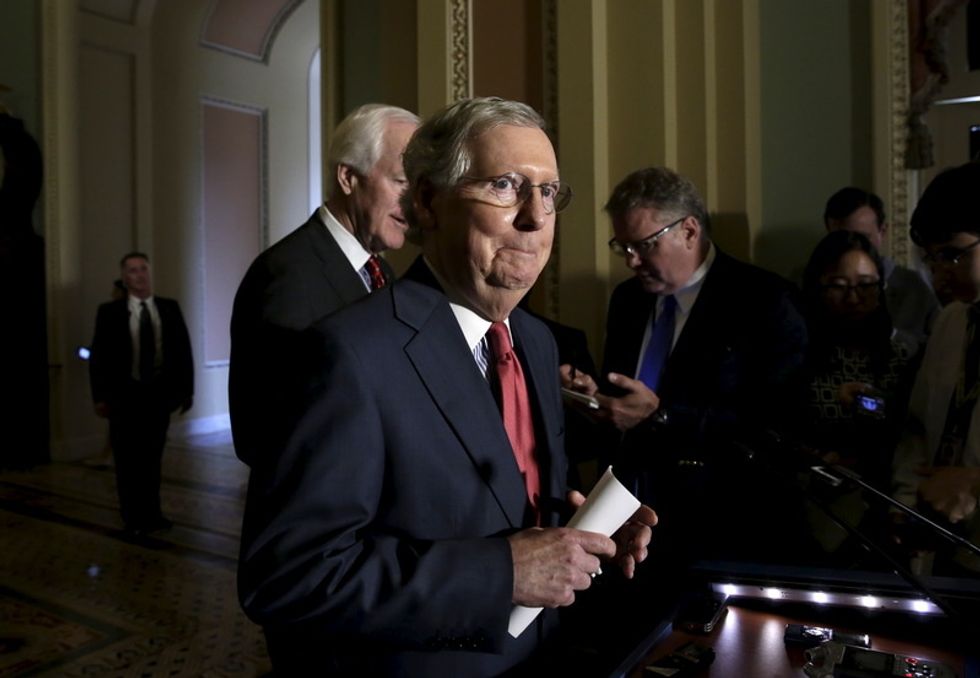 Senate Majority Leader Mitch McConnell says that while Donald Trump should "stick to the script," he remains comfortable backing the presumptive Republican nominee.
In an atypically candid interview with Bloomberg's "Masters in Politics" podcast, McConnell expressed caution over Trump's racist comments towards Judge Gonzalo Curiel but maintained that a President Trump would need to answer to the center-right voters necessary to win the presidency.  
"It's pretty obvious he doesn't know a lot about the issues," McConnell said. "You see that in the debates in which he's participated. It's why I have argued to him publicly and privately that he ought to use a script more often—there is nothing wrong with having prepared texts."
Both literally and metaphorically, he said that Trump — a vocal critic of teleprompters — should begin using pre-written speeches as a way to avoid blunders like his comments on Curiel, which will alienate the minority voters that the GOP must focus on.
"I think he'd have a much better chance of winning if he would quit making so many unfortunate public utterances and stick to the script," McConnell said.
He later added that during a meeting at the National Rifle Association convention, McConnell told Trump that this more reserved tactic "indicates a level of seriousness that I think is important to convey to American people about the job you are seeking."
McConnell, who is known for being tight-lipped on candidates and controversy alike, said that Trump needs to change his approach to the campaign and pick a running-mate who is well-versed in policy.
"Now you need to demonstrate you have the seriousness of purpose that is required to be president of the United States, and most candidates on frequent occasions use a script," McConnell said he told Trump.
At a time when many conservatives have questioned the legitimacy of Trump's candidacy, McConnell, the top Republican in the Senate, seems like he might be a worthy judge for right-wingers unsure of how to feel on Trump.
"I'm not going to speculate about what he might say, or what I might do. But I think it's pretty clear and I've been pretty clear publicly about how I think he ought to change direction and I hope that's what we are going to see."
Listen to the full podcast here.
Photo: U.S. Senate Majority Leader Mitch McConnell (R-KY) arrives to talks to the media after a weekly Senate Republican luncheon on Capitol Hill in Washington, U.S., April 19, 2016. REUTERS/Yuri Gripas