McConnell's Plan To Destroy Ashley Judd Revealed In Secret Tapes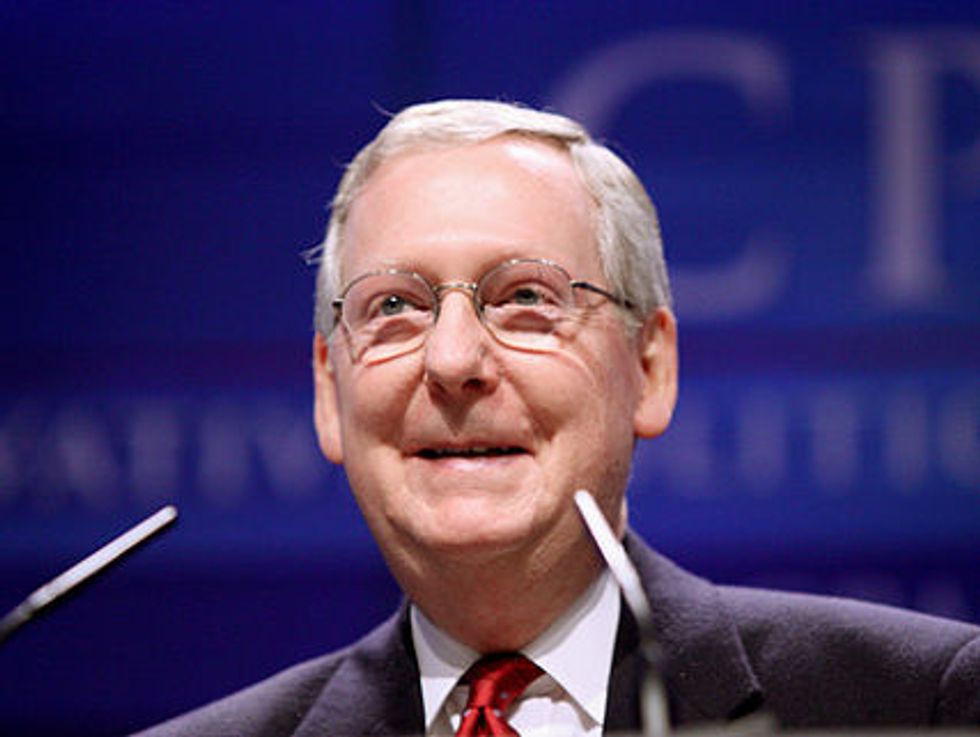 Senate Minority Leader Mitch McConnell (R-KY) faces political danger after Mother Jonesleaked recordings of the senator and his staff attacking actress and activist Ashley Judd during an opposition research meeting.
The recordings, which Mother Jones' David Corn reports are from February 2nd, reveal that McConnell and his staff planned to go straight for the jugular if Judd — who was still a prospective candidate for McConnell's seat at the time — had jumped in the race.
"I assume most of you have played the, the game Whack-A-Mole?" McConnell asked to laughter from his staff. "This is the Whack-A-Mole period of the campaign…when anybody sticks their head up, do them out."
Although much of the conversation centers on Judd's policies, McConnell's staff made it clear that they planned to viciously attack her character as well.
"She's clearly, this sounds extreme, but she is emotionally unbalanced. I mean it's been documented," an unnamed staffer says at one point. "Jesse can go in chapter and verse from her autobiography about, you know, she's suffered some suicidal tendencies. She was hospitalized for 42 days when she had a mental breakdown in the '90s."
Later on, McConnell's aides attack Judd for being critical of "traditional Christianity," and " anti-sort-of-traditional American family."
"She described having children as selfish, and she thinks it's unconscionable to breed," a staffer notes, granting a clear view of how McConnell would have attacked a hypothetical Judd campaign.
While McConnell reacted to the tapes with outrage — he accused liberal activists Progress Kentucky of bugging his office, while his campaign manager Jesse Benton baselessly accused Mother Jones of using "Nixonian tactics" — there is a small silver lining for the Senate's top Republican: The recordings revealed just how lucky he was that Judd chose to sit the race out.
While McConnell would have been a strong favorite to retain his seat in deep-red Kentucky, a slash-and-burn campaign to crush Judd could have had major consequences for national Republicans. As the GOP makes a concerted effort to soften its message to women voters, it's not hard to see how attacking the highest-profile female candidate in the country for suffering depression and choosing not to have children would have backfired.
It's a safe bet that, if McConnell faces a woman such as Kentucky Secretary of State Alison Lundergan Grimes in the 2014 election, McConnell and his staff will be much more careful about their attacks given the outrage generated by these recordings.
Photo: Gage Skidmore via Flickr.com