How Media And Government Encouraged Far-Right Trolls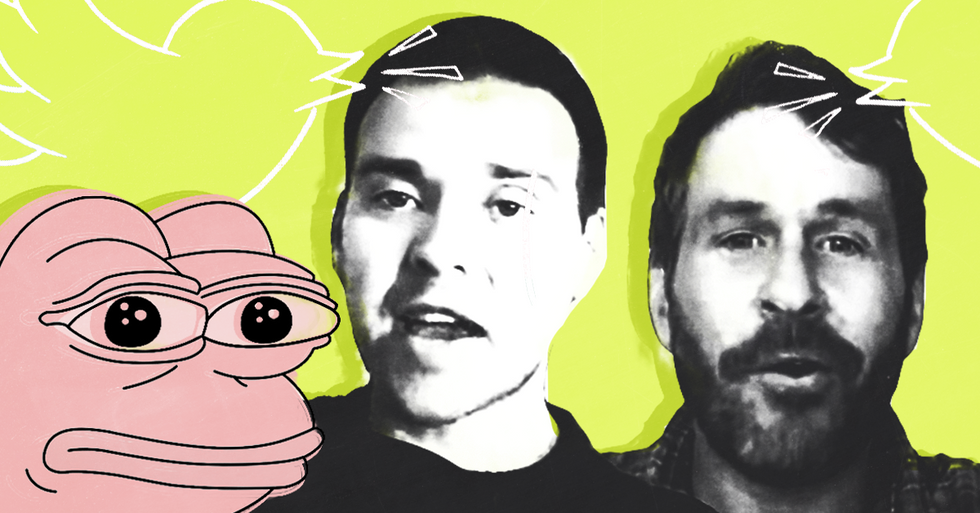 Reprinted with permission from MediaMatters.
Far-right trolls have long occupied the internet with their nihilistic sense of humor and taste for memes, engaged in sophomoric "shit-posting." But for some, their impact has expanded beyond the fringe corners of the internet. They've shown they're able to influence national conversations, offering twisted narratives and conspiracy theories during major news events, injecting bigotry into the discourse, and challenging harassment policies of social media platforms, all while marketing themselves as legitimate torchbearers of the truth.
This didn't happen overnight; rather, a combination of factors made it possible. The far-right trolls learned how to manufacture outrage to mobilize their audiences into action. Their memes transcended "shit-posting" and began shaping political conversations. They found a friendly presidential administration that gave them access and provided them with a veneer of legitimacy. The coverage media outlets gave them failed to cover them in proper context and allowed them to sanitize their extremist brands. And social media platforms were slow in cracking down on their hateful rhetoric, allowing them to gain attention and amass thousands of followers.
Even politicians have started noticing their reach, with some now imitating their style.
Here are five factors that fueled the influence of far-right trolls in 2017:
The politics of manufactured outrage that allow the far right to attract attention and drive narratives
Trends of online discourse in 2017 showed that the far-right's practice of using digital tools to affect change, exercise pressure, and punish perceived enemies is best understood as politics of manufactured outrage. Many trolls raised their profiles and gained relevance by criticizing what they saw as liberal over-sensitivity, seeking to provoke "snowflakes" for the sake of generating outrage and supporting Trump because his war against "political correctness" was an essential part of their ethos. Now they're using social media platforms to command their followers to decry and condemn their critics over social justice issues they openly dismissed before.
Mike Cernovich, a leading right-wing troll previously known for misogynistic musings and tasteless tweets, including denying the existence of date rape, effectively manufactured outrage to get MSNBC contributor Sam Seder fired from the network for a tasteless joke Seder tweeted in 2008. Though MSNBC rehired Seder, this was not an isolated incident.
On another occasion, Cernovich targeted journalist Josh Barro and campaigned to get him fired from Business Insider by accusing the journalist of ableism after Barro made fun of Cernovich's lisp, only stoppingafter Barro publicly apologized. But Cernovich's own digital fingerprints make it impossible to believe that he suddenly developed a concern for ableism. In a similar fashion, "Pizzagate" conspiracy theorist Jack Posobiec targeted New Republic's Jeet Heer, accusing him of defending child pornography by taking a few of Heer's tweets from  2014 and 2016 out of context.  Posobiec also interrupted a play under the pretense that he was offended by its contents, and sued a theater for its all-female screening of the movie Wonder Woman. And when he couldn't find something to be outraged about, he simply created the opportunity by reportedly planting a "rape Melania" sign at an anti-Trump rally. Right-wing trolls followed the same playbook to smear protesters and ignite outrage during protests of an event featuring Cernovich by planting a sign that featured the logo of a practically defunct pro-pedophilia organization.
The trolls are still freely deploying their playbook of haranguing their followers into more campaigns to force media outlets and social media platforms into doing their bidding — whether to silence journalists and Trump critics by manipulating Twitter's abuse report protocols and getting them suspended from the platform, or to "weaponize" their followers into harassment campaigns, or to pressure brands into advertising on shows they like.
As BuzzFeed's Kate Notopoulos wrote, these trolls "have weaponized taking things literally." These stunts are often just manipulation disguised as false equivalence, since trolls like Cernovich justify their actions by arguing that media "dictate policy and personnel decisions via social shaming/'news coverage.'" Mainstream right-wing media also dismiss criticism of these harassment campaigns, claiming that they're legitimate because "both sides" do it (regardless of whether that's true).
The rise of the meme warfare from fringe message boards
Right-wing and "alt-right" trolls successfully weaponized memes in support of Trump throughout the 2016 presidential election in what experts documenting troll culture refer to as "The Great Meme War." Message board users created memes and deployed them on social media daily to attack political candidates. During this phase of meme-ing their favorite candidate into office, factions like the "alt-right" and other right-wing trolls were indistinguishable.
2017 saw the meme warfare kick into high gear, with many meme campaigns transcending the message boards and becoming a source of harassment on college campuses, or turning into terrifying harassment campaigns against journalists. Such was the case with the "It's okay to be white" meme, designed specifically to be "tame and inoffensive" yet elicit reactions that would portray any criticism or outcry as absurd. The meme quickly became a battle cry in the campus culture wars, culminating in professional troll Lucian Wintrich's "It is OK to be white" speech at the University of Connecticut, which spurred disruptions, fights, and arrests.
Similarly, there was a meme campaign against CNN's Andrew Kaczynski following his story that an anti-CNN meme tweeted by Trump had been created by a Reddit user with a history of "racist and anti-Semitic imagery." The campaign quickly transcended the digital world and resulted in death threats against CNN staffers and Kaczynski himself.
Sloppy media coverage that allowed trolls to rebrand away from the toxicity of the "alt-right"
Journalists have been complicit in aiding right-wing trolls who rose to prominence by riding coattails of the "alt-right" to rebrand away from its toxicity by either writing soft-focus profiles of trolls or by showing up woefully unprepared to interview them. After Richard Spencer — the original "alt-righter" — gained national media coverage due to his explicit white nationalistic views, many prominent trolls who were earlier happy to align with the "alt-right" commenced a rebranding campaign that was largely aided by media's failure to hold them accountable.
Cernovich, who has shown an inclination for "pivoting" whenever it becomes politically expedient for him, was at the forefront of hijacking the term "new right," which was quickly adopted by other trolls like Infowars' Paul Joseph Watson, Posobiec, Wintrich, and Gavin McInnes, founder of the violent "Western chauvinist" organization Proud Boys.
But the figures of the so-called "new right" can't sanitize their past adherence to the pro-Trump "alt-right" during the 2016 presidential election when they trafficked in anti-Muslim tropes, attacked transgender people, associated with Spencer, or openly pushed dangerous conspiracy theories like "Pizzagate" — which falsely claimed Democratic operatives close to Hillary Clinton and her presidential campaign were running a child sex ring from a Washington, D.C., family pizzeria. More recently, the appearance of a known "alt-right" troll featuring a swastika flag and Adolf Hitler apologism on Wintrich's Periscope illustrated that there's little substantive difference between the "new right" and more extreme factions.
A complicit presidential administration that gave these trolls further prominence
In the Trump administration, right-wing trolls found powerful allies who admired and promoted their content and media appearances.
The White House has been complicit in fueling the trolls' war on journalists and mainstream media. The Trump administration granted them access to White House press briefings that allowed conspiracy theory websites like The Gateway Pundit to present themselves as legitimate news outlets and provided them with a prestigious platform from which to perform stunts and explicitly troll journalists. Reportedly, Trump's sons, Eric and Donald Jr., directly provide Cernovich with insider information. It's clear from Donald Trump Jr.'s Twitter activity that he has a penchant for far-right trolls and their content as he has used the weight of his name to promote right-wing trolls who defend his father and smear mainstream media.
The president, himself, retweeted a tweet by Posobiec to his more than 44 million followers, resulting in Posobiec celebrating the presidential validation.
Twitter and YouTube dropped the ball on cracking down on harassment and extremism
Right-wing trolls largely owe their rise to social media platforms like YouTube and Twitter, which have allowed them to grow their platforms and reach massive audiences. In the process, Twitter was extremely lax in applying its anti-harassment policies, and allowed right-wing trolls' harassment campaigns to successfully drive targets, like feminist writer Lindy West, off the platform.
Meanwhile, YouTube provided a platform to white supremacists and conspiracy theorists. Though YouTube launched a demonetization initiative so people wouldn't be able to profit from uploading extreme content and vowed to take down explicitly extremist content, the platform still remains the "talk radio" for right-wing trolls, allowing the spread of misinformation to a massive audience, often without consequence.
Similarly, Twitter also just moved to crack down on its most toxic content creators. But it remains to be seen whether these policies will be successful in curbing the influence of MAGA trolls who often operate with the same harassment tactics as extremists. While Twitter removed the verification badges of many far-right personalities and expelled the most offensive users (some more than once), the fact that right-wing trollsremain in the platform only evidences Twitter's problem with interpreting its own rules and applying them coherently.
While the right-wing trolls' current influence is undeniable, it's not all doom and gloom. Their online influence hasn't translated into other political victories following Trump's election (the candidates these trolls put their weight behind, Republicans Ed Gillespie in Virginia, and Roy Moore in Alabama, both lost). It could also be an indicator that their influence, at least in electoral politics, might have reached its peak. But whether their influence in inserting divisive cultural and political narratives into the mainstream will wane at all is yet to be seen.
Header image by Sarah Wasko / Media Matters