Media Ignore Supreme Court Decision Aiding Voter Suppression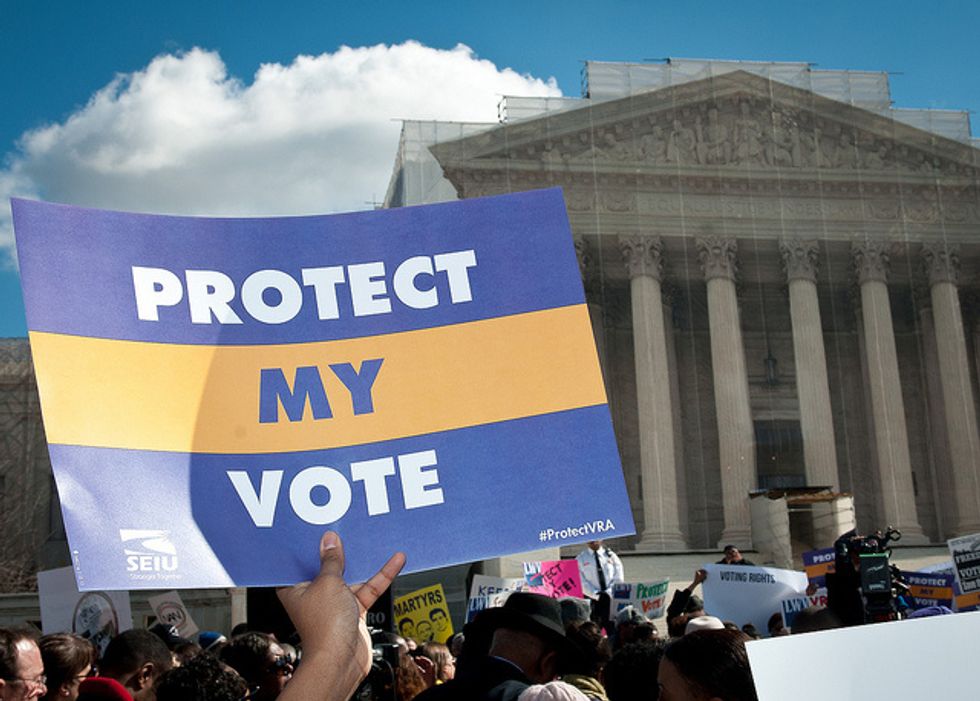 Reprinted with permission from MediaMatters.
On June 11, the Supreme Court handed down its decision on an Ohio voting rights case that will make it easier for the state to purge infrequent voters from its voter roll, a process that tends to disproportionately hurt young people, people with low incomes, and people of color. This is a victory for Republicans, who for years have waged a war on voting rights in an effort to suppress voting by populations that tend to pick Democrats. Media should be reporting on this case and on voter suppression measures more broadly, both as a policy issue and to inform people of what they need to do in order to vote.
The Supreme Court's decision in the Ohio case, which allows the state to purge voters who haven't voted in recent elections and who haven't responded to a mailed notice to confirm their residency, "could be a major victory for Republicans … and a stinging loss for Democrats," because "minorities, young people and those with lower incomes are most likely to be disenfranchised by the state's policy," according to USA Today. Mother Jones' Ari Berman reported that "Ohio purged more than 2 million registered voters between 2011 and 2016, more than any other state. Black voters in the state's largest counties were twice as likely as white voters to be removed from the rolls." NBC News reported, "At least a dozen other politically conservative states said they would adopt a similar practice if Ohio prevailed." An election law expert added, "'You'll see more red states making it easier to drop people from the voter registration rolls.'" And in her dissent, Associate Justice Sonia Sotomayor noted that the decision ignores the history of voter suppression in the United States:
In dissent Justice Sotomayor says ruling upholding Ohio voter purging "entirely ignores history of voter suppression" & will "further disenfranchisement of minority and low-income voters" https://t.co/QvrwIcTsxZ pic.twitter.com/KDegTTB6q5

— Ari Berman (@AriBerman) June 11, 2018
In light of this decision and the years-long assault on voting rights Republicans have waged (including onFox News), media need to report on voting rules, both in order to inform their audiences of what hurdles they might need to clear to carry out their constitutional right to vote and to give them policy information on which they might base their votes.
In the past, media have often failed in their voting rights reporting. Much of the coverage of voting issues appears in conservative media, which have a history of misinforming — or outright lying — about the prevalence of voter fraud. In the runup to the 2014 midterms, nightly newscasts largely ignored the issue of voting rights. In about half of its articles on voter fraud from September 2012 to September 2014, The New York Times failed to clearly state that in-person voter fraud is virtually nonexistent, even as it included claims from Republicans suggesting that such fraud exists. Later analyses found that voter suppression measures may have materially impacted the 2014 elections.
From July 2016 through June 2017, Media Matters analyzed broadcast network morning and evening shows and evening cable news shows and found:
Fox News far outpaced other networks in spreading falsehoods on voting.
Republican politicians made 88 false statements about voting, while Democratic politicians made no such false statements.
Only five segments mentioned gerrymandering.
Less than 9 percent of segments acknowledged the impact voting restrictions had on the 2016 election.
Fewer than 30 percent of segments mentioned state-based efforts to suppress votes.
Over 70 percent of segments on voting featured Donald Trump's debunked voter fraud accusations.
And after 2017 elections in which Democrats overperformed and exceeded expectations, right-wing media once again turned to a series of voting myths and talking points parroted by Republicans, including misinformation about voter fraud, voter IDs, and felon voting.
There is particular need for good local media coverage. Voting is a local issue, and people tend to trust their local news coverage more than national news. But Sinclair Broadcast Group, a conservative local TV news giant that has been injecting local newscasts with right-wing spin for years, is moving to acquire more local news stations. Sinclair has already shown a willingness to subject its viewers to misinformation about voting and last year it produced a must-run segment that suggested voter fraud might be far more common than it actually is.
If media are not explaining to Americans what voters need to do in order to cast their ballots, the odds of people showing up to vote and being turned away undoubtedly grows. The fact of the matter is that Election Day is too late for this coverage. Retrospectives after the fact will not change long lines, refused ballots, or outright disenfranchisement. While political pundits are obsessed with making every problem a "both sides" story, only one political party is trying to limit the ability of its opponents to vote. That's the real story, and there's no way to sugar coat it.