Melania Trump's Parents May Be Examples Of So-Called 'Chain Migrants'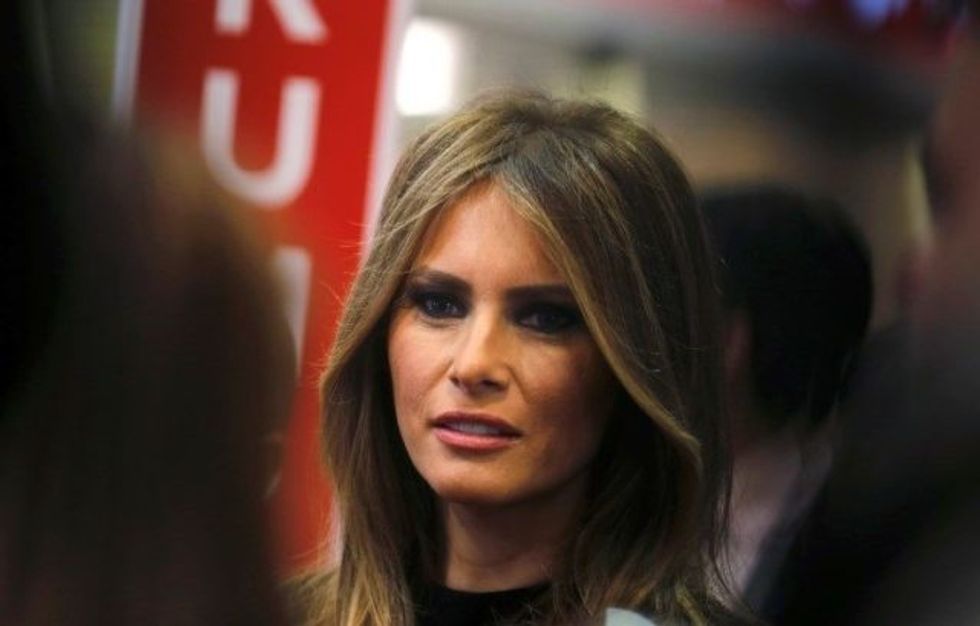 Reprinted with permission from AlterNet.
Every year or so, Republicans politicize a new phrase, wielding it as a kind of weapon to slash away at the truth and logic. Most recently, that honor goes to "chain migration," a 1960s academic term that the GOP has rebranded as a signifier of open borders and the browning of America. As it turns out, the expression may actually have more personal associations. First Lady Melania Trump's Slovenian parents, who have reportedly settled in the U.S. to be near their daughter and grandson, may have taken advantage of the same so-called chain migration policies the Trump administration is trying to destroy.
The White House has been cagey about the immigration status of Viktor and Amalija Knavs, 73 and 71, respectively. "I don't comment on [Mrs. Trump's] parents, as they live private lives and are not part of the administration," FLOTUS flack Stephanie Grisham recently told the Washington Post.
So with the help of immigration experts, the Post assembled a list of possibilities for the Knavses' visa status, two of which suggest classic Trumpian hypocrisy at work. As IR-5 visa holders, Mrs. Trump's parents would be "legal permanent residents because they are the parents of a U.S. citizen," which is to say, they would have benefited from the same chain migration policy the GOP wants to kill. The Post also considers that the Knavses are here on tourist visas, which allow holders to remain in the country for six months but can also be extended to a year. The outlet points to this as a "relatively simple explanation, which makes it curious why the White House would not confirm it if this is indeed the case."
Alternatively, according to the Post, Viktor Knavs, who is a former member of the Yugoslavian Communist Party, and his wife could be here as international students, which only seems plausible if they're quietly taking classes at some online school with accreditation hanging by a thread. They might also have been given parole "based on humanitarian or significant public benefit reasons." It's unclear how the Knavses' presence has served to benefit American society at large, but it seems like a fairly Trumpian path to take. ("If my parents [were] looking to move to the U.S., and if I were president, I would have them paroled," immigration lawyer Matthew L. Kolken told the Post.) It's a fun exercise to try to imagine President Obama circumnavigating visa rules by paroling his wife's foreign-born, ex-Communist father and explaining it was for "significant public benefit reasons." Impeachment proceedings would have started before the ink on the forms was dry.
In any case, FLOTUS spokesperson Grisham responded to the Washington Post list by stating that "None of those options apply."
The Post article doesn't even mention that Mrs. Trump's older sister, Ines Knauss, may also have come to the U.S. through chain migration policies. In February 2017, CNN searched public records and found that Ines "lives just blocks from Trump Tower in the Trump Park Avenue property." A subsequent report noted that "neither [Ines], family attorneys nor the White House answered an inquiry about whether she was sponsored for a visa or residency by her sister."
The same shadiness that hangs over Melania Trump's family's status extends to her own immigration history. It's been more than a year and half since Trump announced on the campaign trail that he would explain inconsistencies in his wife's immigration story by holding a "little news conference." An AP investigation just days before the 2016 presidential election found that before she had the proper paperwork, Mrs. Trump worked illegally in the U.S., perhaps taking jobs away from American-born fashion models. Since moving to the states, Mrs. Trump has gone on television to vocalize support for her husband's racist birther campaign against the first black president; lied under oath about her nonexistent college degree; plagiarized a speech by Michelle Obama; pretended to start, and then totally dropped a cyberbullying campaign; and cost taxpayers ungodly amounts in private jet travel and security for her extended Trump Tower penthouse stay.
Even beyond Melania, "chain migration" seems to be a longstanding tradition in the Trump family. Donald Trump's Bavarian grandfather arrived in the U.S. in 1885 and "moved in with his older sister Katharina—who had emigrated in 1883." Mary Anne MacLeod, Trump's mother, boarded a ship from her native Scotland to New York City in 1929. (According to the New Yorker, "On at least two ship manifests and in the 1930 census, her occupation is listed as "maid" or "domestic," exactly the kind of unskilled labor Trump wants to keep out of the country.) Trump's first wife, Ivana Zelníčková, came to the U.S. from what was then Czechoslovakia. She gave birth to three Trump offspring before becoming a U.S. citizen in 1988.
If chain migration is indeed the plague the Trump administration and the GOP keep making it out to be, it seems like the first family might be the first place to sound the alarm. The absence of merit-based immigrants (sorry, appearing in low-budget insurance commercials is not a "high skills" occupation) among the Trumps seems like an obvious cause for concern.
Kali Holloway is a senior writer and the associate editor of media and culture at AlterNet.