Memphis Enlivens Old Dead Spots For A Mega-Makeover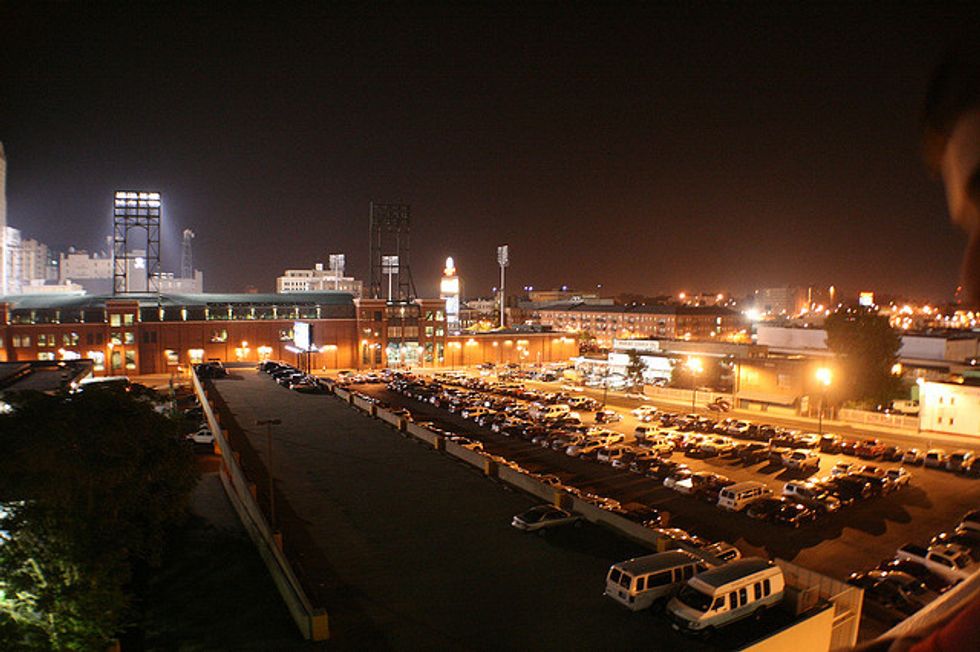 By Josh Noel, Chicago Tribune(TNS)
MEMPHIS — I woke at 8:30 one Friday morning in a pitch-black hotel room, slipped on a robe, pulled back the curtains between me and my balcony and stepped out for a stunning Memphis view: hundreds of people ambling through the aisles of a Bass Pro Shops store.
It wasn't just any Bass Pro Shops outlet. It was the world's largest, and the only one housed in a big, shiny pyramid along the Mississippi River where the floor is packed with things such as fishing poles, guns, sunglasses, boats floating in water, fake cypress trees, real alligators, the tallest free-standing elevator in North America and, of course, camouflage for men, women and children of all shapes and sizes.
And, literally, my hotel balcony looked onto this teeming mass of shopping humanity. That Friday morning, as I relaxed in a wood rocking chair and sipped a cup of room-brewed coffee, a woman in culottes and a flowered shirt browsed the T-shirt selection just below me. About 50 yards away, a young family boarded one of the boats parked at the dock built within the Bass Pro ecosystem. Fortunately, the gun counter was beyond my view.
The unlikely, if slightly surreal, hotel experience was the culmination of a Memphis makeover that has caught fire in recent years and brought fresh life not only to the city's long-dormant Pyramid but to Memphis itself.
Tennessee's largest city long has been a destination: Elvis' Graceland, the National Civil Rights Museum (which previously was the Lorraine Motel, where Martin Luther King Jr. was assassinated), the 90-year-old Peabody hotel, the tourism magnet that is Beale Street, a rich barbecue landscape and the Sun and Stax record studios.
But recent years have been good to Memphis and made it a city worth visiting for much more than barbecue and Beale: restaurants, breweries, bars, art galleries, two new music museums and, of course, one of the world's largest pyramids, refashioned into a massive outdoors emporium.
"I can't believe how different it is," said Jake Hall, 29, whom I met at the coffee shop near downtown where he worked. He described himself as a "die-hard Memphis guy" who moved away for college, then came back to a city that was in the midst of slow change. In recent years, that change has accelerated.
"It's totally a different place," Hall said. "It's crazy how much more open-minded things feel here."
The first thing he cited, when asked where he saw the change, was safety. A rejuvenated downtown has mellowed the streets, he said, and newer bars and restaurants have brought stability. Attitudes have become looser and more progressive; Hall cited a more vocal and vibrant LGBT community and businesses thriving that, 10 years ago, wouldn't have stood a chance.
Construction and rehabilitation projects are dotted through the city, like the long-abandoned 1.5 million-square-foot Sears Crosstown building, which sits just east of downtown. Hall said he and his buddies would break into the building during their high school years just for something to do. As an adult, he's thrilled to see it finally being put to use.
Long-depressed neighborhoods are getting jolts from new businesses, especially restaurants that boast menus full of fresh and locally sourced ingredients. The ghosts of old Memphis still hang over the city, in the weathered and lovely brick buildings that fill downtown. But these days, they're home to restaurants with fresh ideas, such as Tamp & Tap, which pours cold-brew coffee from a tap and has a menu geared more toward "fresh and local fare" than, say, fried okra.
The changes managed to lure brothers Davin and Kellan Bartosch home. The brothers were raised in Memphis, and both left to work in the beer business (in Chicago and Las Vegas, respectively). But when they decided to open their own brewery, which they named Wiseacre, they came home. Wiseacre quickly has garnered a national reputation, and the taproom fills up swiftly after it opens Thursday, Friday and Saturday afternoons.
Wiseacre sits on a stretch of Broad Avenue in central Memphis, where the Bartosch brothers admit they never would have guessed that they would own a business. Kellan Bartosch called it "a post-apocalyptic wasteland" when they were kids.
Now it's home to Wiseacre, a hip new coffee shop called City & State and one of the city's most buzzed-about new restaurants, Bounty On Broad.
Overton Square, about two miles from Broad Avenue, has seen a similar revitalization. One of the city's more popular areas in the 1970s, Overton Square fell into several decades of disarray before bouncing back during the last couple of years with new restaurants (brand-new burger spot Belly Acres is a gem), a yoga studio and a wide concrete court where people are free to play cornhole (or "bags," as it also is known) throughout the day.
"There's definitely a feeling of the youth taking back over," Davin Bartosch, 36, said. "And I'm kind of old to be saying that."
"People we grew up with are opening great restaurants," Kellan Bartosch, 34, said. "It's taken a while, but people are very excited about what's happening."
As several other locals did, the brothers attributed a piece of the city's revival to the presence of the Memphis Grizzlies, a National Basketball Association franchise that moved from Vancouver in 2001 and has been one of the league's better teams in recent years. Davin Bartosch admits he thought the team wouldn't last five years in Memphis; the city couldn't, and wouldn't, support a professional sports franchise, he figured. Instead, the team added a new reason for people to spend time downtown and offered a cause to rally around.
"I was totally wrong," he said. "And now I love the Grizzlies. I'm up at 12:45 a.m. watching them when I know I need to be at the brewery at 6 the next morning."
And then there is that pyramid. Excitement, or at least curiosity, about the project was palpable during my visit to the city. Every time I gazed down at the shopping floor from my room, there was at minimum a healthy number of people milling about, and at most a storm of eager shoppers.
The second Saturday afternoon that the store was open, the aisles were an absolute madhouse, not unlike the anthills we can stare at endlessly as children. As I exited an elevator that's open only to hotel guests, a woman asked in a thick drawl, "How are the rooms?" When out and about, I mentioned to a local that I was staying in the Pyramid. "The one that opened eight days ago?" he asked with awe (as if there could have been another option).
Perched at the intersection of Interstate Highway 40 and the Mississippi River, the Pyramid opened in 1991 as a basketball and concert arena. Along with the occasional graduation or religious events, it continued to live that life until the city opened a new downtown arena for the Grizzlies in 2004. The Pyramid sat largely dormant for the next decade.
There was discussion about turning it into a casino or a theme park. There was talk of knocking it down. And there was chatter about turning it into the world's largest Bass Pro Shops store. After many false starts–and tens of millions of dollars kicked in by taxpayers–the Bass Pro outlet opened at the end of April.
There has been plenty of criticism of the project, and questions have been raised about whether it is well-spent tax money; The Atlantic magazine's CityLab website asked in December, "Is Memphis Making (Another) Massive Mistake With Its Pyramid?" and concluded mostly in the affirmative.
But mistake or not, the refurbished Pyramid has landed. In addition to the massive shopping space, it includes a bowling alley, gun range, archery range, two restaurants, an observation deck at the top of that 36-story elevator and the 103-room Big Cypress hotel, where most of the rooms don't face out–they face the retail.
As I toured the hotel during the first week it was open, I asked the manager, Lana McDonald, to describe the target audience. I confessed that I didn't know many people who would want to spend at least $259 a night (that's the starting cost) for a hotel room that looks out onto a Bass Pro Shops store.
"The target audience is the extreme outdoor enthusiast and families who want to have fun," McDonald said.
Wouldn't that cost put off some extreme outdoor enthusiasts? McDonald said the cost reflects more than a hotel room: It's an immersive shopping experience crossed with the handful of activities. Sort of like a theme park, I suggested. Exactly, she said.
The cliche, "We have something for everyone," is usually grounds for letting your attention drift elsewhere, but when McDonald said it, she followed with, "You can spend a relaxing day in our spa or bring your gun and shoot in our shooting range!" And that seemed to make the notion somewhat true.
There still were a few kinks to be ironed out when I visited. When Memphis was hit with a heavy storm, a drip emerged on the roof of my porch, presumably coming from a crack somewhere in the Pyramid wall. (Patching a leak in a pyramid must be one of life's worst home fix-it jobs.) Traffic could be fierce, and parking was like a competitive sport (though there seemed to be plenty of spaces). Though I self-parked, I later learned that the hotel doesn't allow self-parking and that a guest's only option is to spend $20 per night for valet service. (I've never heard of such a practice before, and the hotel should drop it.)
But all in all, designers seem to have succeeded in the task of converting 535,000 square feet into an unlikely retail and hotel space. The store itself has been made to look more or less like a big cypress swamp, with 80-foot (fake) oak trees towering about the floor. It is a dim space, with bridges connecting the store's various pieces over waters that include fish and two alligators (there were four, but two didn't take to Pyramid living).
The chaos that is hundreds of people shopping in a massive open space has been reined in admirably and turned into a moderate din of white noise that is pierced mostly by the occasional shrieking child or duck call (emanating from the waterfowl department, naturally).
Designers also paid admirable attention to detail in the 103 rooms. They're appointed with rustic wood touches and trim throughout and include at least a couple of pieces of taxidermy on the walls. The hotel notes with a card placed in every room that "the mounts on display have been acquired through generous donations and from existing private and museum collections."
In other words, no animals were harmed in the making of this hotel–this very large and very unlikely hotel in the heart of Memphis.
IF YOU GO
Stay: Rates at Big Cypress (1 Bass Pro Drive, 800-225-6343, http://www.big-cypress.com) begin at about $259 per night, though that includes a $40 per night resort fee, which includes mandatory valet parking. Other hotel options include The Peabody (149 Union Ave., 901-529-4000, http://www.peabodymemphis.com), where rates start at $219.
Eat: The food scene in Memphis has blossomed in recent years. Highlights include Andrew Michael Italian Kitchen (712 W. Brookhaven Circle, 901-347-3569, http://www.andrewmichaelitaliankitchen.com)
Hog & Hominy (707 W. Brookhaven Circle, 901-207-7396, http://www.hogandhominy.com) and Porcellino's Craft Butcher (711 W. Brookhaven Circle, 901-762-6656, http://www.porcellinoscraftbutcher.com), which are next to one another and have the same owners.
Others worth checking out include Bounty On Broad (2519 Broad Ave., 901-410-8131, http://www.bountyonbroad.com) and Tamp & Tap (122 Gayoso Ave., 901-207-1053, http://www.tampandtap.com), which serves fresh, quality meals all day long downtown.
Do: In addition to the old musical standbys such as Graceland and the Stax and Sun recording studios, Memphis is home to two new music museums: the Blues Hall of Fame (421 South Main, 901-527-2583, http://www.blues.org), which opened in May, and the Memphis Music Hall of Fame (http://www.memphismusichalloffame.com), which opened in June.
The National Civil Rights Museum (450 Mulberry St., 901-521-9699, http://www.civilrightsmuseum.org) was given a large renovation and provides a stirring look at this nation's complicated history with race.
___