Met Ball Raises Profile Of Arts Benefits — At What Cost?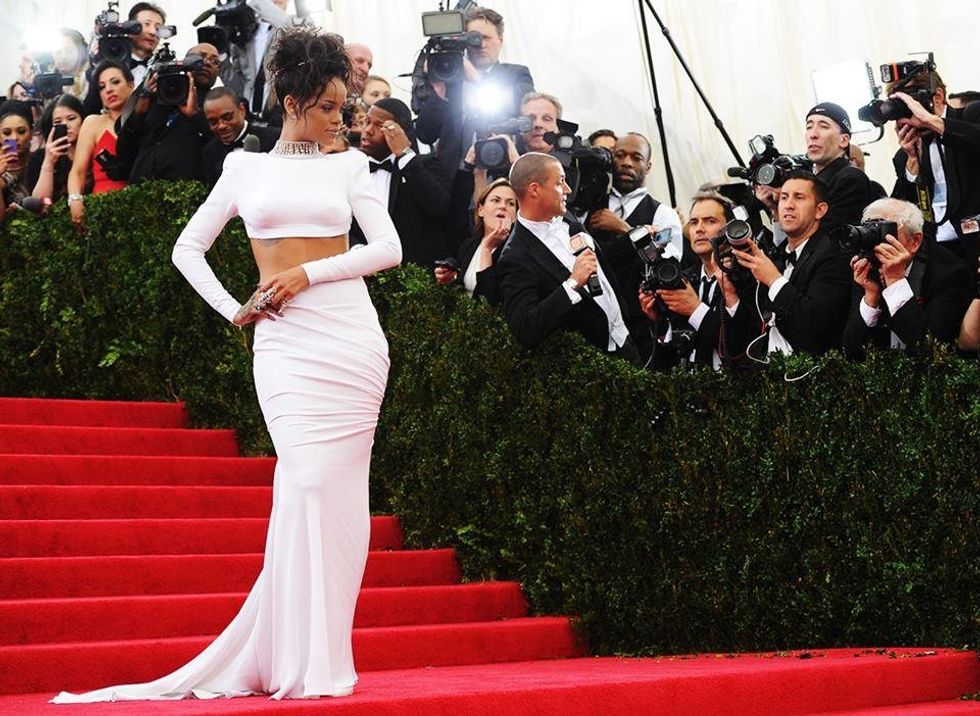 By Chris Jones, Chicago Tribune (TNS)
Along with an increased pollen count, May is high season for the spring ritual known as annual benefits. For those rare creatures who relish plated chicken breast and bottomless decaf, these are the halcyon days, with many events shoehorned into the prime real estate between the beginning of May and Memorial Day weekend, after which any self-respecting benefit needs to welcome swimsuits and be held beside a lake or a pool.
With some worthy exceptions, benefits are not wildly popular events. Those who go to them well know they'll be expected to open their wallets to bid on a wealthier, tax-savvier someone's gorgeous condo in Aspen or Captiva Island (nonpeak weeks only, please) and, unless the bartender proves corrupt, further know that organizations have figured out that to get people to sit at their tables and listen to the pitches, they have to close the cocktail hour hard and fast, offering no exceptions.
Along with the provision of the most eloquent, often fictional, notes of regret, the art of the discreet early exit is practiced at a high level at these events; sometimes tablemates just disappear, not even leaving a puff of smoke, cheesecakes wilting at their plates.
Mayors, politicians, and other professionals work at an even higher level of subterfuge, carefully leaving the sense that they are present all night long — just at a different table or shaking a different set of hands — when, in fact, they ducked out right after their welcome. Meanwhile, anyone hosting a table for their favorite arts organization has the pressure of filling their seats, lest they look like they have no friends. Last-minute cancels are hellish.
Meanwhile, the harried nonprofit staffers who work on these ravenous events invariably find that they are hard work, indeed, replete with myriad little traps, details, and last-minute changes of plan, not to mention an entitled, hierarchy-conscious customer base that is dropping a great deal of money and expects to be treated accordingly. Rare is the development office that does not find the events exhausting. Frequent are the postmortems wondering whether they are worth the bother.
Yet all sides likely are stuck with these spring fundraising rituals. For some organizations, they pull in a hefty portion of the annual budget. In an era of state budget cuts, individual philanthropy is increasing in importance. Benefits offer an organization their attendees' full and relaxed focus for a night, and that is hard to grab any other way. Without the lubrication of a glass of wine or two, and the opportunity to raise a paddle and make a very visible, public gift, many arts organizations would have big holes in their finances.
But this spring, the classic May benefit has enjoyed a serious rise in profile. It's not just about the amount of money raised — some eye-popping takes notwithstanding — but the actual cultural profile of the event itself. In some cases, the benefit for the arts institution now threatens to eclipse the quotidian profile of the year-round offerings at the institution itself.
Take, for example, all of the breathless coverage of the Metropolitan Museum of Art's Costume Institute Benefit Gala, aka the Met Ball, held May fifth. Hosted by Anna Wintour, the famously terrifying editor of Vogue and no slouch at publicity, this event reportedly featured a guest list of hundreds of A-list Hollywood figures, media moguls, and other one-percenters with current cultural currency but, in most cases, not a record of frequent visits to the Met. The level of wealth at the event was just as well, perhaps, for the Costume Institute relies on the benefit for almost all of its annual funding.
But you have to hand it to Wintour. Most attendees at most benefits have been strong-armed by someone to show up. This one was a genuine hot ticket.
The Met had certain advantages, even aside from its long association with, and proximity to, great wealth and prestige. When your business is fashion, a cultural field within which it is easy, if you have plenty of money, to participate or at least to think you participate, it's easier to meld a red-carpet celebration at a benefit event to the core creative act of the institution. Those fashionable attendees could acquire some of the Met's gravitas just by being photographed. That's harder to do when the benefit is for a different kind of cause; theaters often offer the lure of performance to their supporters, but it's hard for artistic professionals to fully hide their contempt for the work of amateurs. Moreover, fashion is a business that generates a see-and-be-seen factor not afforded to, say, your average inner-city arts institution.
Still, you can't be a hot ticket unless you limit the availability of tickets. Period. Incredibly, Wintour managed to do precisely that at the Met Ball, turning away some names never seen in bold and eschewing the monikers of the crass, even those who could afford the tickets. That's a rare feat at a benefit, because these events typically don't turn anyone wealthy away, lest a chance missed. Perhaps the lesson here is that they should.
Wintour also has mastered the art of affording, and carefully curating, formidable networking opportunities, which is a prime reason people attend benefits in the first place. In other words, she long ago figured out that the way to raise the most money is not by appealing to the attendee's generosity but to their self-interest, which includes the attendant interest in publicity, the blood supply of the fashionable.
As other arts groups watched as the Met Ball sucked up oxygen, you could imagine the envy. Especially as the take for the night hit a reported $12 million, with the hits on social media amounting to yet more millions. That brought a priceless amount of publicity to the Costume Institute itself, which has 12 million good reasons to feel grateful to Wintour.
But some savvier folks no doubt also saw some of the perils.
There is the danger of a high-profile fundraiser, and the professional interests thereof, eclipsing the institution itself. Benefits are, after all, part of the culture of an institution, and to external constituencies they are seen as reflective of its internal values, even if the institution often sees them as deviations from its norms. If the benefit is not open to all, it can make subsequent appeals to the less affluent appear hollow, even though most arts nonprofits rely greatly on the generosity of a multitude of small donors, giving at the level they can manage.
So there is a case for that chicken, the modest glass of wine, the video of the year's great achievements, the silent auction of homemade items, the early exit. As hard as it can be in the real world, it's always best when an organization plays itself.
Photo: Met Gala via Facebook