Mexican Couple In N.C. Receives Birth Certificate After Official Denied It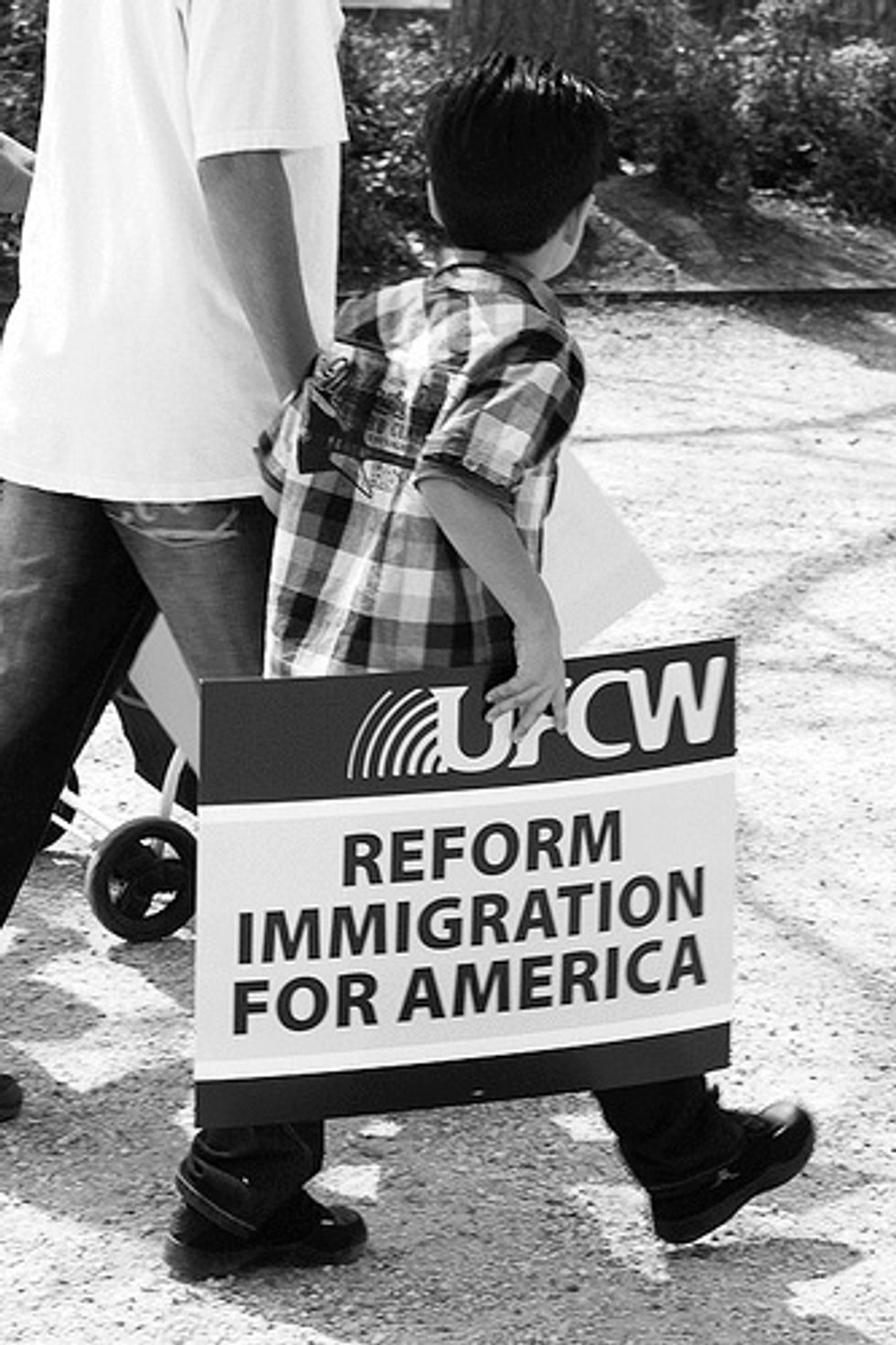 By Joe Marusak, The Charlotte Observer
STATESVILLE, N.C. — Two undocumented immigrants living in Statesville received a birth certificate for their newborn daughter on Monday, nearly two weeks after the couple was denied one for what the office called a lack of valid documentation.
Rolando Acosta and Virginia Lopez Garcia were originally denied a birth certificate by Iredell County Register of Deeds Matt McCall, a decision that prompted a protest outside his office earlier Monday by 20 members of El Cambio, a Mocksville, N.C.-based immigrant rights organization.
"Undocumented! Unafraid!" the protesters chanted in Spanish and then English. They sang the civil rights era anthem, "We Shall Overcome," and held placards saying, "Fire Matt McCall."
McCall faces Republican Kimberly Harrell in a primary contest May 6. Crystal Mayes has filed as a candidate for register of deeds as a Democrat.
The protesters were joined by Iredell County commissioner Renee Griffith, a candidate for county clerk of court. While she strongly opposes illegal immigration, she said, the couple's baby was born in Iredell County and "is as much a U.S. citizen as Mr. McCall's newly born son."
McCall issued the birth certificate after the couple, carrying newborn Sharon Esther Acosta Lopez, walked from the rally and into McCall's office with a document from Iredell Memorial Hospital certifying the birth.
"Thank you to God," Acosta said later through a translator. He also thanked the Rev. Sifredo Rivera, the Statesville minister who helped the couple.
McCall said the couple hadn't presented the hospital certificate the first time they applied. But Rivera told The Charlotte Observer that the couple, who he said are undocumented, had shown the hospital certificate to McCall the first time. He said McCall told them he was denying them the birth certificate because "they have no legal status in the United States." Rivera said he also was present the first time the couple went to McCall's office.
McCall said he never made that statement. "We have issued birth certificates to foreign citizens with valid documents," McCall said. "We issue thousands of birth certificates, if they have valid documents."
Acosta, who said he is a factory worker who has lived in Statesville for at least 10 years, said he had presented a Mexican Consulate card and a nonvalidated passport the first time he and his wife applied.
Neither is a legally valid form of identification, McCall said.
After issuing the couple the birth certificate, McCall denied certificates for two other women, who are members of Rivera's church, who had only those forms of identification. McCall urged them to return with their children's hospital certificates.
McCall showed news reporters on Monday a copy of the state statute showing which forms of identification he can legally accept. A register of deeds official in neighboring Catawba County said her office has the same photo ID requirements.
"We're just trying to make sure we're in compliance with state statutes and protecting against identity theft," McCall said.
Photo via Flickr