Mexican President Says Won't Pay For Trump Wall, Makes Hitler Warning
@reuters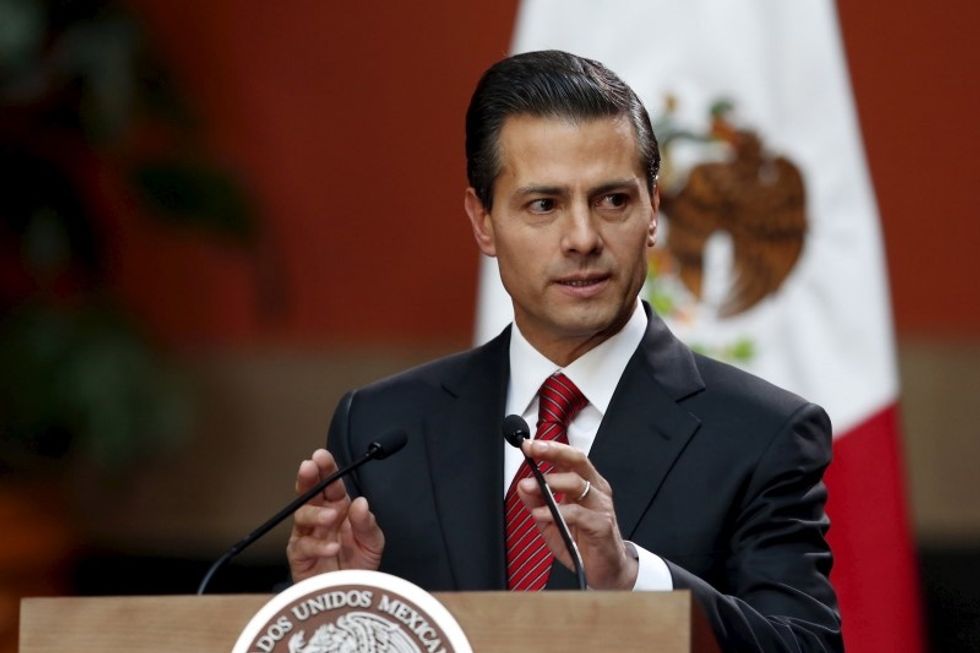 MEXICO CITY (Reuters) – Mexico's president has said his country will not pay for White House hopeful Donald Trump's proposed wall along the U.S.-Mexico border, and likened his "strident tone" to the ascent of dictators like Adolf Hitler and Benito Mussolini.
President Enrique Peña Nieto's comments, published in Monday's Excelsior newspaper, were among the most critical public comments yet by a foreign leader of the New York billionaire.
Trump, front-runner to win the Republican Party presidential nomination for the Nov. 8 election, has sparked outrage in Mexico with his campaign vow to build a wall along the southern U.S. border to keep out illegal immigrants and drugs, and to make Mexico pay for it.
Asked by Excelsior whether there was a "scenario" under which Mexico would pay if Trump won the presidency, Peña Nieto was clear. "There is no scenario," he said. "I have to say that I regret (the plan), and of course, I can't agree with this American politician's position."
Trump, who has also aroused concern among many in his own party with his proposals, has accused Mexico of sending rapists and drug runners across the border and vowed to increase fees on some Mexican visas and all border crossing cards to help make Mexico pay for the wall.
Peña Nieto attacked the "populism" of the Trump campaign, which he said sought to put forward "very easy, simple solutions to problems that are obviously not that easy to solve."
"And there have been episodes in human history, unfortunately, where these expressions of this strident rhetoric have only led to very ominous situations in the history of humanity," the Mexican president added.
"That's how Mussolini got in, that's how Hitler got in, they took advantage of a situation, a problem perhaps, which humanity was going through at the time, after an economic crisis.
"And I think what (they) put forward ended up at what we know today from history, in global conflagration. We don't want that happening anywhere in the world," Peña Nieto said.
Mexican Finance Minister Luis Videgaray called Trump's wall a "terrible" idea in an interview last week, while former Mexican presidents Felipe Calderon and Vicente Fox have both compared Trump to Hitler.
In spite of his comments, Peña Nieto stressed that his administration will seek to reach agreement and maintain a respectful relationship with whoever wins the U.S. presidency.
Foreign diplomats are expressing alarm to U.S. government officials about what they say are Trump's inflammatory and insulting public statements.
(Reporting by Alexandra Alper; Editing by Dave Graham and Frances Kerry)
Photo: Mexico's President Enrique Peña Nieto speaks during a news conference at the National Palace in Mexico City, Mexico January 8, 2016. REUTERS/Edgard Garrido