Michael Brown Autopsy: No Signs Of Struggle In Fatal Shooting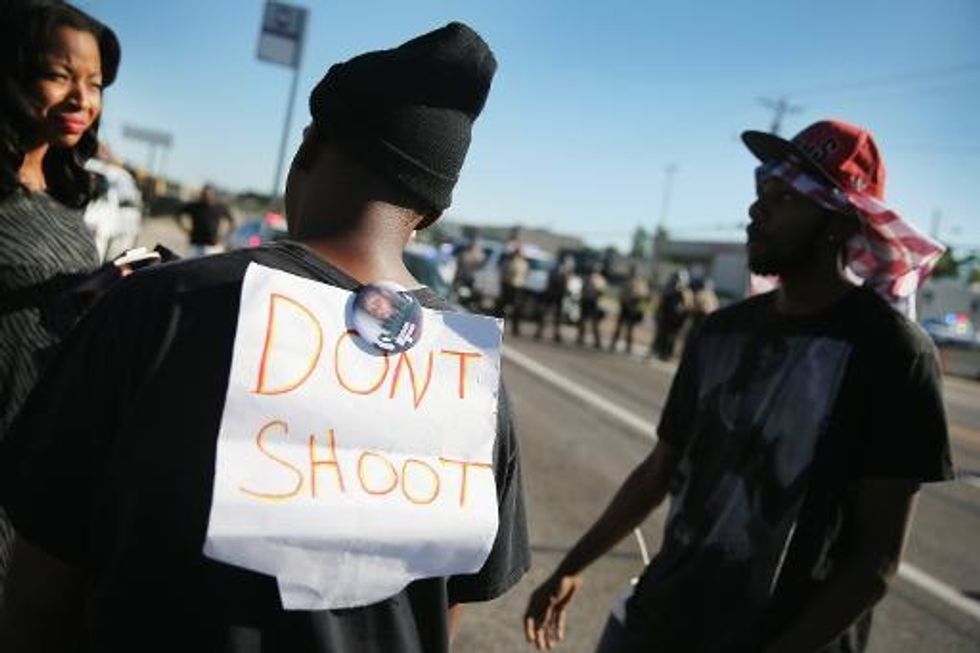 By Molly Hennessy-Fiske and Matt Pearce, Los Angeles Times
FERGUSON, Mo. — A preliminary autopsy commissioned by the family of Michael Brown suggests that there was no sign of a struggle in his death, and that all but one of at least six gunshot wounds in his body were likely survivable, according to Dr. Michael Baden, a renowned New York forensic pathologist who performed a private autopsy after a Ferguson, Mo., police officer killed the unarmed, black 18-year-old.
Baden said in his preliminary autopsy that he believes Brown would not have been able to survive the bullet that hit at the top of his head and traveled through his brain.
Appearing Monday before reporters in the sanctuary of the Greater St. Mark Family Church in St. Louis, Baden and three of the family's attorneys went through the diagram of Brown's wounds that was released with the autopsy.
Attorney Benjamin Crump said the family asked for the independent autopsy because of uncertainty at the time over whether federal officials would conduct their own examination of Brown's body.
"They did not want to be left having to rely on the autopsy done by the St. Louis law enforcement agencies, the same individuals they feel are responsible for executing their son in broad daylight," Crump said.
"It answers just the basic questions," Crump said, "the number of shots, which was always a question that not only the family had, but the citizens of Ferguson and people all over the country."
Crump said Baden's work so far is a "very preliminary" report. "We have to get all the witness statements out and look at all the autopsies, all the evidence, to put this picture together," he said.
Hours earlier, Missouri Gov. Jay Nixon ordered the National Guard deployed to quell escalating unrest in Ferguson.
An uneasy calm settled over the St Louis suburb's business district early Monday morning, and school district officials postponed the start of classes for a second time, in the wake of unrest Sunday night in which police were pelted with bottles and Molotov cocktails and looters rampaged through local businesses.
"Due to continuing unrest in some areas of Ferguson, and in the interest of the safety of students and families, all schools in the Ferguson-Florissant School District will be closed Monday," the school district announced. Officials said they have concerns about children walking to school or waiting for buses on streets affected by rioting.
West Florissant, an area at the center of dramatic clashes with police Sunday night, was quiet Monday morning, with only a few residents moving up and down the sidewalks.
After a small crowd of demonstrators gathered at a burned-down QuikTrip market, a cluster of police officers fanned through the business' closed-off parking lot, saying, "Keep moving."
"I can say it feels like overseas, it feels like communism or socialism more than anything — total domination for total peace or whatever," said Ferguson resident Jarrett Johnson, standing on the sidewalk of a bridge next to the QuikTrip.
"We've been threatened with violence for standing around," interjected a woman who walked away from a cluster of police standing outside a barbecue restaurant that has been a gathering point for curfew-breakers in recent nights.
Meanwhile, President Barack Obama interrupted his two-week vacation to return to Washington for a series of meetings, including one with Attorney General Eric Holder to talk about the violence in Ferguson.
Nixon's executive order directs the National Guard "to help restore peace and order and to protect the citizens of Ferguson."
"Tonight, a day of hope, prayers, and peaceful protests was marred by the violent criminal acts of an organized and growing number of individuals, many from outside the community and state, whose actions are putting the residents and businesses of Ferguson at risk," the governor said in a statement.
At least two people were shot Sunday night, and police were fired upon in street protests that have escalated since the Aug. 9 shooting of Brown by a white police officer in this largely black community.
Police said there were signs of a pre-planned and coordinated attempt to disrupt the city and launch an advance on the police command post not far from the scene of the shooting.
"There were shootings, vandalism, and other acts of violence that clearly appear not to have been spontaneous but premeditated criminal acts," Missouri Highway Patrol Capt. Ron Johnson told reporters early Monday.
"The catalyst was not civil disobedience, but pre-planned agitation," he said.
AFP Photo/Scott Olson
Interested in national news? Sign up for our daily email newsletter!