Michigan GOP Changes Presidential Primary Rules To Protect Trump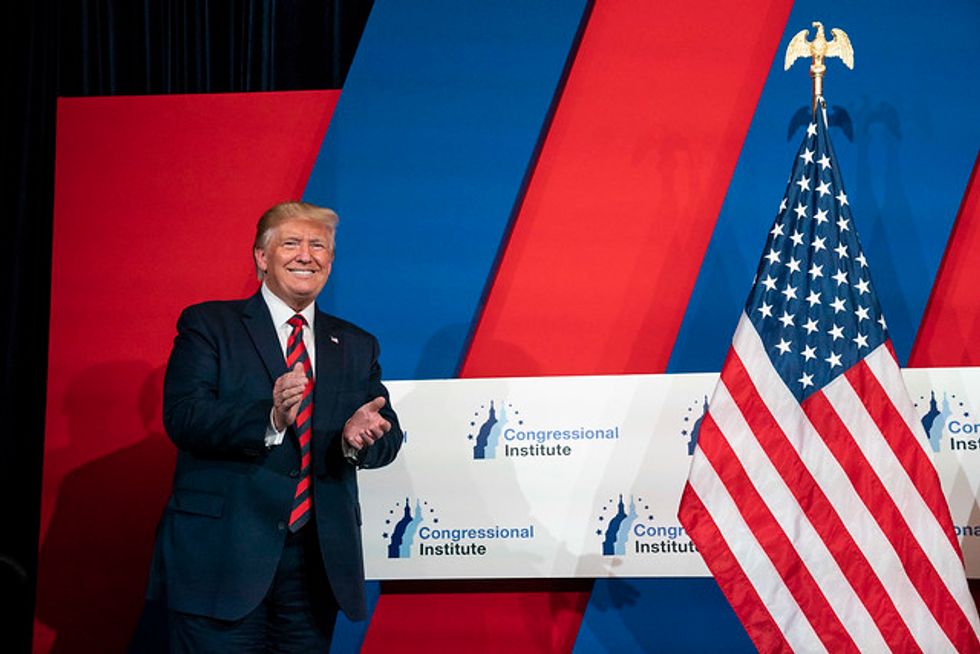 Republican officials in Michigan are changing the rules of the primary to protect Donald Trump from challengers, MLive reported on Sunday. With the changes, Michigan joins Arizona, Kansas, Nevada, and South Carolina in trying to deny the ability of Republican voters to have their voices heard in the 2020 primary.
In next year's primary, a candidate will have to receive 20 percent of the vote in order to gain any Michigan delegates, a sharp increase from the 15 percent candidates needed in 2016. A candidate who receives more than 50 percent of the vote will earn all of Michigan's delegates.
The changes "all but assur[e] its delegates will go to President Donald Trump and not his long-shot GOP challengers," MLive reported.
In 2016, Trump fell far short from capturing a majority in Michigan, garnering less than 37 percent of the vote.
Three candidates are challenging Trump for the Republican nomination: former Massachusetts Gov. Bill Weld; former Illinois Rep. Joe Walsh; and Mark Sanford, former South Carolina governor and representative.
Even though the rule changes seek to silence any sort of dissent against Trump, Michigan Republican Party spokesperson Tony Zammit told MLive that the changes "try to reflect the will of the voters in Michigan."
While Michigan is changing the rules to help Trump, other states are going even further by canceling their state's respective primary altogether.
Weld, Walsh, and Sanford teamed up to write a Friday Washington Post op-ed decrying Republican efforts to subvert the will of voters.
"The saying 'may the best man win' is a quintessential value that the Republican Party must honor if we are to command the respect of the American people," the three men wrote.
"Cowards run from fights," they said, adding, "Only the weak fear competition."
While Republican party leaders shield Trump from any possible competition, Democratic candidates recently participated in their third national debate. Ten candidates took the stage in Houston to discuss issues ranging from health care to reducing gun violence to immigration. The American people — and Democratic primary voters — were able to listen to candidates talk about their vision for the future of the country.
Republicans in Michigan, Arizona, Kansas, Nevada, and South Carolina are doing their best to ensure Republican voters only have one option: Trump.
Published with permission of The American Independent.