Michigan Governor Says Gay Marriages Are Legal, But Won't Be Recognized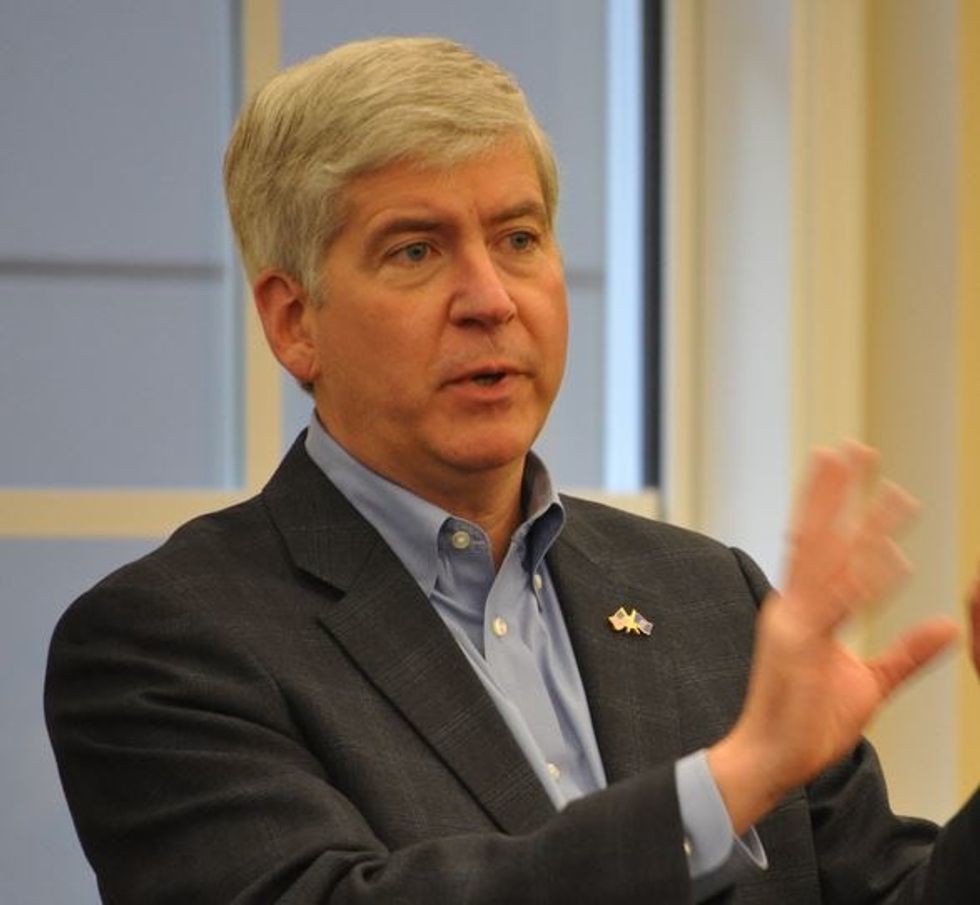 By Kathleen Gray, Paul Egan and Tresa Baldas, Detroit Free Press
LANSING, Michigan — It was the ultimate split decision when Governor Rick Snyder said Wednesday that the nearly 300 same-sex marriages performed on Saturday are legal but won't be recognized by the state because of a stay put on the judicial decision that Michigan's ban on same-sex marriages is unconstitutional.
The decision ended up pleasing almost no one.
Those in same-sex marriages liked that Snyder said their marriages are legal, but were dismayed that they won't be able to derive any benefits because Michigan won't recognize the union. And opponents said they don't think the marriages should be labeled legal or recognized.
"With respect to the marriages, we believe those are legal and valid marriages," Snyder said Wednesday. "The stay being issued makes it more complicated.
"Because of the stay, we won't recognize the benefits of the marriage until there's a removal of the stay."
About 300 same-sex couples got married in four Michigan counties on Saturday, after a Friday ruling by U.S. District Judge Bernard Friedman in Detroit struck down the state's voter-approved ban on same-sex marriage. They were hoping to be able to get things like health insurance for their spouses, permission to file state tax returns jointly and to adopt children together.
But an appeal by Attorney General Bill Schuette to the 6th U.S. Circuit Court of Appeals resulted in the appellate court halting more marriages with a temporary stay late Saturday. The appeals court extended the stay on Tuesday — possibly into next year, when the U.S. Supreme Court is expected to deal with the issue.
Snyder acknowledged that it was a confusing and difficult issue to navigate.
"This is a difficult situation where people have a lot of concerns," Snyder said. "I want to bring some clarity to the issue."
Snyder's announcement drew the prospect of legal actions against the state as well as swift criticism from Democrats, advocates for same-sex marriage and couples who were married Saturday.
Frank Colasonti Jr., 61, of Birmingham, married his longtime partner James Ryder on Saturday, and he had only criticism for Snyder.
"The statement by the governor is extremely confusing for those of us who are legally married but not legally recognized by the State of Michigan," Colasonti said. "It's a political statement, but not a statement of a clear and confident leader."
Alexi Chapin-Smith, who married Jennifer Chapin-Smith in Washtenaw County, is frustrated by the latest development, though she saw it coming.
"We knew there was a limited window of time to do this," she said. "And it really makes me angry because there we were — lined up outside with blankets and folding chairs, like it's a Black Friday sale. What kind of state requires its citizens to treat their legal rights like a Black Friday sale, and then they don't even deliver on the door busters?"
Chapin-Smith said the first thing she did Monday morning after getting married was turn her marriage certificate in to her boss so that she could add her spouse to her health insurance. But her boss is the state. She is a legislative aide to state Rep. Jeff Irwin, a Democrat who supports equal marriage rights.
Now she doesn't expect to get the health benefits for her partner of 14 years, at least for awhile.
But Gary Glenn, president of the American Family Association of Michigan, said he's pleased Snyder is not recognizing the marriages.
"We call on the governor to enforce Michigan's Marriage Protection Act," the 2004 referendum that amended the constitution, defining marriage as between one man and one woman, and passed with 59 percent of the vote, Glenn said.
As for Snyder saying he considers Saturday's marriages legal, "we disagree," Glenn said.
"What some judge says is not the law," Glenn said. "What the constitution of the state of Michigan says is the law."
Photo: Michigan Municipal League via Flickr