Michigan's Rep. Camp Won't Run For Re-Election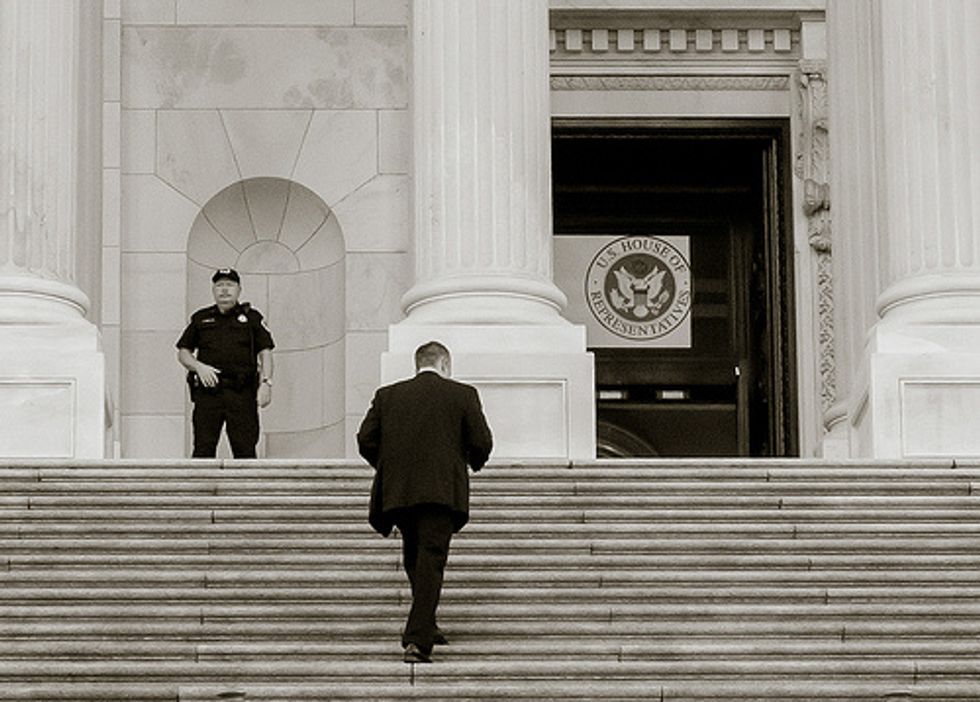 By Todd Spangler, Detroit Free Press
WASHINGTON — U.S. Rep. Dave Camp, a Michigan Republican who has in recent years chaired the powerful House Ways and Means Committee, will not seek re-election this year, adding to the growing number of Michigan members of Congress heading toward the exits.
Camp, 60, made the announcement official Monday, saying the decision was "reached after much consideration and discussion with my family." He did not give a reason for the decision.
In recent years, Camp has been a fervent proponent of changing and simplifying the U.S. tax code, but there seemed to be little enthusiasm for making such a change in advance of the midterm elections. Because of House Republican rules, Camp will be forced to step down as Ways and Means chairman at the end of this year. He became chairman in 2011.
He has been in Congress since 1991 and joins a list that includes U.S. Sen Carl Levin and U.S. Rep. John Dingell of Dearborn, both Democrats, and House Intelligence Committee Chairman Mike Rogers, R-Howell, who have announced they won't run for re-election this year.
Like Rogers, Camp is a key ally of House Speaker John Boehner (R-OH), who noted Monday that he was elected to Congress the same year as Camp. Boehner said from the start, he had been "impressed by (Camp's) wisdom and thoughtfulness and grateful for his friendship."
Camp, in a statement announcing he would step down at the end of his term, said: "Serving in Congress is the great honor of my professional life. I am deeply grateful to the people of the 4th Congressional District for placing their trust in me. Over the years, their unwavering support has been a source of strength, purpose and inspiration."
In 2012, Camp battled non-Hodgkins lymphoma and was later pronounced cancer-free.
"During the next nine months, I will redouble my efforts to grow our economy and expand opportunity for every American by fixing our broken tax code, permanently solving physician payments for seniors, strengthening the social safety net and finding new markets for U.S. goods and services," he said.
Prior to running for Congress himself, Camp was campaign manager for his boyhood friend, Bill Schuette, who ran successfully to represent the district in 1984. Camp stayed in his office for two years before serving a term in the state House himself.
When Schuette — now state attorney general — ran unsuccessfully to replace Levin in 1990, Camp replaced him in Congress. Talking of Camp Monday, Schuette — who said Camp told him his decision earlier in the day — said "the House will miss him."
"I just think he said, 'OK, it's new career time,'" Schuette said.
Gov. Rick Snyder said the state would miss Camp's "steady leadership."
Camp, who has an easygoing, friendly demeanor, has long been known as a bridge-builder in the Michigan delegation, and even though he has been chairman of one of the House's most powerful committees during a time of extreme partisanship, he was more of a policy wonk than a fire-breathing conservative.
Known for his expertise on tax and trade issues — both of which fall under the committee's purview — Camp joined former Senate Finance Chairman Max Baucus, a Montana Democrat, on a barnstorming tour last year to push tax reform.
But when Camp unveiled his sweeping, 979-page discussion draft in February and suggested it was time to lead to slaughter some sacred cows — like the deduction of interest on education loans or the deduction on mortgage interest for homes costing up to $1 million — to spark job growth, the proposal met with a Republican caucus unwilling to commit to such a change this year.
It called for flattening individual rates, collapsing seven current brackets to just two and cutting the corporate rate from a top rate of 35 percent to 25 percent, among many other provisions.
Tax and trade policy weren't Camp's only passions, however. He has long been a proponent of making adoptions more streamlined and accessible to help move children from foster homes to adoptive ones. He wrote laws that helped facilitate international adoptions and created financial incentives for states that encourage the adoption of older children.
As happened last Friday when Rogers — who had been in Congress since 2001 — announced he was leaving at the end of this term, Camp's departure may put his party in a bit of a bind: Candidates wishing to appear on the August primary ballot must file candidacy paperwork and 1,000 petition signatures by 4 p.m. April 22.
The district — which is composed larger of the central lower peninsula — is reliably Republican, however, and Camp, if he chose to, could be a financial asset if he chose to be, with $3.4 million in his campaign fund as of the end of 2013.
State Republican Party Chairman Bobby Schostak wasn't worried about holding onto the district.
"We have a deep bench of leaders in our party who will continue Congressman Camp's legacy of tirelessly working on behalf of Michigan families," he said. "I'm certain we will retain Congressman Camp's seat this fall."
Bill Ballenger, of the newsletter Inside Michigan Politics, said while he was surprised at the timing, it's not hard to understand why Camp would leave.
"If you're going to look at making real money in the private sector his window is almost closed," Ballenger said.
Among the names being prominently mentioned as a possible candidate is state Sen. John Moolenaar (R-Midland), who chairs the Veterans, Military Affairs and Homeland Security Committee and serves as vice chair of the Senate Appropriations Committee.
Other potential names being mentioned among Republicans include state Sens. Roger Kahn of Saginaw Township, state Rep. Kevin Cotter of Mt. Pleasant; state Rep. Jim Stamas of Midland and former state Rep. Tony Stamas of Midland.
Potential Democratic names being mentioned are former U.S. Rep. Jim Barcia of Bay City, Bay County Executive tom Hickner and former state Sen. Joel Sheltrown of West Branch.
"This is such a rare opportunity that a lot of people will be considering this," said political consultant Stu Sandler.
U.S. Rep. Fred Upton (R-St. Joseph), who is chairman of the powerful House Energy and Commerce Committee, said Michigan was losing an outstanding congressman, one who said had "a long record in support of jobs and improving the nation's economy in everything he touched."
"I will genuinely miss the strong partnership we had with the unprecedented privilege of Dave at the helm of the Ways and Means Committee and me with the Energy and Commerce Committee," Upton said.
vpickering via Flickr