Mideast Talks In Tatters As Peace Deadline Expires
@AFP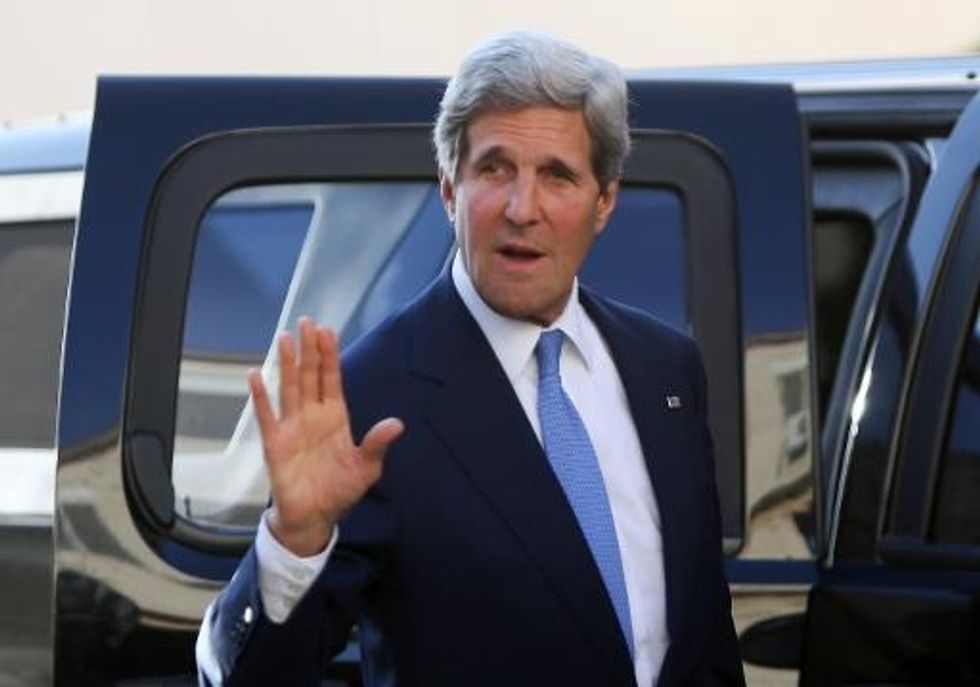 Jerusalem (AFP) – Washington's deadline for reaching a peace deal expired Tuesday with the sides bitterly divided and warnings that Israel risked becoming an "apartheid state" if it failed to make peace with the Palestinians.
As final date for the nine-month negotiation period arrived, peace hopes appeared more remote than ever with Israeli Prime Minister Benjamin Netanyahu and Palestinian president Mahmud Abbas locked in a tactical game of fingerpointing, and U.S. attempts to broker an extension in tatters.
After more than a year of intensive shuttle diplomacy by U.S. Secretary of State John Kerry who had initially hoped for a deal by April 29, Washington's was reluctant to admit failure, acknowledging only a "pause" in the dialogue.
But Israel and the Palestinians were under no illusions about the fate of the latest U.S.-led peace effort, with analysts saying it was a case of back to square one.
"We're back to where we started," said Jonathan Spyer, senior researcher at the Global Research in International Affairs Center near Tel Aviv.
The Palestinians, he said, were likely to continue with their "strategy of political warfare" by seeking global recognition for their promised state, in a bid "to isolate Israel in international bodies and pressure it into making concessions."
Until a month ago, the Palestinians had suspended moves on the international front to give the talks a chance but resumed the process after Israel reneged on a commitment to release two dozen veteran prisoners.
Israel, Spyer said, was unlikely to make any sweeping gestures but merely seek to maintain the status quo by seeking to either "ignore, or reverse" the Palestinian diplomatic moves.
"Don't expect a grand strategy from Netanyahu besides seeking to blame the collapse of the current round of negotiations on Mahmud Abbas," he told AFP.
Other Israeli analysts said the collapse of the talks was a direct result of Israel's relentless settlement construction on land which was the subject of negotiations.
Figures published on Tuesday by settlement watchdog Peace Now showed that in parallel with the negotiations, the Israeli government approved plans for nearly 14,000 new settler homes, describing it as an "unprecedented number."
"Netanyahu broke construction records during the nine-month peace talks," Peace Now head Yariv Oppenheimer told AFP.
The ongoing settlement building infuriated the Palestinians but Netanyahu insisted he had never agreed to any "restraints on construction" throughout the talks.
"Abu Mazen made a hefty contribution to the failure (of the talks), there is no doubt of that," wrote Nahum Barnea in the top-selling Yediot Aharonot newspaper.
"But only politicians with amnesia can ignore the huge contribution of the settler lobby to the failure."
If Israel continued its relentless drive to build beyond the 1967 Green Line, it would end up turning into an apartheid state, he said, echoing a similar warning by Kerry.
"The settlers' political lobby … will fashion Israel in two stages. In the first stage, Israel will become an apartheid state, shunned by businesses in the world, it will come under siege politically, legally and culturally," Barnea wrote.
"In the second stage, the world will force (Israel) to become a bi-national state."
Kerry has found himself at the center of a political storm after reportedly saying that if Israel didn't seize the opportunity to make peace soon, it risked becoming an "apartheid state" with second-class citizens.
"Apartheid" refers to South Africa's 1948-1994 oppressive and racially segregated social system.
In his apology, Kerry insisted that he had never called Israel "an apartheid state" but he did not deny using the term, suggesting only that he used a poor choice of words.
Although the talks made little visible progress, they hit a major stumbling block in late March when Israel refused to honor a commitment to free two dozen veteran Palestinian prisoners, prompting Abbas to resume recognition moves by signing 15 international treaties.
Furious, Israel immediately unveiled economic sanctions by freezing tax monies it collects on behalf of Ramallah and suspending a joint natural gas drilling project off the Gaza coast.
A political source quoted by the Walla news website said the freezing of tax monies was "just a first step" and that more was to follow after Palestinian leaders in the West Bank and the Hamas-run Gaza Strip announced a surprise unity deal aimed at ending years of rivalry.
The move was denounced by Israel, which said it would not negotiate with any government backed by the Islamist movement, whose charter calls for the destruction of the Jewish state.
AFP Photo/Fadi Arouri