Midterm Poll Roundup: Can Republicans Win In New England?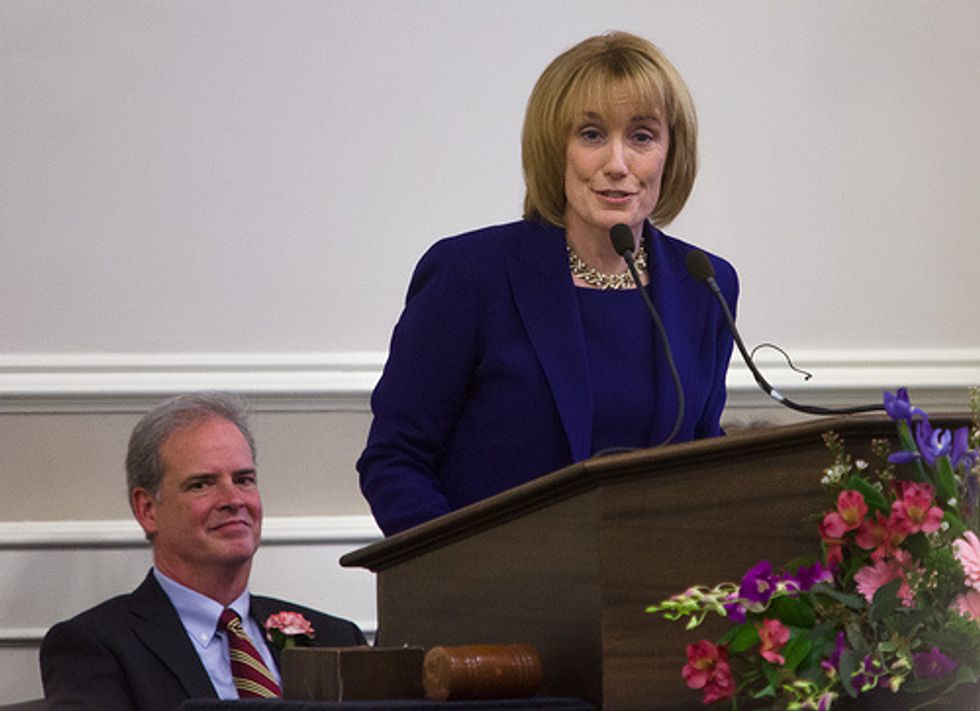 As the 2014 midterm elections draw closer, an avalanche of polling data will emerge on the key races that will decide who controls the House of Representatives, the Senate, and statehouses across the country. What follows is a brief summary of some key polls from the week of March 16:
New Hampshire
Republicans are hoping that former Massachusetts senator Scott Brown's all-but-certain entrance into New Hampshire's 2014 Senate race will turn the Granite State into a serious 2014 battleground, but the polls suggest that this may be wishful thinking.
According to an American Research Group poll released Monday, Senator Jeanne Shaheen (D-NH) has a comfortable 50 to 38 percent lead over Brown, with 12 percent undecided. Those numbers are similar to a recent Suffolk University/Boston Herald poll that found Shaheen up 13, and solidify the incumbent Democrat's status as the frontrunner.
ARG also polled New Hampshire's gubernatorial race, with similarly strong results for the Democrats. Governor Maggie Hassan leads Republican challenger Andrew Hemingway 45 to 30 percent, with 25 percent undecided — 37 percent of respondents approve of Hassan, while 25 percent disapprove and 38 percent are undecided.
Most polls find Hassan's approval ratings to be much higher; the first-term Democrat is widely regarded as one of the most popular governors in America.
Massachusetts
The woman whom Scott Brown defeated in 2010 looks like she may have more success than her former rival in 2014. A WBUR poll released Thursday shows Massachusetts attorney general Martha Coakley leading state treasurer Steve Grossman 45 to 14 percent in the Democratic primary for governor, with three other candidates polling in the low single-digits.
Should Coakley advance to the general election, she would also hold a comfortable 41 to 26 percent lead over likely Republican nominee Charlie Baker.
Coakley should not start measuring the drapes at the governor's office yet, however. Her strong numbers are likely fueled by her 94 percent name recognition in the Bay State, which is well above Grossman's 60 percent and Baker's 74 percent. In other words, it's still far too early to declare Coakley impervious to another upset loss.
Georgia
Republicans may have gotten some good news this week, when a Survey USA poll found businessman David Perdue leading the field in Georgia's Republican Senate primary with 29 percent. U.S. Rep. Jack Kingston placed second at 19 percent, followed by Rep. Phil Gingrey at 12 percent, Rep. Paul Broun at 11 percent, and former Georgia secretary of state Karen Handel at 10 percent. The close race makes it incredibly likely that the nomination will be decided by a runoff election.
Perdue and Kingston would almost certainly be national Republicans' top choices to appear on that ballot, as they are considerably less likely to commit a devastating gaffe than the erratic Broun or Gingrey.
The Survey USA poll is an outlier, however; no other survey of the race has found Perdue leading the field, and The Huffington Post's polling average of the race finds the five top candidates essentially tied in the low teens.
Montana
The first poll of Montana's Senate race since Democrat John Walsh was appointed to fill the remainder of Ambassador Max Baucus' term did nothing to dispute the notion that the seat is a likely Republican pickup.
According to a Rasmussen survey released Wednesday, Republican congressman Steve Daines leads Walsh 51 to 37 percent, with 9 percent undecided.
Walsh's appointment was at least partially intended to let him run with the benefits of incumbency, but so far it doesn't seem to have had much of an impact; the former lieutentant governor still has just 31 percent name recognition in the state he represents in Congress.
Photo: Roger H. Goun via Flickr