Midterm Roundup: Joni Ernst's Flip-Flop-Flip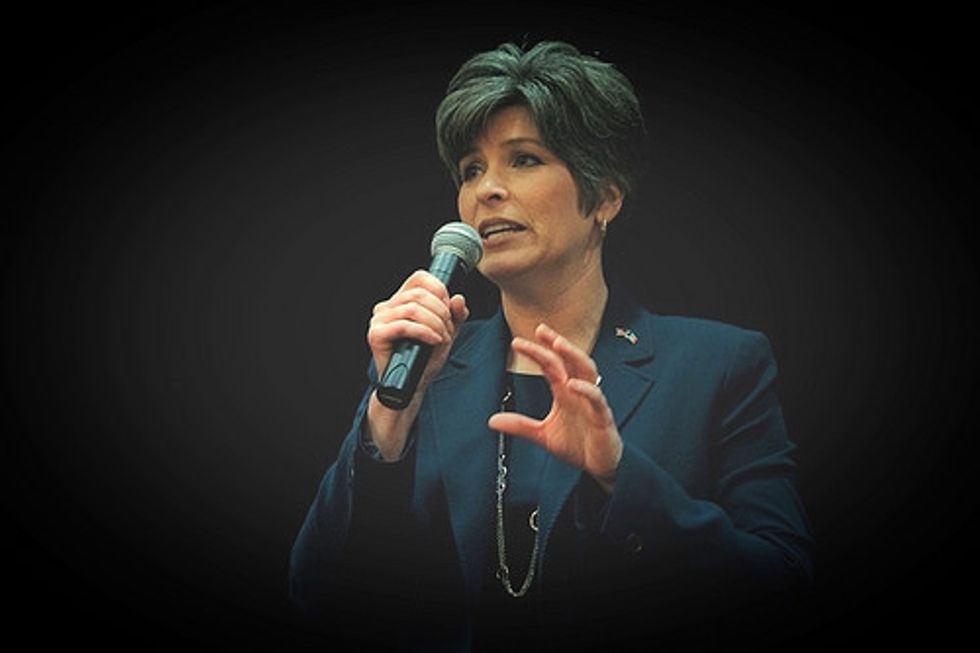 Here are some interesting stories on the midterm campaigns that you may have missed on Thursday, October 16:
• As other Republican candidates try to distance themselves as far as possible from their past support for fetal personhood bills, Iowa Senate candidate Joni Ernst is making the opposite play. On Wednesday, she told the Sioux City Journal editorial board that "I will continue to stand by" a pledge to support a personhood bill if she is elected to the Senate. As MSNBC's Steve Benen points out, this amounts to a flip-flop-flip on the issue (although Benen suspects that Ernst may not fully understand the controversial policy). Ernst continues to lead Democrat Bruce Braley by 2 percent in the Real Clear Politics poll average.
• Colorado Senate candidate Cory Gardner is also struggling with his past support for personhood. Democratic incumbent Mark Udall's campaign has been circulating this brutal clip from the candidates' last debate, in which the moderator tells the Republican congressman that "a charitable interpretation would be that you have a difficult time admitting when you're wrong, and a less charitable interpretation would be that you're not telling us the truth." Still, polls continue to show Gardner building on his narrow lead, and he now holds a 3 percent advantage in the poll average.
• Another poll suggests that Democrats have a real chance in Georgia's tight gubernatorial and senatorial elections. The new survey from WRBL finds Republican governor Nathan Deal tied with Democratic challenger Jason Carter at 44 percent. In the Senate contest, Democrat Michelle Nunn leads Republican David Perdue 46 to 45 percent, within the poll's margin of error. Deal and Perdue's leads in the poll average are down to 2 percent and 1.2 percent, respectively, and a runoff appears increasingly likely in both races.
• Mayday PAC, the outside group that seeks to limit the influence of money in politics, released a new ad touting South Dakota Senate candidate Rick Weiland's support for expanding Social Security. The ad is likely meant to contrast the Democrat with Independent candidate Larry Pressler, who is struggling with his past support for cutting Social Security benefits.
• And new polling suggests that Democrats may have an ace in the hole to save them in several tight races: raising the federal minimum wage.
Photo: Monica de Argentina via Flickr
Want more political news and analysis? Sign up for our daily email newsletter!