Midterm Roundup: A New Frontrunner In Florida?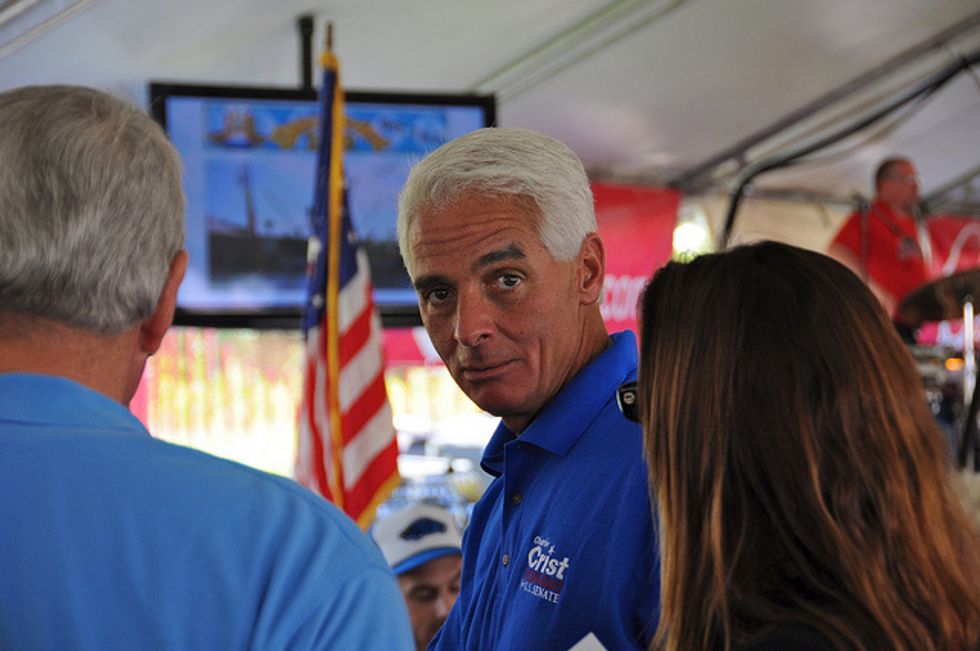 Here are some interesting stories on the midterm campaigns that you may have missed on Thursday, October 9:
• Another survey of Florida's gubernatorial race suggests that Democrat Charlie Crist is close to reclaiming his old job. The University of North Florida poll, released Thursday, shows Crist with a 5-point lead over incumbent Republican Rick Scott. Crist only leads by 1.4 percent in the Real Clear Politics poll average, but Tampa Bay Times political editor Adam C. Smith has seen enough to declare that "Crist may have become the clear frontrunner."
• Senator Jeanne Shaheen (D-NH) continues to lead Republican challenger Scott Brown in New Hampshire's Senate race. A new WMUR Granite State Poll finds Shaheen up 47 to 41 percent. Democrats' strategy of aggressively attacking Brown appears to be paying off; his net favorability rating has plummeted to a startling negative-19 percent, down from negative-2 percent in August. Shaheen now leads by 6.5 percent in the poll average, and Brown's odds of a comeback appear increasingly long.
• A CNN/ORC poll released Thursday shows Republican Dan Sullivan leading Democratic senator Mark Begich, 50 to 44 percent, in Alaska's Senate race. Sullivan is now up 4.8 percent in the poll average, although it must be noted that polling in Alaska is notoriously unreliable.
• Larry Pressler, whose surging Independent campaign has turned South Dakota's Senate race upside down, won't say which party he'd caucus with if he scores an upset victory. But he did tell The Hill that he'd be a "friend of Obama" if he wins, creating another headache for Republican nominee Mike Rounds.
• And Senator Mary Landrieu (D-LA) continues to dominate the tailgate scene in Louisiana. After helping a fan do a kegstand at LSU two weeks ago, video has now emerged of Landrieu doing the wobble at a Southern University tailgate. The campaign trail isn't all fun for the Democratic incumbent, however; she trails Republican Bill Cassidy by 5.6 percent in the poll average, and on Thursday she replaced her campaign manager — a move that bodes poorly so late in the race.
Photo: Mike Cohen via Flickr
Want more political news and analysis? Sign up for our daily email newsletter!