Mike Flynn, Crank Felon, Warns Vaccines Will Turn Us Into Zombies
@CynicalBrandon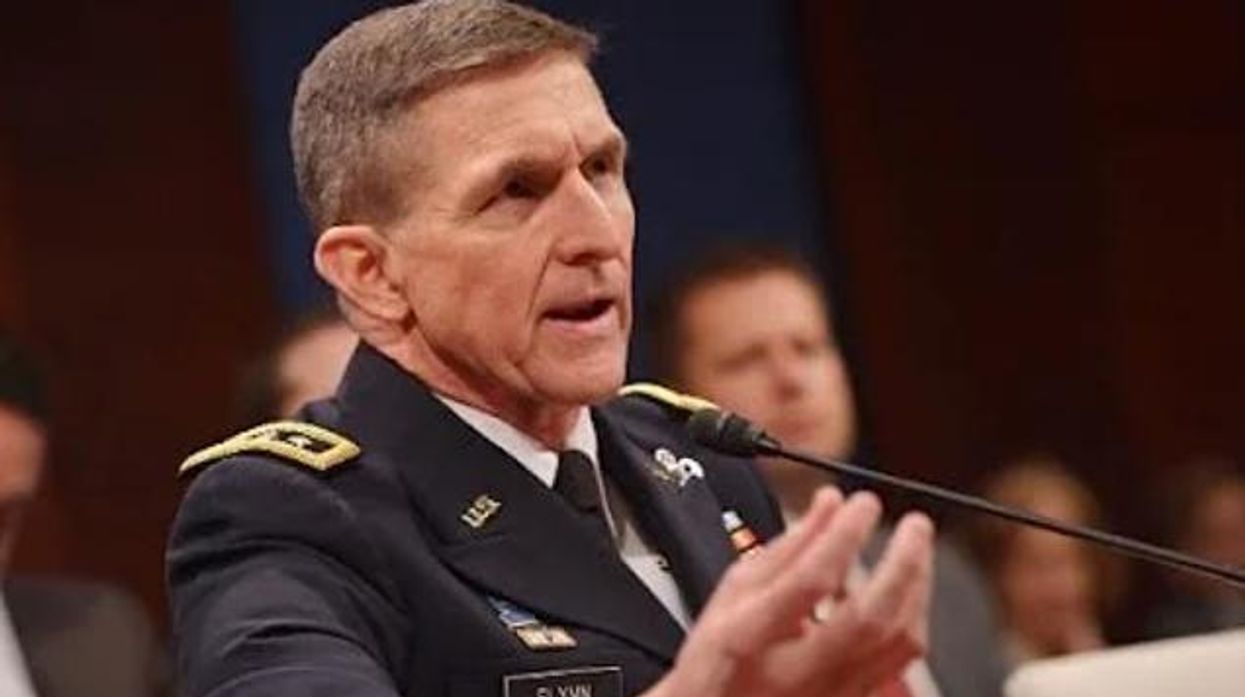 YouTube Screenshot
Retired Army Lieutenant General and disgraced ex-National Security Advisor Michael Flynn is a notorious peddler of outlandish conspiracy theories, especially those that originate inside QAnon or spew from the pouty lips of former President Donald Trump.
In particular, Flynn, a Trump-pardoned convicted felon, has focused much of his paranoia on ginning up opposition to COVID-19 vaccines and sowing doubts about the nature of SARS-COV-2. For example, Flynn has claimed that the inoculations were covertly added to salad dressings by the "Deep State" to secretly poison unsuspecting Americans. Flynn has also stated that a "global elite type of people" engineered the coronavirus pandemic to prepare the world for their next artificially-concocted outbreak, which Flynn believes "is potentially another type of virus that's imposed on the public."
Part of that scheme, Flynn maintained, was that a shadowy cabal of international powerbrokers intended to exploit the crisis as a means of stealing the 2020 election away from Trump.
But on Sunday, Flynn endorsed yet another fringe – and absolutely looney – conservative delusion about COVID-19 vaccinations during an appearance on right-wing radio host Clay Clark's ReAwaken America Tour.
This latest ill-begotten contention was put forth on May 1st by disinformation podcaster Jeffrey Prather. Here are the basics:

Vaccines contain inactive "lipid nanoparticles" embedded with deadly "chimeric pathogens" which were genetically programmed to animate when properly triggered.
The germs supposedly lying dormant include E. Coli, Ebola, Marburg – a highly fatal viral hemorrhagic fever, and brewers yeast – an ingredient added to ferment beer and bake bread.
The "pathogens" will be activated when 5G towers thrice broadcast an 18 gigahertz signal for one minute.
The specified frequency subsequently causes "1P36 gene deletion," turning vaccine recipients into zombies. More on that one in a moment.
Clark summarized Prather's assertions and then asked Flynn to share his thoughts.
"This pathogen that you just talked about; I think that there's been some great articles written about how it relates to the 5G technology that is being input basically globally," Flynn said of thoroughly debunked "alterative" research. "But my statement is that because this is a good versus evil time. It is actually one of the most consequential periods in history to be alive."
Next, Clark aired a brief clip of Prather discussing his unfounded ideas, which disturbed him greatly.
"That would cause you to begin to have seizures, begin to bite people, and to have problems with your frontal lobe," he declared. "It's a lot. It's heavy."
Watch below via PatriotTakes:
Reprinted with permission from Alternet.