Mike Pence Ready For Presidential Broadway
@JamieStiehm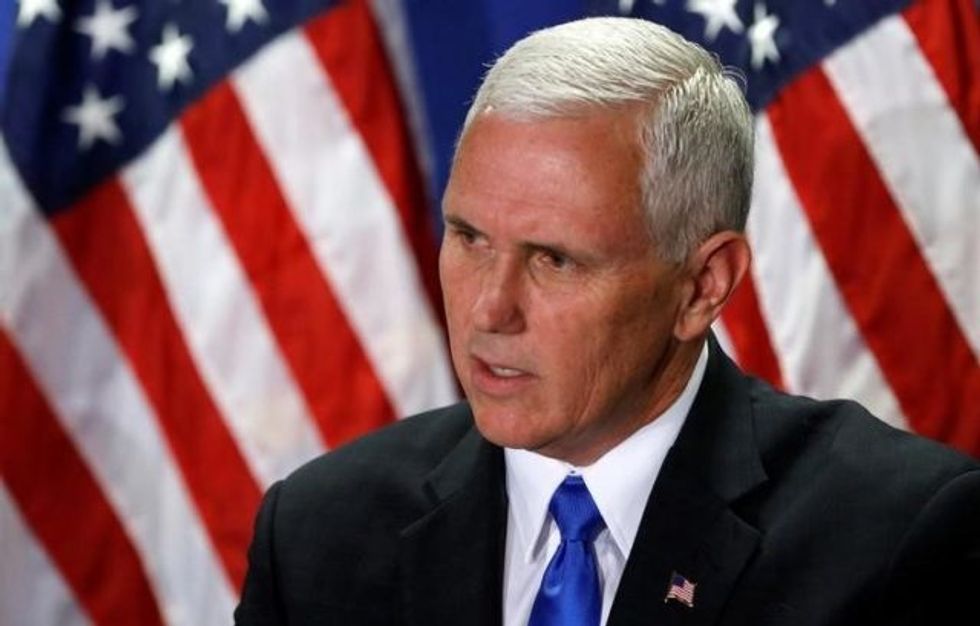 Reprinted with permission from Creators.
WASHINGTON — The honorable Mike Pence is my neighbor, living in the huge white Naval Observatory residence a few blocks down Massachusetts Avenue.
It's strictly a temporary stop on the way to a sweet stone period pile on 16th and Pennsylvania.
Primed and ready, Pence is acting presidential, learning his lines, much like the senior statesman he never was. Donald Trump's reign, volatile and fragile, has left an opening for mild-mannered but ambitious Pence, 58, to seamlessly slip through.
Shakespeare would be impressed. Not bad for an Indiana boy following Dan Quayle's footsteps.
Grumpy bad cop Trump is distracted by the Russian investigation and other fronts — now battling a record low 33 percent approval rating.
Good cop Pence pursues his own agenda with that Lego-like haircut. They say he has an affinity for calling his wife "Mother." Oh brother.
For now, the vice president lives in shipshape digs within shouting distance. He's not exactly the boy next door. Pence's regal comings and goings, with full dress Secret Service and Metropolitan police escorts, cause more flashing sirens and traffic closures at rush hours than the neighborhood recalls. Past Vice Presidents Joseph Biden, Al Gore and Dick Cheney weren't loud and showy.
Diplomats at the nearby Norwegian and British Embassies are probably too polite to complain about the intrusions to quality of life on the lovely meandering hill down to Dupont Circle, Rock Creek Park and Capitol Hill.
Speaking of Capitol Hill, Pence spends time there, hobnobbing with the legislative branch. Here again, he's breaking china, unwritten Washington customs. The three branches of American government — the executive, judiciary and Congress — are supposed to be separate.
Remember, Mike, those lessons we learned in school? An archconservative, Pence was once a member of the House, but never the Senate. But now, it's like he's fraternity president. In fact, he's officially president of the Senate, under the Constitution, but votes only to break ties if necessary.
It's inside baseball, but the Senate Republicans and Democrats have Tuesday party lunches to huddle and strategize in secret. When I was a rookie reporter covering these lunches, it was a special event to see the White House show up, either President Clinton or Vice President Gore.
Here's the thing: Pence is guest of honor at the Republican Party lunch more often than not. That's a culture change right under the Capitol radar.
Does he play the heavy? Next to trashy Trump, anyone would seem genteel. Dusted with silver hair to match his silver tongue, Pence is defining himself as a pleasant force — yet a potent one — compared to his boss.
Manners matter. After the divisive election a year ago, Pence displayed civility when the cast of "Hamilton" made a statement from the stage, an appeal for the arts and diversity. Pence said nothing from the audience. But he listened. Trump, who was not there, blasted the actors and demanded an apology.
I say, good for Pence, for attending the hit Broadway musical celebrating the brash immigrant and constitutional genius. (I saw the show the next night and heard the buzz.) Our bumpkin Trump does not go in for theater, symphony or opera. "Fox & Friends" is too enthralling.
Pence's stage clue, or "tell," came when he stepped onto the sacrosanct Senate floor to elbow Senator John McCain, R-Ariz., on a major vote past midnight. Repealing Obamacare could not have been closer. Ailing from brain cancer surgery, McCain refused to bow to Pence's pressure and cast a thumbs-down vote that saved Obamacare.
This was the most breathtaking political theater of the year. Pence did not belong there, and I'm sure McCain did not like it. But when you're a usurper, that's what you do. Pence sought the hero role, to break a tie.
A violent history hangs over a House member stepping onto the Senate floor. Before the Civil War, a South Carolina slavery zealot "caned" and beat Senator Charles Sumner, a Massachusetts abolitionist.
We know Pence and Trump are sworn enemies of women's rights, liberties and privacy. Given that, who's worse? You tell me.
To my neighbor: Keep up the good work; you'll be moving downtown any day now.
To find out more about Jamie Stiehm and read features by other Creators writers and cartoonists, visit the Creators webpage at www.creators.com.