Military Official Says Complete Pullout From Afghanistan Leaves The Country Vulnerable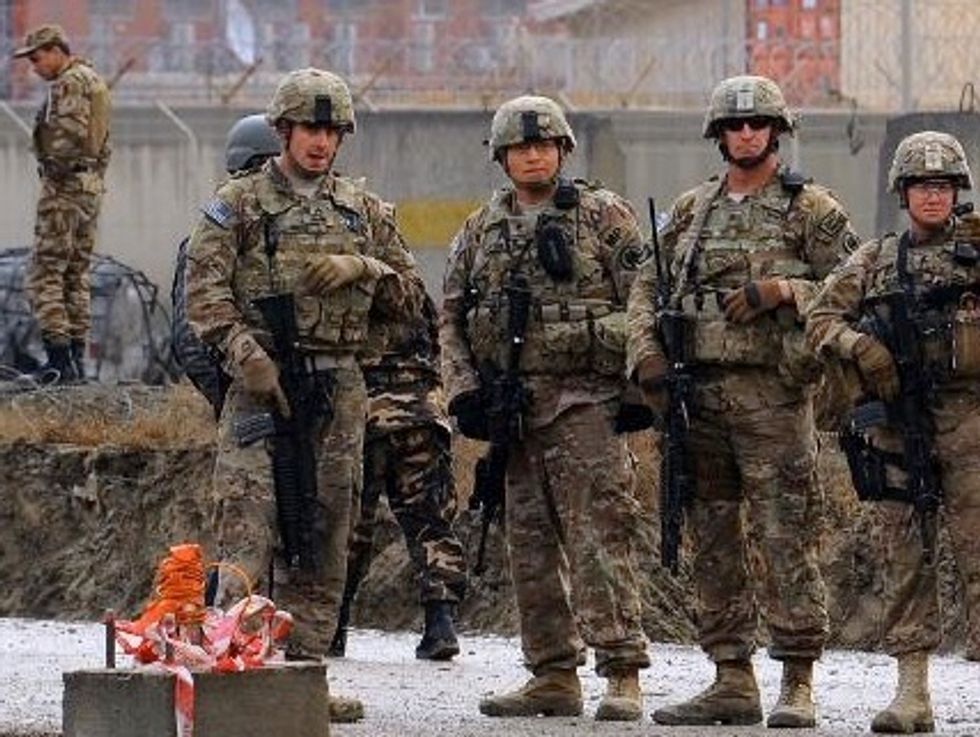 By David S. Cloud, Tribune Washington Bureau
BRUSSELS — Security in Afghanistan would worsen steadily if all U.S. troops were withdrawn this year, a senior U.S. military official warned Thursday, two days after President Barack Obama ordered the Pentagon to begin contingency planning for such a pullout.
"I can't speculate what the outcome will be," the commander said in remarks to reporters traveling with Defense Secretary Chuck Hagel. "What I can tell you is Afghan forces aren't self-sustainable at the end of 2014, and over time that obviously will have an impact in terms of the security environment."
He spoke on condition of anonymity because he was discussing military plans and assessments.
Hagel and European defense ministers wrapped up two days of meetings Thursday at NATO headquarters that focused on the pullout of all foreign forces at the end of this year if Afghanistan's government fails to sign agreements with the United States and NATO authorizing a foreign military presence after 2014.
Asked whether attacks could increase and the insurgency would gain strength next year without U.S. troops there, Hagel said: "Yes, one of the consequences could be an erosion of confidence….Yes, there are always risks, there are always uncertainties."
Afghan President Hamid Karzai has refused to sign the bilateral security agreement that would allow U.S. troops to stay, but Obama said this week that Karzai's successor could do so. Afghanistan's presidential election is scheduled April 5.
Despite the international effort to build an Afghan army and police that could withstand the insurgency, the forces are plagued with illiteracy, drug use and desertions. They often fail to provide basic support to troops in the field, including pay, fuel and spare parts.
Gen. Joseph F. Dunford Jr., the top commander in Afghanistan, is proposing to keep around 10,000 U.S. troops, with 5,000 NATO and other international troops based in north and west of the country as part of a NATO mission, officials said.
Most of the troops would be assigned to train or advise Afghan units fighting a still-potent Taliban-led insurgency, though some U.S. forces would conduct counterterrorism operations against al-Qaida and its affiliates. White House officials have explored leaving fewer U.S. troops, but no decisions have been made, officials said.
Current plans call for steadily withdrawing the 33,000 remaining U.S. troops after the April elections. Another 10,000 would rotate in by July. If Kabul agrees to let them stay, they would remain after Dec. 31. If not, they also would be withdrawn this year.
U.S. military officers in Kabul say the Afghan army, which has taken over responsibility for security in the vast majority of the country, has performed well. But the levels of insurgent attacks has stayed steady for the last two years, the senior military officer said, suggesting they could grow more intense if the U.S. withdraws.
The prospect of a complete U.S. pullout has raised concerns in the military and U.S. intelligence agencies that large parts of Afghanistan, especially in the south and east, could once again fall under Taliban control, increasing the likelihood that remnants of al-Qaida could again operate from its territory.
U.S. officials said last December that intelligence agencies had warned in a secret assessment that security would worsen sharply if the U.S. withdraws and that Kabul, the Afghan capital, could see sharply higher insurgent attacks within a year.
The intelligence agencies also warned that the U.S. ability to launch armed drones and other counterterrorism missions against al-Qaida and other extremist groups in Afghanistan and Pakistan could become more constrained as political opposition to such operations grows in both countries, officials said.
AFP Photo/Aref Karimi