Million Vets March Becomes Confederate Flag-Waving Embarrassment For GOP
On Sunday, right-wing leaders and Tea Party supporters descended on Washington, D.C. for the "Million Vets March On The Memorials," a protest designed to pressure the Obama administration to reopen the war memorials closed as a result of the government shutdown. Perhaps unsurprisingly, the event quickly descended into a confederate flag-waving embarrassment for the Republican Party.
To many on the right, the protest was supposed to be a major turning point in the battle over the government shutdown. As National Review's well-sourced Robert Costa tweeted on Sunday:
This is a big story; House conservatives tell me it's a "game-changer," gives Right new momentum ahead of this week http://t.co/QRzlHrjOcf

— Robert Costa (@robertcostaNRO) October 13, 2013
Needless to say, that's not what happened. As Daily Kosdocuments, the rally's organizers fell more than 999,000 short of their goal of attracting one milion protesters. And those who did show up were not exactly helpful to the Republican cause.
The rally was highlighted by Senator Ted Cruz (R-TX) and fake politician Sarah Palin, both of whom have gone to great lengths to establish themselves as leaders of the Tea Party movement. Not coincidentally, both are just as unpopular as the Tea Party itself. Voters view Palin unfavorably by an overwhelming 58 to 34 margin, and Cruz is well on his way towards becoming the most hated man in America.
It only got worse from there. Palin and Cruz were joined by Larry Klayman, who followed through on his threat to demand that President Obama "put the Quran down, get up off your knees and come out with your hands up!"
Others came waving Confederate flags: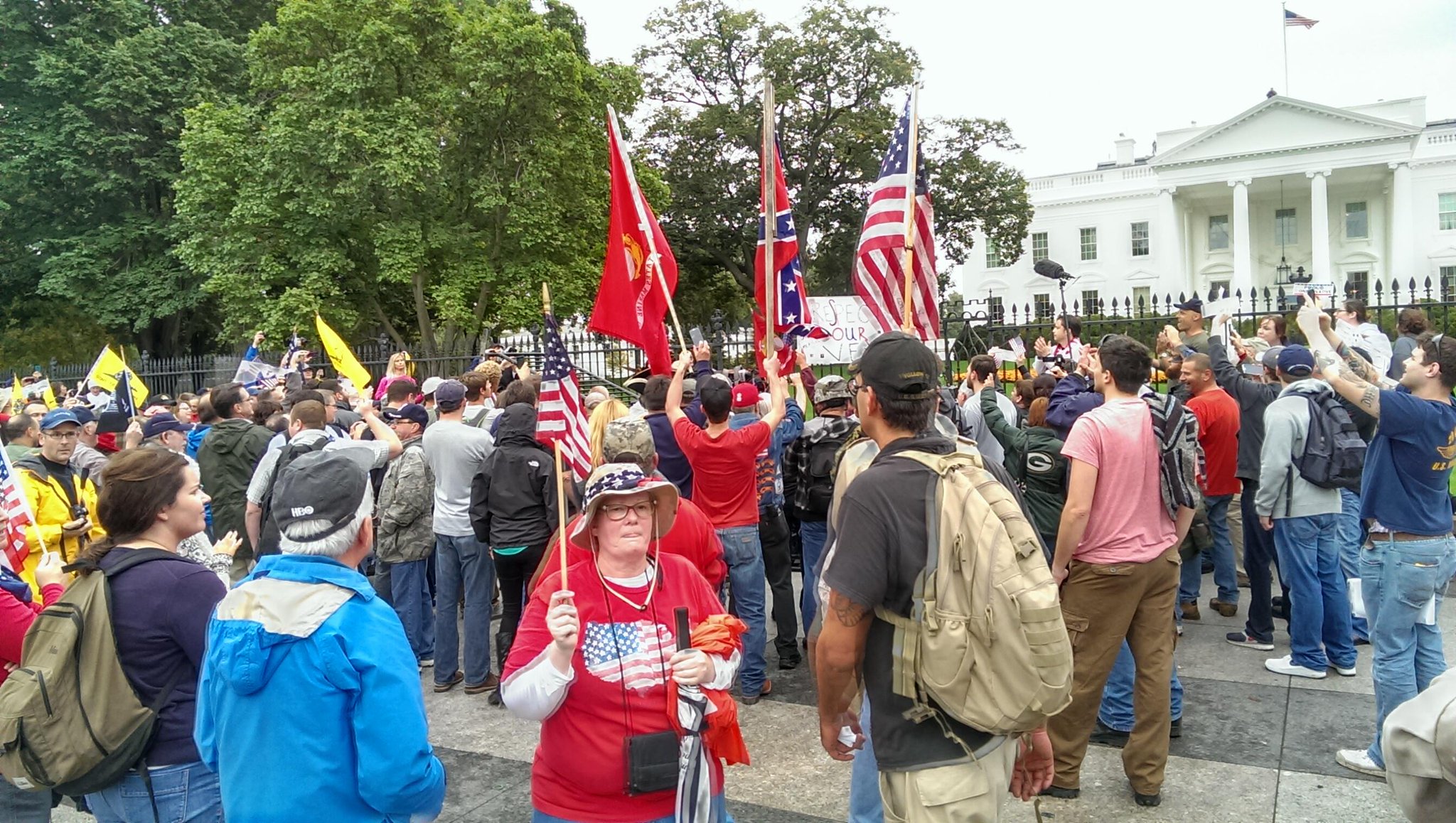 Unsurprisingly, the extremism totally overshadowed the rally's original message. The media has devoted far more coverage to the Tea Party's domination of the event than the original goal of pressuring the Obama administration to reopen the war memorials, and as Little Green Footballspoints out, the protest's organizers went so far as to release a statement saying that "The political agenda put forth by a local organizer in Washington, D.C. was not in alignment with our message," and that "we feel disheartened that some would seek to hijack the narrative for political gain."
The episode is just the latest in a long series of examples demonstrating how damaging the Tea Party brand is to the Republican Party at large. As congressional Republicans negotiated to end the government shutdown that the far right started, the last thing they needed was to see Ted Cruz, Sarah Palin, and a legion of birthers and neo-confederates reminding Americans of exactly who's to blame for the governing crisis. As long as the far right continues to serve as the face of the GOP, it's hard to imagine the party's dreadful poll numbers improving.