Milwaukee's War On Black People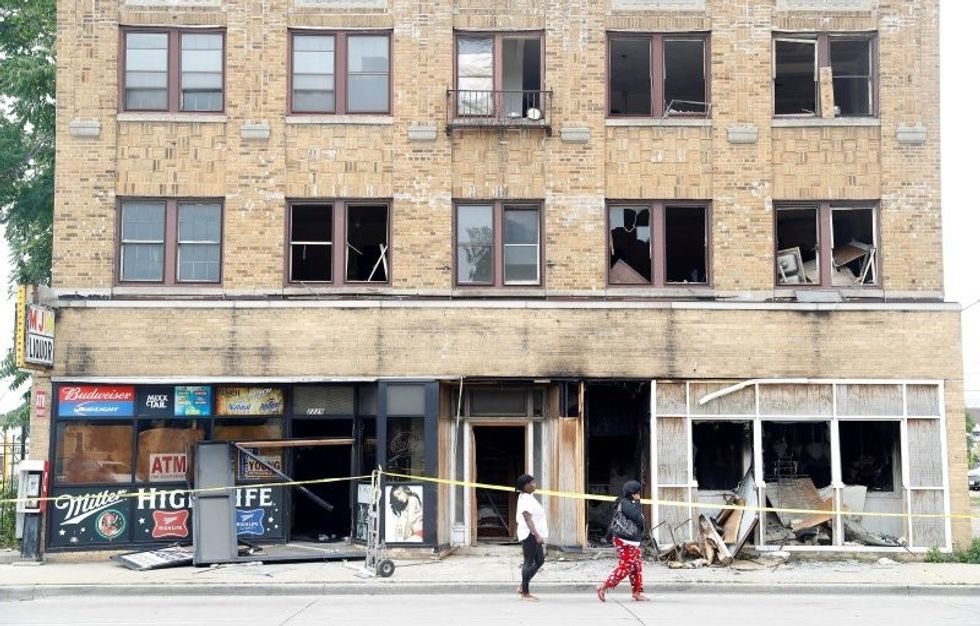 Published with permission from Alternet.
Donald Trump supporter and Milwaukee Sheriff David Clarke has built a national profile by openly declaring war on the Black Lives Matter movement, from the floor of the Republican National Convention to the pages of national media outlets, once even proclaiming on social media that racial justice protesters will "join forces" with ISIS.
Now that some Milwaukee residents have staged days of open rebellion against police violence following the cop killing of 23-year-old black man Sylville K. Smith, Clarke is ratcheting up his rhetoric. During a press conference on Sunday, he employed dog whistle racist language, stating that "the urban pathologies have to be addressed to shrink the growth of an underclass." Clarke went on to argue that, from Baltimore to Ferguson Milwaukee, there is a "war on police"—and vowed to escalate his crackdown on demonstrators. Meanwhile, Governor Scott Walker on Sunday declared a state of emergency and activated the national guard against protesters.
But in a city that has been called the most segregated urban area in America, angry demonstrators are telling a different story: of a state-sanctioned war against poor, black residents. This perspective was articulated by Milwaukee man Sedan Smith, who identified himself to local outlet CBS 58 as the brother of Sylville Smith.
"It's the police. This is the madness that they spark up. This is what they encourage. This is what they provoke. This is what you get. You take a loved one from something, this is what you get," Smith declared on Saturday, standing in view of an auto parts store engulfed in flames. "I don't know when it's going to end. But it's for y'all to start. We're not the ones that's killing us. Y'all killing us. We can't make a change if you all don't change."
Before Sylville Smith was killed, Milwaukee was already reeling from former Milwaukee police officer Chistopher Manney's killing of mentally ill black man Dontre Hamilton with 14 gun shots in 2014. While Manney was fired from his position, he did not face any charges for the murder, and Milwaukee residents staged Black Lives Matter demonstrations to protest his impunity.
Protesters taking to the streets today say that police violence against black residents of Milwaukee remains systemic. "You see anger, just the anger and the frustration of a community that has suffered atrocities and oppression on behalf of what they deem to be the police oppressive system, that has never seemingly been held accountable for taking the life, like the young man said, of their loved ones," Muhibb Dyer, a community activist and co-founder of the organization Flood the Hood with Dreams, told Democracy Now.
But in Milwaukee, injustices against black people extend far beyond policing. A 2013 study from the University of Wisconsin at Milwaukee found that the state has the highest incarceration rate for black men in the country at 13 percent, thanks largely to Milwaukee's stunningly high rates. Report authors John Pawasarat and Lois M. Quinn note:
The prison population in Wisconsin has more than tripled since 1990, fueled by increased government funding for drug enforcement (rather than treatment) and prison construction, three-strike rules, mandatory minimum sentence laws, truth-in-sentencing replacing judicial discretion in setting punishments, concentrated policing in minority communities, and state incarceration for minor probation and supervision violations. Particularly impacted were African American males, with the 2010 U.S. Census showing Wisconsin having the highest black male incarceration rate in the nation. In Milwaukee County over half of African American men in their 30s have served time in state prison."
Not surpringly, Wisconsin's budget allots more for incarceration than for schooling. This is in a state where four out of every five African-American children live in poverty.
A report released last year by the University of California at Los Angeles found that schools in Milwaukee suspend black students at nearly two times the national average. Meanwhile, Wisconsin has the worst achievement gap between white and black students in the United States, thanks largely to the Milwaukee public school system, which has been systematically defunded and privatized for more than two decades.
Racial disparities extend to home lending. A study released in July by the National Community Reinvestment Coalition found, "In the Milwaukee Metropolitan Statistical Area, whites represent 70 percent of the population, yet received 81 percent of the loans. African Americans are 16 percent of the population yet only received four percent of the loans."
NPR's Kenya Downs wrote an article last year raising the question, "Why is Milwaukee so bad for black people?" Downs wrote: "Milwaukee is a vibrant city known for its breweries and ethnic festivals and can be a great place to live — unless you're black. Statistically, it is one of the worst places in the country for African-Americans to reside."
When Baltimore erupted in uprisings last year following the violent death of Freddie Gray in police custody, angry protesters, most of them black youth, were widely demonized. Yet, a recently released Department of Justice investigation into that city's police department vindicates protesters' outrage, exposing law enforcement's stunning and systematic atrocities against poor black communities, including systematic harassment, violence and degradation.
Now, like their counterparts in Baltimore, black youth of Milwaukee are being demonized as thugs and criminals by the police department entrusted to serve them. Bolstered by a hate-fueled presidential campaign, Clarke is escalating his demagogic incitement against the very people he and his city have failed.
Sarah Lazare is a staff writer for AlterNet. A former staff writer for Common Dreams, she coedited the book About Face: Military Resisters Turn Against War. Follow her on Twitter at @sarahlazare.
Photo: A burned down liquor store is seen after disturbances following the police shooting of a man in Milwaukee, Wisconsin, U.S. August 15, 2016. REUTERS/Aaron P. Bernstein