Minimum Wage Battles To Continue In 2015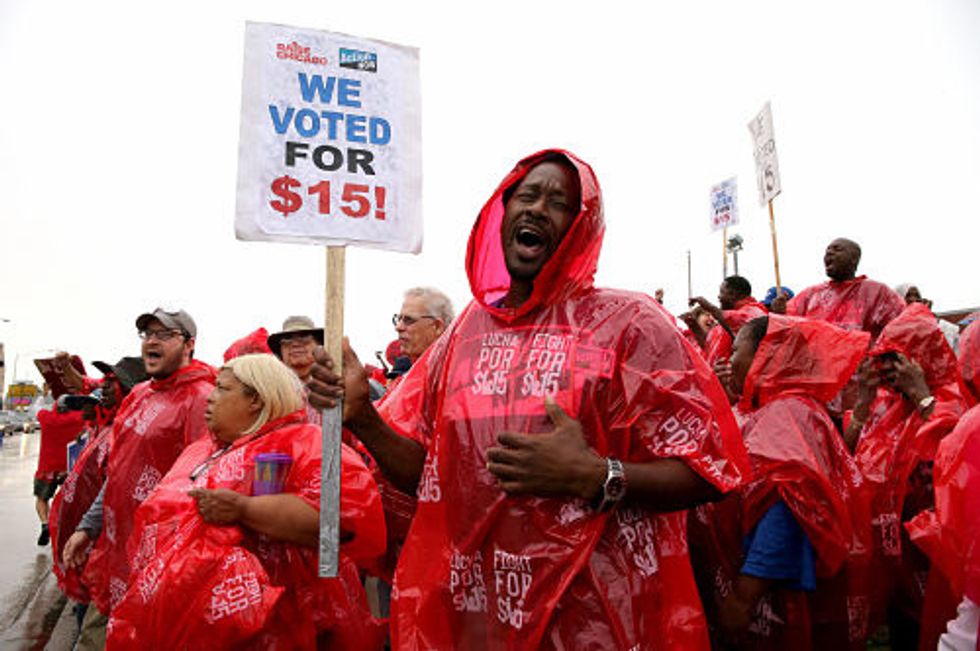 By Alejandra Cancino, Chicago Tribune (TNS)
CHICAGO — Labor notched some big wins last year in its efforts to beef up its ranks. Organizers vow to continue that push this year on signature items such as raising the minimum wage, but business groups are equally adamant about pushing back.
Also on the horizon: Talks between the United Auto Workers and U.S. automakers are expected to begin in mid-2015, with the union vowing to bridge the gap between top-paid and lower-paid workers.
Christian Sweeney, deputy organizing director at the AFL-CIO, said it's an ideal time to organize because the economy has improved some but not enough. Workers are reflecting on their workplaces and their wages and mustering the courage to demand raises and other benefits.
"It's going to be an exciting year," said Keith Kelleher, president of SEIU Healthcare Illinois, Indiana, Missouri and Kansas.
With more than 93,000 members, Kelleher's union is one of the largest Midwest locals of the Service Employees International Union and a force behind Chicago's minimum wage increase approved by the City Council in December.
The minimum wage will rise to $13 an hour in 2019 from the current $8.25 an hour, the state's minimum wage. The first increase, to $10 an hour, takes effect July 1.
Business groups, including the Chicagoland Chamber of Commerce and Illinois Restaurant Association, said the city's measure was a job killer. They warned that Chicago's increase would drive many companies out of the city and force others to layoff employees or to close. Raising minimum wage, they said, has a domino effect as higher-paid workers also will expect increases, putting more pressure on the profitability of small businesses.
Kelleher said the union and its allies, known as the Raise Illinois coalition, will continue to push for a higher minimum wage statewide. The message from Illinois voters was clear, Kelleher said, referring to a November referendum. "People want a raise."
Two-thirds of Illinois voters approved a nonbinding referendum calling for the state to raise the minimum wage to $10 an hour Jan. 1. In December, the Senate approved raising it to $11 an hour by 2019, but the House adjourned without voting on the measure.
"We will be resisting a minimum wage increase very heavily," said Illinois Chamber of Commerce Chief Executive Todd Maisch, adding that minimum wage increases put employers at a competitive disadvantage.
The debate over the minimum wage comes as cities and states across the country enact laws to boost the earnings of the lowest-paid workers amid concerns about widening income inequality. Some 20 states and Washington, D.C., raised their minimum wages to $8 to $10 an hour. The federal minimum wage is $7.25.
Many demonstrations calling for higher wages have been orchestrated by the Fight for $15 campaign, funded by SEIU. Scores of protests in major cities last year called for higher wages for fast-food, retail, in-home care and airport workers. The movement expects to add to that list adjunct professors, who are considered part-time workers, earn low wages and do not have benefits.
But the effort will continue to focus on wages of fast-food workers. The protests have been held outside restaurants, particularly McDonald's locations. Some workers at those protests have filed unfair labor chargers with the National Labor Relations Board, accusing the burger giant of retaliating against them.
In December the NLRB's general counsel issued 13 complaints against McDonald's and some of its franchisees, saying they shared responsibility for employees and alleging they violated workers' rights. The federal agency said retaliation against workers included threats, surveillance, reduction of hours, interrogations and firings.
McDonald's workers have filed more than 290 claims with the NLRB since November 2012, when organized protests against the fast-food industry began in New York. The NLRB's general counsel found merit in 86 cases; about a quarter of those originated in Chicago.
Hearings before an administrative law judge will begin March 30 in New York. The hearings will later move to Chicago and Los Angeles. If settlements aren't reached, McDonald's and its franchisees could be required to pay back wages and reinstate fired workers.
McDonald's has said it will contest the joint-employer designation and the unfair labor practice charges. The company has long maintained that franchisees are independent owner-operators who set their own policies and wages while adhering to corporate standards on food preparation and restaurant design.
Business groups say the general counsel's decision could affect employers beyond McDonald's, such as companies that rely on workers hired through staffing agencies and other companies with franchise models.
The Fight for $15 campaign is among several organizing efforts targeting employees such as fast-food and temporary workers who traditionally have been difficult to organize because of high turnover rates. Other campaigns have sought to organize warehouse workers, carwash workers and art movers.
Then there is the widely publicized move by the College Athletes Players Association and the United Steelworkers to unionize Northwestern University football players.
The players voted in April on whether to unionize, but the results of the election have yet to be announced. The votes were sealed, pending a decision by the NLRB on an earlier ruling by a regional director that held players could be considered university employees and could unionize. The timing of the NLRB's decision is uncertain.
Meanwhile, anti-union groups have successfully pushed for laws that would allow workers represented by a union to avoid paying union dues or fees. So called right-to-work legislation has been adopted by 24 states.
Experts say it is unlikely Illinois will become a right-to-work state because the General Assembly is controlled by Democrats backed by unions that provide campaign contributions and volunteers. While Gov. Bruce Rauner supports right-to-work zones, he is unlikely to tackle the issue as he faces larger issues such as a shortfall, pension obligations and a slow economic recovery.
"Illinois doesn't need right to work (laws) to compete with its neighbors," said Maisch, of the Illinois Chamber of Commerce.
Maisch said the state should focus on measures that would move the economy forward, such as a bill to fund upgrades to the state's infrastructure. On that issue, he said, the chamber will work closely with labor to push lawmakers at the state and federal level to act on proposals.
"Business and labor do have joint agendas," Maisch said.
Photo: Hundreds of protesters rally for a $15 an hour minimum wage on Sept. 4, 2014 in Chicago. The battle for a higher minimum wage is epxected to continue in 2015. (Antonio Perez/Chicago Tribune/TNS)