Missed Last Night's SNL? You're In For A Stream Of Comedy Gold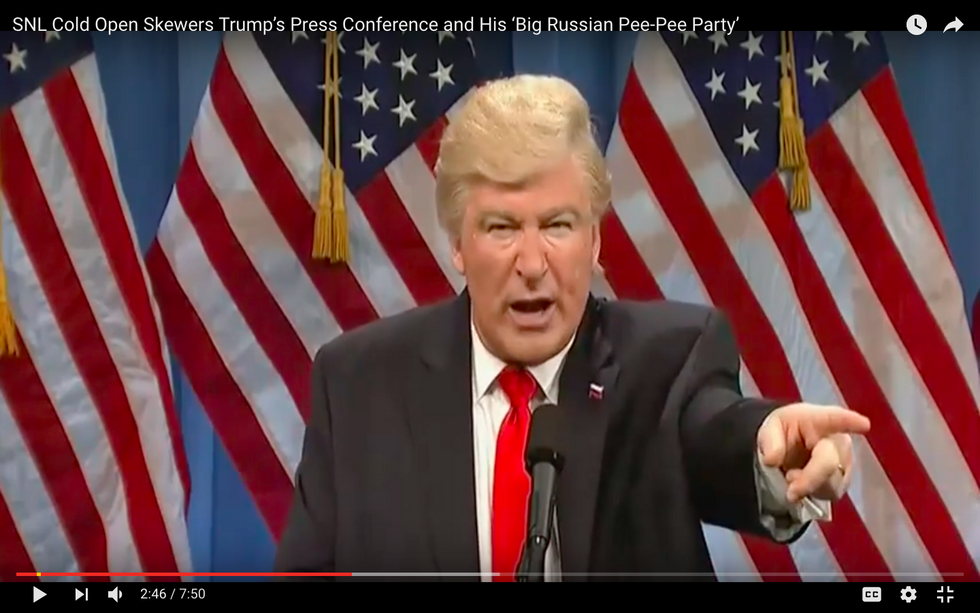 Saturday Night Live's cold open marked the return of Alec Baldwin, less than a week before the presidential inauguration of his nemesis Donald Trump, in a special "rebroadcast" of this week's bizarre press conference. He proceeded to shower the SNL audience with a deluge of pee-pee jokes — undoubtedly pissing off the president-elect with his unrelenting focus on that notorious — but unconfirmed — account of Trump's alleged participation in Russian watersports.
Following his promise of "golden opportunities," the presidential imitator quickly moved on to reprise Trump's tantrums over Obamacare and CNN, as well as his ludicrous scheme to hand control of his business affairs to his sons, "Beavis and Butthead." Gesturing to piles of manila folders like those displayed at the actual press conference, which were supposed to symbolize Trump's commitment to ethical safeguards, his "attorney" admits with exasperation that they're all fake.
And then Vladimir Putin (Beck Bennett) pops up shirtless amid the press corps, introducing himself as "Wolf Blitzer" and brandishing a video cassette marked "Pee Pee Tape."
Just click.