Mississippi Republican Senate Primary Too Close To Call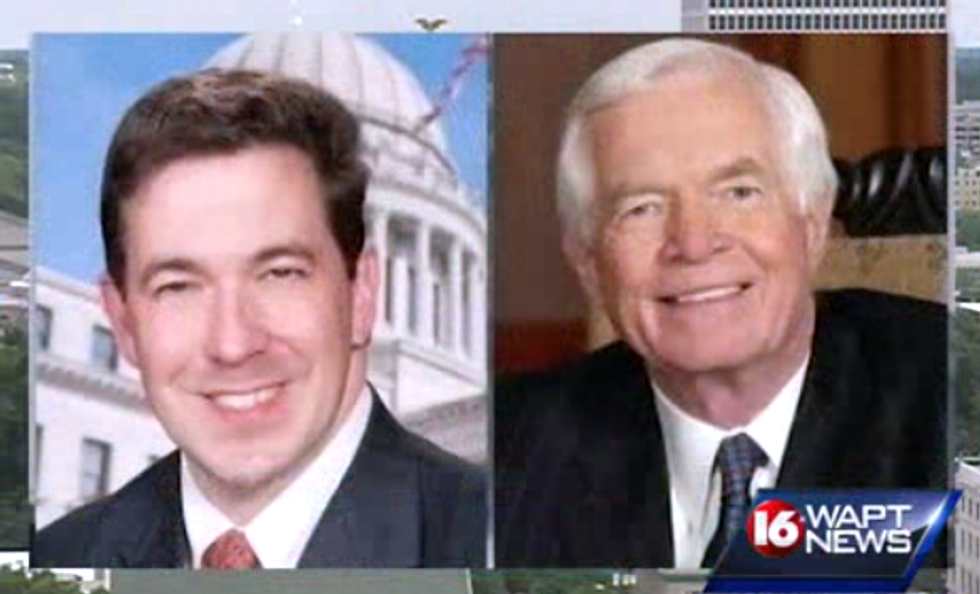 By Lisa Mascaro, Tribune Washington Bureau
(MCT) WASHINGTON — Republican Thad Cochran, the genteel Southerner who has represented Mississippi in the U.S. Senate for nearly half of his life, battled for his political future against Tea Party upstart Chris McDaniel in a race that was too close to call late Tuesday.
The conservative state emerged as the most competitive — and brutal — of the primary season, which has largely played out on the Republican side of the aisle as hard-right candidates try to topple establishment favorites. If neither top candidate clears 50 percent, which was possible, the race is headed for a runoff this month.
"Go out and vote," implored the McDaniel team on Twitter as the polls were about to close.
"One hour left," tweeted Cochran's campaign.
Republicans are favored to keep the seat in November against Democrat Travis Childers, who easily won his party nomination Tuesday. The GOP needs a net gain of six seats elsewhere to take Senate control from Democrats.
Cochran, who ran his campaign simply as "Thad," enjoyed goodwill from the GOP establishment, which wrapped the senator in a cloak of endorsements and warned voters against dumping a senator with so much seniority in Washington.
But the Republican Party has changed dramatically since white-haired 76-year-old Cochran first won office, and he faced enormous odds against the charismatic McDaniel, a conservative who gave small-government groups their best shot at a win after several high-profile primary season losses.
A state senator who models himself after firebrand Senator Ted Cruz (R-TX), McDaniel portrayed Cochran's record of delivering much-needed federal dollars to the impoverished state as a liability in this era of Tea Party conservatism.
The race became as hardball as it was odd, particularly after supporters of McDaniel were arrested in connection with a blogger who allegedly photographed the senator's ailing wife in her nursing home.
The episode knocked McDaniel from what had been a growing lead over Cochran and appeared to sour voters on the unusually rough race, strategists said. The Cochran team used the incident in a campaign ad, giving the issue even longer legs.
Neither candidate ran the most sophisticated campaign, providing an opening for the outside groups that poured money into the state as a proxy battle for the future of the GOP. In all, almost $12 million was spent by the candidates and outside groups.
The free-market-aligned Club for Growth argued against Cochran's spending, and a group headed by allies of former GOP Governor Haley Barbour portrayed McDaniel as a politician who could not be trusted.
Both campaigns often sounded out of touch with the times. Early on, Cochran set off alarms among Republicans when he told an interviewer he didn't know much about the Tea Party. McDaniel had to backtrack after initially wavering on whether he would have supported federal aid after Hurricane Katrina — a deal-breaker for some coastal voters where storm damage remains evident.
"It was the perfect environment for Chris McDaniel to run a Tea-Party-style campaign," said Brian Perry, a GOP strategist at the Mississippi Conservatives PAC that backed Cochran. "People are angry with Washington and they want things to change."
On the Democratic side, Childers, a former lawmaker in the House, sailed to the party nomination, and some in the party believe his conservative streak could give Democrats an opportunity to make the fall race competitive.
Voters on Tuesday were also choosing a Republican nominee for Senate in Iowa, for the seat made open by the retirement of longtime Democratic Senator Tom Harkin.
Republican Joni Ernst, a state senator who catapulted ahead of a wide field with a feisty television ad about her background castrating hogs, had won, according to The Associated Press. She will face Democratic Rep. Bruce Braley in the fall.