Mississippi Senator's Racist 'Jokes' Outrage Her Donors
@FAWFULFAN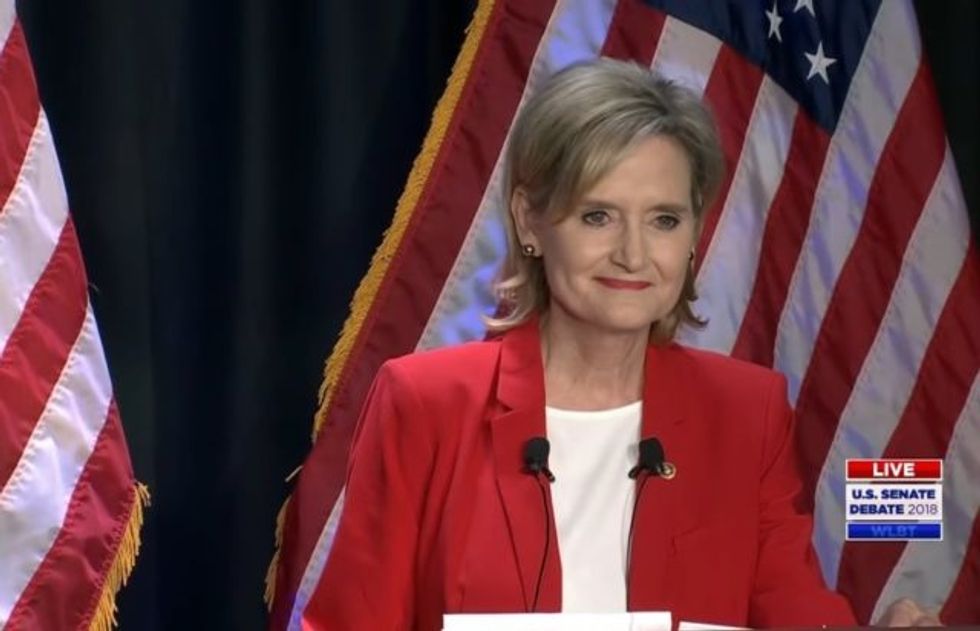 Reprinted with permission from AlterNet.
The final Senate race in the country, in Mississippi, has exploded onto the national stage following the offensive behavior of GOP Sen. Cindy Hyde-Smith as she campaigns for a full term in office.
And now, her corporate donors are starting to pull their support over the controversy, thanks in large part to the public pressure as progressive journalist Judd Legum has publicized their contributions.
On Monday, freight-hauling railroad giant Union Pacific, which contributed $5,000 to Hyde-Smith's campaign, asked for a refund, saying, "Union Pacific in no way, shape or form condones or supports divisive or perceived to be divisive statements." This was followed shortly by medical device manufacturer Boston Scientific, which said, "We reject the Senator's statements, which are not aligned with our company's core values," and requested the return of their $2,500 donation.
So far the largest name to follow suit is retail titan Walmart, which gave $2,000 to the Hyde-Smith campaign. "Sen. Hyde-Smith's recent comments clearly do not reflect the values of our company and associates. As a result, we are withdrawing our support and requesting a refund of all campaign donations," the company tweeted.
Additionally, Google has expressed regret for their $5,000 donation, claiming that it was made before Hyde-Smith's comments surfaced, but has not publicly confirmed whether they are asking for a refund.
Hyde-Smith, who was appointed to serve the remainder of Sen. Thad Cochran's term after he resigned due to illness, drew public scrutiny last week after a video of her emerged saying of a cattle rancher at a November 2 campaign stop in Tupelo, "if he invited me to a public hanging, I'd be in the first row." The comment was met with outrage given that Mississippi has both the highest black population per capita and the highest historical incidence of lynchings.
Before the firestorm had even died down, another video emerged of her telling a supporter in Starkville that it was "a great idea" to "make it just a little more difficult" for "liberal folks in those other schools" to vote. She did not specify what "other schools," although Mississippi is home to numerous historically black colleges and universities.
Hyde-Smith has refused to apologize for either remark, and her campaign has insisted she was joking — although why either of those remarks would be funny is left to the imagination.
Hyde-Smith's Democratic opponent is Mike Espy, a former congressman who served as the first African-American Secretary of Agriculture. If elected, he would be the first black senator from Mississippi since Reconstruction. A vote took place on Election Day, but since none of the candidates received a majority, Hyde-Smith and Espy are advancing to a runoff that will be held on November 27.
Matthew Chapman is a video game designer, science fiction author, and political reporter from Austin, TX. Follow him on Twitter @fawfulfan.