Mitch McConnell Sings 'Kumbaya'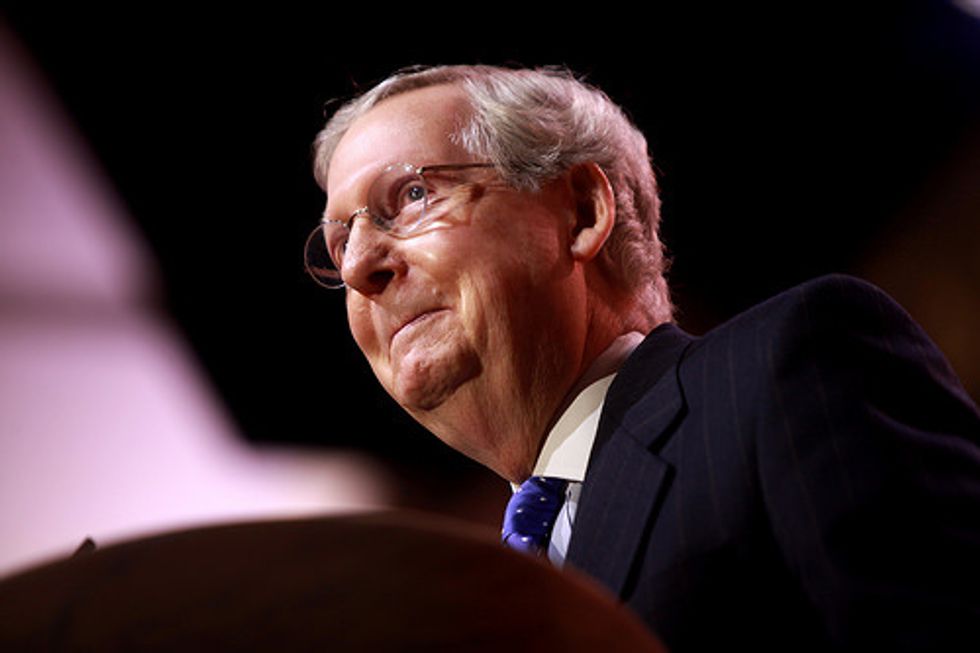 By Doyle McManus, Los Angeles Times (TNS)
The triumphant Republican class of 2014 formally took control of both halves of Congress last week, and here's what it has changed so far: not much.
The new GOP majority didn't vote to repeal President Obama's healthcare law. It didn't undo Obama's decision to allow millions of undocumented immigrants to stay in the country. (House Republicans proposed a sweeping repeal measure, but it's unlikely to pass even a GOP-run Senate.) It didn't try to block the president's negotiations with Cuba or hold up his nominees for attorney general and secretary of Defense.
Instead, as its first major action, the 114th Congress moved toward approving the Keystone XL pipeline, a project that won't create many jobs and, with the price of oil plummeting, may no longer be worth building. And even that measure appears likely to die, because the president has already announced he will veto the bill.
What happened to the boundless hopes of all those conservative candidates, tea party and otherwise, who vowed they'd come to Washington and, in the words of former hog castrator Joni Ernst (R-IA), "make 'em squeal?"
So far, the GOP is playing what baseball fans call "small ball" — and not just because new members haven't had time to settle into their offices yet.
Instead, the 54-46 majority in the Senate has run into three speed bumps: the chamber's rules, the president's veto power, and the innate caution of the new majority leader, Sen. Mitch McConnell (R-KY).
The Senate rules still require 60 votes to move major legislation past a filibuster; that means Republicans need to find six Democrats or independents to help them act. The Constitution requires a two-thirds vote to overcome a presidential veto; that requires even more Democratic help.
As for McConnell, 72, he's spent more than 30 years preparing for this job — and while his mission as minority leader was to frustrate Democrats (and, as he bluntly declared, try to make Obama a one-term president), he now sees himself in a very different role.
"When you're in the majority, you have more responsibility," he has said. "We have to be realistic."
"I don't want the American people to think that if they add a Republican president to a Republican Congress, that's going to be a scary outcome," he told The Washington Post this month.
That kind of reassurance — that the GOP isn't really run by the Tea Party firebrands you see on Fox News — was the main point of McConnell's inaugural speech on the floor of the Senate last week.
Yes, it took a swipe at Obama: "Bipartisan compromise may not come easily for the president," he said. "The president's supporters are pressing for militancy these days, not compromise."
And yes, it included a silly suggestion that the economy's recovery should be credited to private-sector elation at the mere thought of a Republican-run Senate.
So to many Democratic ears, it sounded disappointingly like the partisan, polarizing Mitch McConnell of old. But the core of the speech was a decidedly modest assessment of what voters were saying last November, followed by a lengthy appeal for bipartisan cooperation.
"The American people didn't ask for a government that tries to do everything, and fails; and they didn't demand a government that aims to do nothing, and succeeds," McConnell said. "They asked for a government that works."
"We're going to have to work together," he said. "We're only going to pass meaningful legislation if members from both parties are given a stake in the outcome."
That, his lieutenants explained, is what McConnell sounds like when he's trying to be warm and fuzzy.
"We are trying to strike a new tone," said Sen. Rob Portman (R-OH). "There's a healthy list of issues on which people from both sides can work together."
As evidence, Portman and Sen. Lamar Alexander (R-TN) pointed to McConnell's decision to allow open amendments and debate on the Keystone XL bill next week — something the last majority leader, Sen. Harry Reid (D-NV), rarely did.
McConnell allies have listed a decidedly non-revolutionary agenda of possible bipartisan legislation: corporate tax reform, infrastructure spending, trade agreements and tweaks to Obama's healthcare law (not a repeal, which a veto puts out of reach).
They face serious challenges not only in winning support from Democrats, but also from their own right wing. But McConnell, who was once described as having all the charisma of an oyster, may be just the man to thread that legislative needle.
As Alec MacGillis points out in a fiercely critical biography (entitled, tellingly, The Cynic), McConnell isn't a conservative ideologue; he's a cold-blooded pragmatist. He began his political career as a liberal Republican who opposed the Vietnam War, sought support from organized labor and even cooperated with abortion rights groups. But as the GOP turned right, McConnell turned with it.
Now he says he wants to prove that despite the rancor and polarization of the last two decades — a process to which McConnell contributed — he can make divided government work again.
OK, Senator, go for it. If you're serious, that would be a real legacy.
Doyle McManus is a columnist for the Los Angeles Times. Readers may send him email at doyle.mcmanus@latimes.com
Photo: Gage Skidmore via Flickr