Mitt Romney Isn't Proposing A $5 Trillion Tax Break – It's A $10 Trillion Tax Break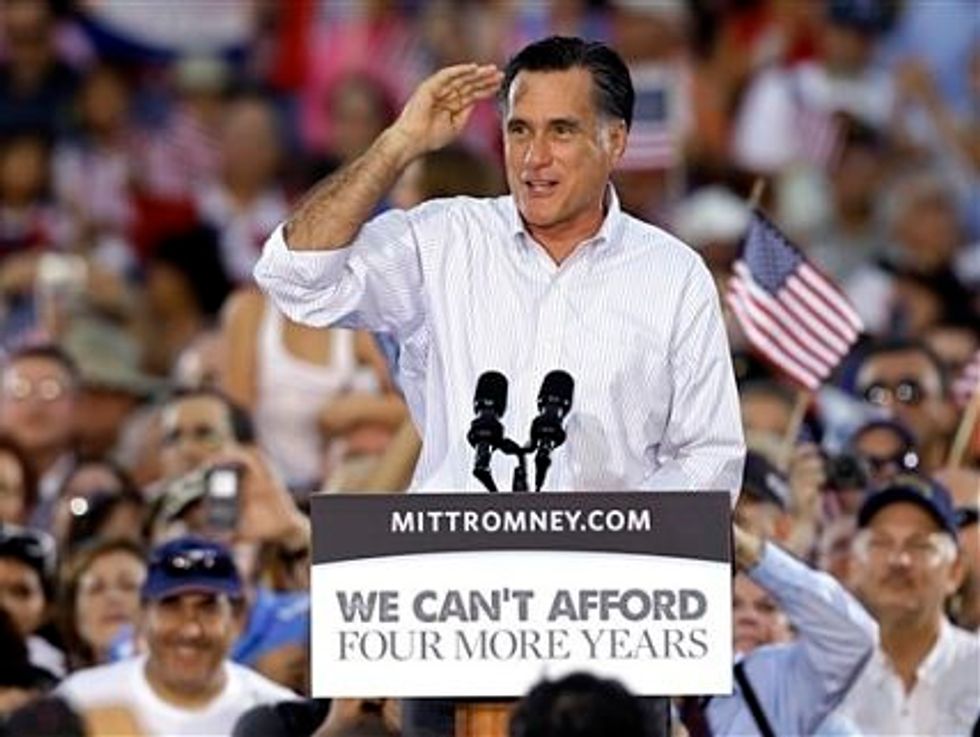 Part of Mitt Romney's strategy in the first debate Wednesday night in Denver was to play fact-checker with false facts — also known as "lies."
After the president said that he was proposing a $5 trillion tax break, Romney responded, "I don't have a $5 trillion cut. I don't have a tax cut of the scale that you're talking about."
He was partially correct. He isn't proposing a $5 trillion tax break — his tax cut proposals equal more than $10 trillion over the next 10 years, according to Citizens for Tax Justice.
Romney's new tax breaks would cost about $500 billion a year. This is on top of extending the Bush tax breaks, which would cost just over $5 trillion.
The president probably didn't point out the full cost of the Bush tax breaks because he proposes to keep the tax breaks for the middle class at a cost of about $4 trillion. But these taxes have always been temporary and are supposed to expire. Romney is proposing making them permanent along with more cuts for a total of $10 trillion in tax breaks, as we are in the middle of a so-called debt crisis.
Romney also claimed that he is not proposing new tax breaks for the rich. "…I'm not going to reduce the share of taxes paid by high-income people. High-income people are doing just fine in this economy," he said. "They'll do fine whether you're president or I am."
Notice the key word there? "Share."
Romney simply cannot claim that he isn't going to reduce taxes for the richest Americans — he's just promising that his cuts won't benefit the rich disproportionally, just as George W. Bush falsely did in 2000.
In addition to the Bush tax breaks he promises to continue, Governor Romney wants to cut the estate tax, which only the richest Americans pay, to zero. His tax breaks will almost certainly cut the taxes the richest pay — despite his promises to remove reductions.
"An analysis by Citizens for Tax Justice found that even if millionaires were forced to give up all the tax expenditures that Romney has put on the table, his tax plan would still give a tax break of at least $250,000 on average for individuals making over $1 million," the organization wrote in its "Debate Debrief." "That is, he simply cannot back up his assertion that he is 'not going to reduce the share of taxes paid by high- income people.' And if he really is going to make up the revenues we'll lose to his rate cuts, taxes would have to go up for other taxpayers."
Romney has gone out his way to hide the specifics of his tax plan and is carefully hedging his words to make specious claims.
But let's be clear about the facts. Mitt Romney is proposing a $10 trillion tax break. And he is clearly promising to cut the amount of taxes the richest Americans pay.
The fact that he has to do everything he can to hide this proves what a failure right-wing trickle-down economics have been.
Photo credit: AP/Chris O'Meara