Mitt Romney Tells 26,000 Americans They Didn't Die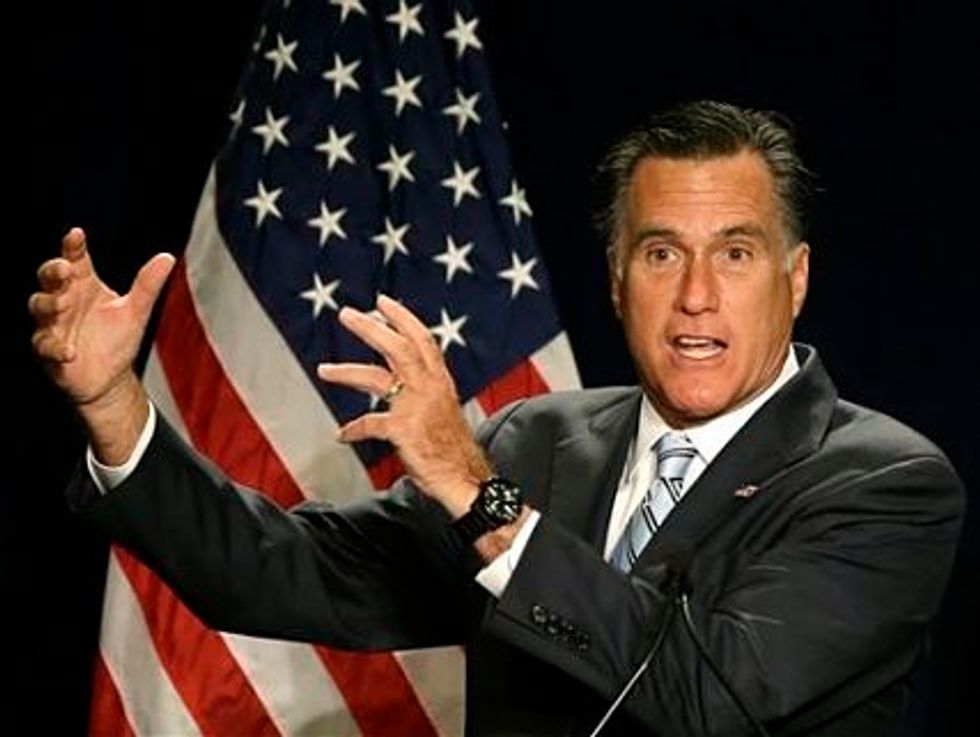 When he appeared on 60 Minutes in September, Mitt Romney shocked many Americans when he claimed that Americans do not die for a lack of insurance. "Well, we do provide care for people who don't have insurance. If someone has a heart attack, they don't sit in their apartment and die."
Actually, at least 26,000 Americans die every year for lack of insurance, according to a study by the advocacy group Families USA. That number is up from a 2000 study that showed about 18,000 uninsured Americans die every year. Another study from Harvard University suggested that as many as 45,000 Americans die for a lack of health insurance a year.
Now Romney—who is echoing George W. Bush's claim that all Americans do have access to health care  in an emergency room—has doubled down on these comments. Wednesday, he made the same claim to the Columbus Dispatch:
"We don't have a setting across this country where if you don't have insurance, we just say to you, 'Tough luck, you're going to die when you have your heart attack,'  " he said as he offered more hints as to what he would put in place of "Obamacare," which he has pledged to repeal.

"No, you go to the hospital, you get treated, you get care, and it's paid for, either by charity, the government or by the hospital. We don't have people that become ill, who die in their apartment because they don't have insurance."
Romney is referencing a law signed by Ronald Reagan that mandates that no hospital emergency room can turn away someone because they cannot pay. Of course, you can't get dialysis or chemotherapy in an emergency room. And the law is only as strong as the president's willingness to enforce it.
Romney's brazen willingness to disregard the tens of thousands of Americans who die every year because they can't afford care is quite minor compared to his pledges to repeal Obamacare and shrink Medicaid. All in all, this could increase the number of uninsured Americans by more than 50 million.
Romney has also said that idea of "free riders" getting care without coverage was one of the impetuses for Romneycare—the health care plan he passed as governor of Massachusetts and became the model for Obamacare.
In his recent comments, Romney is sounding nothing like the man who created the first nearly universal health care system in America and more like Sharron Angle, the former Tea Party Republican Senate candidate in Nevada, who often claimed that there was nothing wrong with our health care system.
Photo credit: AP Photo/Charles Dharapak