Mix A Big Apple With The Super Bowl For A Big Bust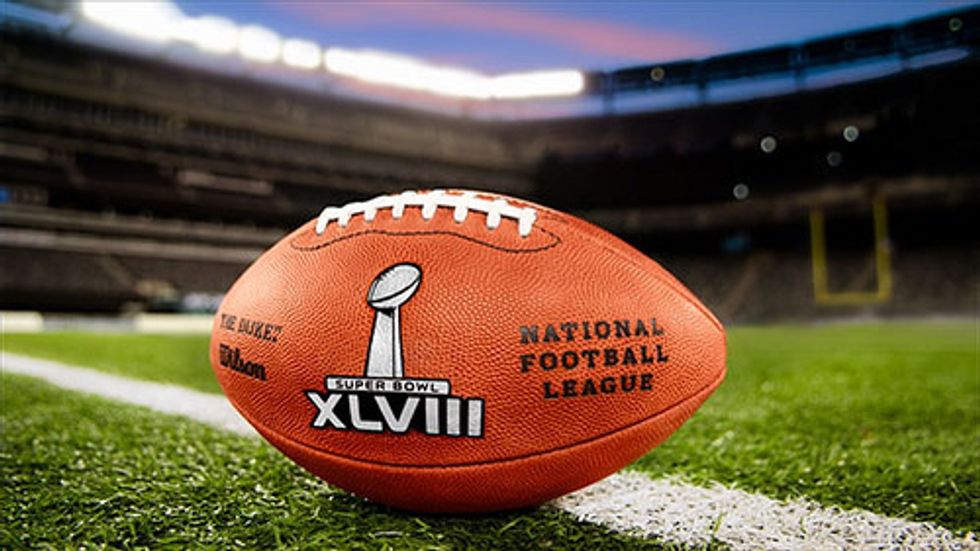 Eight years ago, or thereabouts, New York Jets owner Woody Johnson had a vision. He shared this vision with John Mara, co-owner of the New York Giants, and together they made history: A Super Bowl in New York! Or New Jersey. (Close enough.)
"It will be a great experience for our fans and a great experience for the NFL," Commissioner Roger Goodell promised in 2010, when the site was chosen for this year's Super Bowl.
It has been neither. In fact, the game may still be a few days away but it's time to call the NFL's cold-weather Super Bowl what it is: A big fat failure.
As of Tuesday, there were still 18,000 tickets available to the game. Hotel rates in New York City — and East Rutherford and Secaucus, for that matter — are plummeting. Weird. Who could have predicted that paying $2,000 to stand in the freezing cold and watch a football game might not be everyone's idea of a great winter getaway?
Like all major sporting events, this one started with plenty of hooey about all of the money that it would generate for its host city (or cities). Random, obviously overstated estimates were thrown around. An economic-benefits study commissioned by the host committee — what major sporting event would be complete without an economic-benefits study? — reportedly put the number at $600 million. I say "reportedly" because the host committee has refused to release the study to the public, which tells you everything you need to know about the oil gusher of cash currently showering heretofore unimaginable prosperity on the New York metropolitan area.
There are surely some football fans who have come to New York for the Big Game. Many of them seem to be gathering at Super Bowl Boulevard, the giant NFL theme park that has taken over Times Square, making midtown Manhattan even more of a nightmare to navigate than usual. Ride the Super Bowl Toboggan! Buy a picture of your face Photoshopped onto the cover of Madden! (Pro tip to tourists who intend to visit the Intrepid on their stay in New York: It's closed Friday for a Bud Light-sponsored Super Bowl event.) Of course, these amusements seem to have been organized less for the sake of local businesses than for the league and its marketing partners.
It would be inaccurate to say that no New Yorkers are seeing economic benefits from having the Super Bowl in their backyard: Giants quarterback Eli Manning, freed from the obligations of having to play football in the postseason, is hosting a DirectTV party with Jay-Z. Both are surely being well compensated for their labor.
Why did the NFL agree to play the Super Bowl in New York in the first place? Because this is how the league always rewards teams that refurbish or rebuild their stadiums. The new Meadowlands Stadium was completed in 2010, even though taxpayers were — indeed, still are — servicing $110 million in debt on the old one.
You can argue — however unconvincingly — that even if the economics don't add up, cities enjoy ancillary benefits from hosting big sporting events, such as the opportunity to raise their profiles. But you can't make that argument when the city is New York. You can't even say — though I suspect Goodell has at some point — that locating the game in the U.S. media capital would be good for football's exposure. The Super Bowl is the most hyped sporting event in the world, no matter where it's played. New York didn't need it, and it didn't need New York.
Super Bowl, get back to Tampa or Phoenix, where you belong.
Photo: marsmettn tallahassee via Flickr