Money Swamp: Billions Spent In Battle For U.S. Congress
@AFP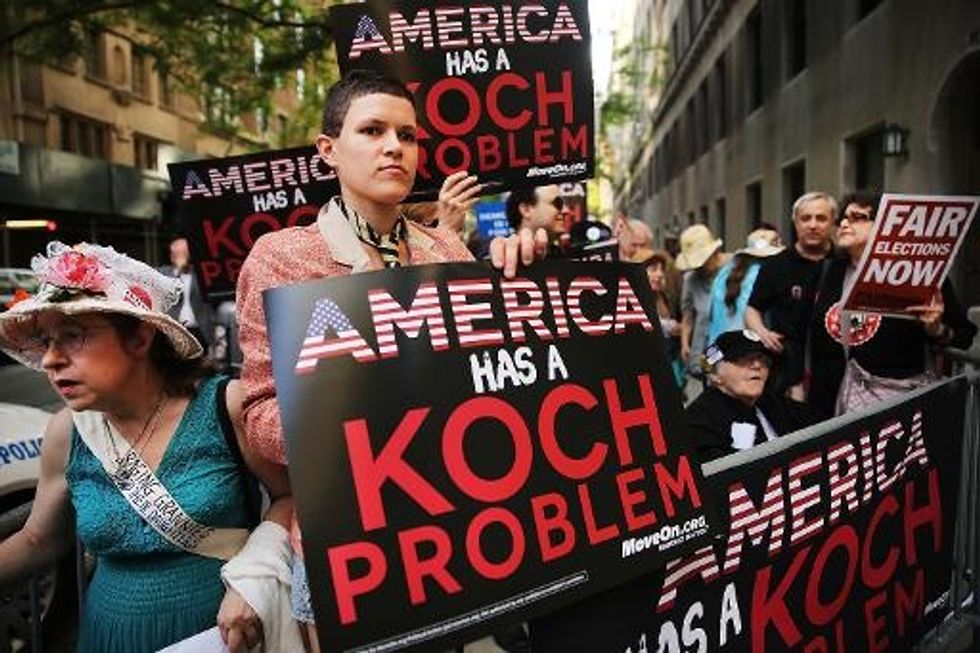 Washington (AFP) – Huge individual donations, aggressive party spending and untraceable "dark money" are flooding this year's mid-term campaigns, fueling concerns that the financial impact on America's congressional elections is spiraling out of control.
Take Alaska. The far-western state is remote and its few residents fiercely independent.
Yet an eye-popping $30 million has already been spent in the state's race between incumbent Senator Mark Begich and challenger Dan Sullivan, according to the Center for Responsive Politics, a campaign-money tracker.
That figure may well double before voters troop to polls November 4, experts warn, sending costs of that campaign north of $120 per eligible voter.
And Alaska is merely the cycle's seventh costliest race, well behind North Carolina where $46 million has already been spent on the Senate battle there.
All signs point to this midterm campaign as being the priciest ever, surpassing the estimated $3.6 billion spent on the 2010 midterms and the $3.7 billion of 2012.
Republicans are going all out with their bid to retake the Senate, but President Barack Obama's Democrats are not giving up without a massive financial fight.
With 39 days before the election, Democrats, normally first to bemoan the astronomical amounts of cash in politics, have actually seen their party committees outraise Republican counterparts, reports to the Federal Election Commission show.
Corporations are also ramping up electoral giving, funneling millions in efforts that help their preferred candidates.
So are billionaires like Charles and David Koch, conservative industrialists whom Senate Majority Leader Harry Reid has repeatedly accused of attempting to "buy our democracy."
But Democrats are turning to mega-donors as well. Liberal former hedge fund manager Tom Steyer in August wrote a $15 million check to his own super PAC, NextGen Climate Action.
Unlike political parties, such groups can contribute unlimited funds towards a political agenda, but they can not coordinate directly with campaigns or contribute to candidates.
And some political non-profits are not required to disclose their donors or provide detailed reports of their finances, leading to unknown amounts of so-called dark money swept into campaign efforts.
"It's gone completely haywire," Joe Trippi, a top Democratic strategist credited with helping pioneer online campaigning, told AFP.
Trippi has worked on several presidential campaigns and served as Howard Dean's campaign manager a decade ago when he revolutionized online politicking.
"I remember those really inspiring days of 2003 and look at where we are in 2014, and it's a monster," he added. "The whole thing is not anything I thought it would be."
The landscape was fundamentally altered in 2010 by a key Supreme Court decision which essentially removed the ceiling to how much corporations, unions or individuals can inject into U.S. elections.
Such deregulation proved to be a godsend to the Kochs, whose vast political network was estimated to have spent a staggering $400 million in a failed bid to block Obama's 2012 re-election.
Their advocacy group Americans For Prosperity has already spent some $50 million this year in support of Republican candidates, according to Politico, which quoted a confidential March memo to donors saying the group, which does not disclose its donors, plans a $125 million spending spree.
One particularly visible effect of this bipartisan funding tsunami is on TV advertising. Within 60 days of an election, candidates take priority over traditional advertisers broadcasting on local airwaves.
According to the Center for Public Integrity, 33,000 political TV ads aired September 16-22 in markets of the nine most competitive Senate races.
Who is funding the ads is not often clear. One third of the spots that aired from August 29 to September 11 were paid for by groups that do not disclose their donors, Wesleyan Media Project said in its analysis of Kantar Media/CMAG data.
Lawmakers made clear this month that election season was no time to tinker with campaign finance reformm, as Senate Republicans blocked efforts to limit financial influence of corporations and wealthy Americans on elections.
Trippi said White House contenders can glean an important lesson: "Anyone thinking about running for president in 2016 should consider speed-dating billionaires."
AFP Photo/Spencer Platt