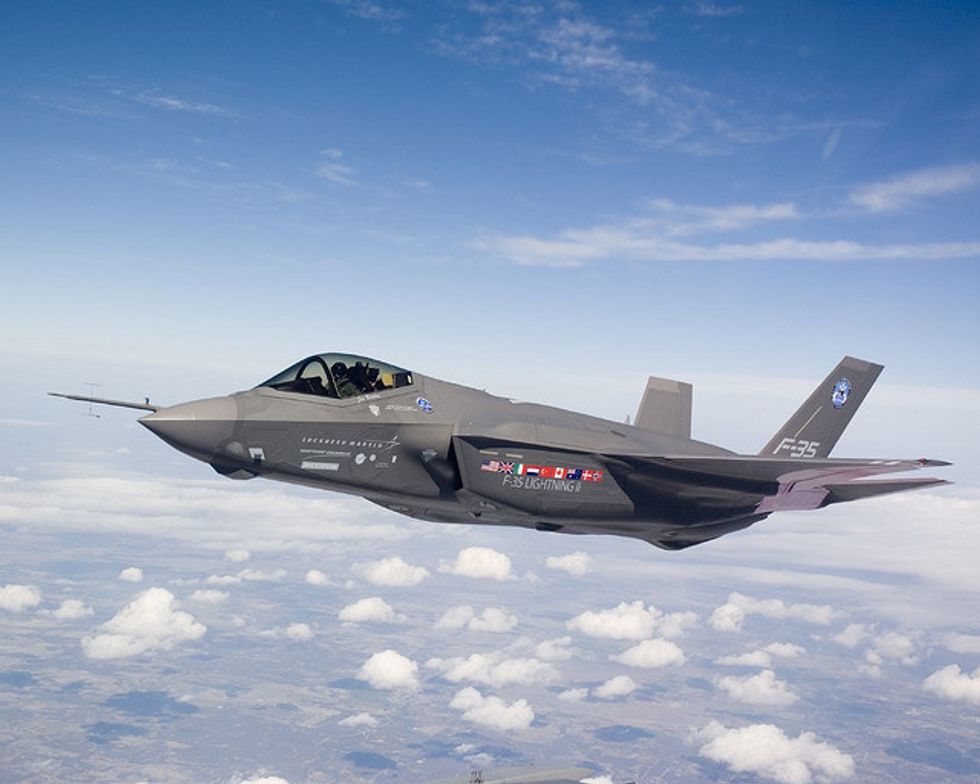 Say you really want a sports car, a vacation, a big new house, or some other fancy thing you can't really afford. You know that if you buy it, you'll bust your budget. It would mean a ramen noodle diet and a threadbare closet from now to eternity for you and your family.
So maybe you daydream a little. Or hope to win the lottery. What you don't do — if you're responsible — is mortgage everything you own to acquire that one thing you want.
Well, that's not how things work for the Pentagon.
In its budget request for the next fiscal year, the Pentagon has made clear that it's ready to break the bank for the fancy thing it really wants — the F-35 joint strike fighter program.
This platinum-plated spork of an aircraft is intended to replace the F-16, F-15, F/A-18, and A-10 jets now in use by the Air Force, the Navy, and the Marine Corps.
But it's hard for anyone to argue with a straight face that the Pentagon can afford to spend $1.5 trillion on a single aircraft program, as the Congressional Budget Office predicts this obsession will eventually cost.
It's hard for most of us to even visualize $1.5 trillion. A trillion is a thousand billions or a million millions. But let's put just the Pentagon's latest procurement request for the F-35 into perspective.
The U.S. military wants to buy 57 F-35s in fiscal year 2016. That's 19 more than the 38 they got in the previous year's bill.
If you count just the procurement of those airframes and spare parts alone, you're looking at $9 billion. The total Pentagon request for procurement is $108 billion.
So that means fully 8.5 percent of all Pentagon spending to buy systems from A to Z — from Apache helicopters to Zumwalt destroyers — is devoted to a single aircraft program. It's staggering.
There are more ways to slice the budgetary salami. If you look at overall aircraft procurement and research and development costs, you'll see that 35 percent — more than a third of the total — is dedicated to the F-35's mammoth tab.
If you break it down by service, you'll find that over a quarter of the Navy's "combat aircraft" account for 2016 goes to the F-35. And for the Air Force, it's 100 percent. Yes, every dime.
This much is clear: The Pentagon — particularly the Air Force — is mortgaging the future of not just other aircraft programs, but all Pentagon procurement, to buy this exorbitant plane.
I sure hope it works, because that's one pricey, lonely egg in that basket.
Ryan Alexander is president of Taxpayers for Common Sense (Taxpayer.net).
Distributed by OtherWords.org
Photo: createordie via Flickr