Most Americans Want Stronger Gun Safety Laws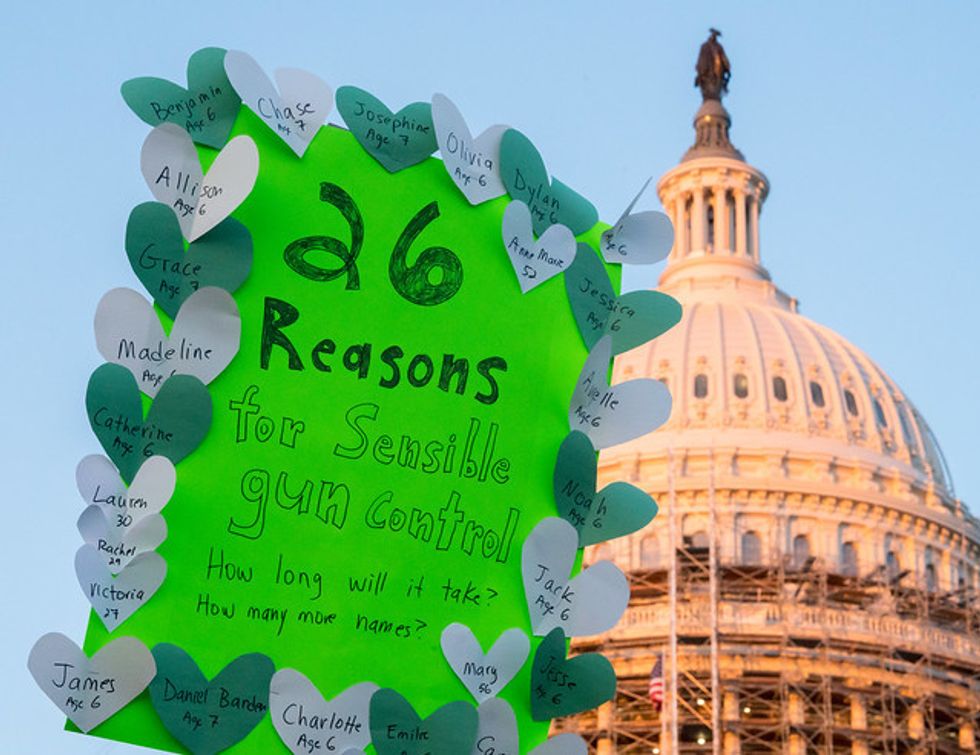 A poll released Wednesday by The Economist/YouGov found massive support in America for a number of provisions to keep people safe from gun violence.
The results run contrary to the positions of many Republicans, as well as their allies in the NRA, who oppose virtually all gun safety legislation.
Most Americans told the pollsters they want Congress to act to reduce gun violence. Sixty-four percent said that the legislature should pass such measures, as Democrats have done in the House.
Fifty-seven percent said they believe that the Senate should come back from its summer recess to work on gun issues. Senate Majority Leader Mitch McConnell has rejected such requests and derided calls for gun reform as merely "theatrics."
On individual gun issues, Americans showed massive support for a host of provisions:
78 percent support enhanced background checks, including for gun show purchases;
59 percent of those asked said they support a ban on semi-automatic weapons;
65 percent support a ban on high-capacity gun magazines;
73 percent support a five-day waiting period on handgun purchases;
66 percent support requiring gun owners to register their weapons;
52 percent support a limit on the number of handguns a person can own;
55 percent back requiring a police permit before buying a gun; and
51 percent support allowing the Centers for Disease Control to do research on gun violence.
Democrats have backed nearly all of the issues that received such strong support. The NRA and their allies within the Republican Party have consistently blockaded the issues, despite sustained public support.
After Democrats took over the House after the 2018 elections, they passed H.R. 8, which strengthened background checks. McConnell has not allowed the measure to be voted on in the Senate, despite support from hundreds of mayors and police chiefs.
Most of the Democratic candidates running for the 2020 presidential nomination have expressed support for some sort of a ban on assault weapons, and they all back enhanced background checks.
After the mass shootings in El Paso, Texas, and Dayton, Ohio, many Republicans, including Trump and House Minority Leader Kevin McCarthy, laid the blame for the shootings on violent video games with no evidence.
Other key Republican figures echoed the atmosphere of inaction in the days following the attacks.
Sen. Cory Gardner (R-CO) flatly stated after the shootings he had no interest in gun violence prevention.
"I don't support gun control," Gardner said, despite the coast-to-coast public outcry that has followed the shootings.
Sen. Joni Ernst (R-IA) chose to blame "mental health" for the shootings, but experts have repeatedly made clear that doing so is without merit.
Other nations have mental health issues and video games, but they do not have the problems with mass shootings that are so prevalent in America.
Published with permission of The American Independent.