Mother Pleads With Islamic State; Deadline For Killing Hostages Passes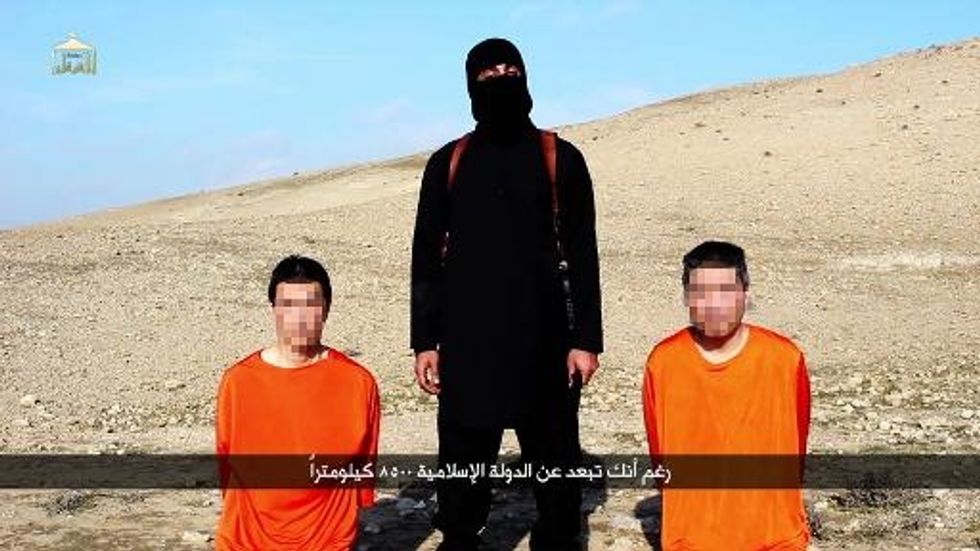 By Julie Makinen, Los Angeles Times (TNS)
BEIJING — As the mother of one of two Japanese men held by Islamic State militants begged for his release Friday, Prime Minister Shinzo Abe's administration said Britain and Australia had agreed to help try to secure the hostages' freedom.
In a video released this week, the militants threatened to kill journalist Kenji Goto and his friend Haruna Yukawa unless Japan paid $200 million by midafternoon Friday Japan time.
The deadline passed Friday afternoon in Asia with no word of the men's fate.
Friday evening, Yoshihide Suga, chief Cabinet secretary, said: "Our government is still in a difficult situation but we are using every effort to get the two Japanese hostages released.
"We have been approaching heads of tribes and representatives of religious organizations for help."
Suga acknowledged that the government hasn't been able to check if the two hostages are safe.
Hours before the deadline, Goto's mother, Junko Ishido, appeared at a news conference Friday morning in Tokyo and said her son was "not an enemy of Islamic State" and had been "fair in his reporting about the war."
Ishido tearfully described her son as a kindhearted person who "wanted to save children's lives in war zones." Citing Japan's post-World War II pacifist constitution, she noted that the nation has not been at war for 70 years and has had an amicable relationship with Islamic countries.
Such pleas have in the past failed to move Islamic State militants, with the fighters beheading at least five foreigners, including aid workers and journalists from the United States and Britain.
The militants issued the demand for $200 million after Abe, visiting the Middle East last weekend, pledged that amount in nonmilitary aid for nations affected by Islamic State expansion in Syria and neighboring Iraq.
Abe has pledged to make "all possible efforts" to secure the release of the men but has vowed not to pay a ransom.
"Such an act of blackmailing through holding the innocent lives as hostage is utterly impermissible, and we feel strong indignation," Japan's Foreign Ministry said in a statement after the video was released. "We strongly urge the group not to harm the two Japanese nationals and to release them immediately."
The hostage crisis poses a challenge for Abe's government, which has been looking to revise Japan's postwar restrictions to permit a wider range of military activities. Though the funding package he proposed for the Middle East was for nonmilitary spending, the ransom demand from Islamic State could be cited by opponents of Abe's plans as an example of the kinds of difficulties Japan might face if it goes ahead with plans to export weapons and act with more latitude to assist allies, including the United States, militarily.
Japanese national broadcaster NHK said Abe had conferred with British Prime Minister David Cameron and Australian Prime Minister Tony Abbott for assistance in dealing with the hostage situation. The Foreign Ministry also said Japan had reached out to Iran for help.
Japan has very few adherents of the Islamic faith, but one group, the Japan Muslim Assn., issued a statement on Friday expressing deep concern about the hostages and stressing that Islam strictly prohibits the killing of innocent people, and that such acts cannot be tolerated.
AFP Photo