Mourners Gather In Baltimore For Man Fatally Injured In Police Custody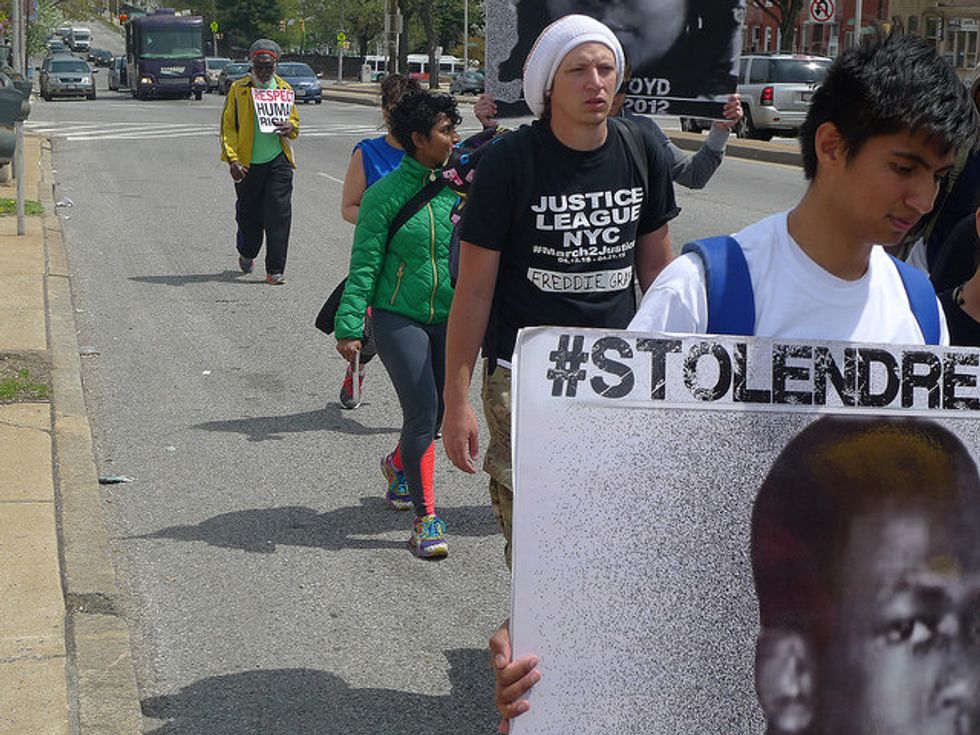 By Michael Muskal, Los Angeles Times (TNS)
Amid calls for peace, family and mourners filed into a Baltimore church on Monday morning for the funeral of Freddie Gray, the 25-year-old African-American who was fatally injured while in police custody.
The funeral took place after a weekend of protests that included 35 arrests and six injured officers. The unrest followed a week of largely peaceful demonstrations over the death of Gray from a severed spine.
Gray died on April 19, a week after he was arrested by Baltimore police who transported him by police van. There were several stops along the way and Gray, handcuffed and wearing leg irons, complained that he needed medical care.
Six officers have been suspended with pay pending an investigation into the incident. Police have acknowledged that Gray should have been wearing a seat belt while being transported in a police wagon. Police should also have been quicker to get medical aid, authorities said last week.
On Monday, members of Gray's family entered the sanctuary at New Shiloh Baptist Church just before the funeral service began about 11 a.m. local time, according to televised images from the scene.
A woman, identified by local media as Gray's mother, Gloria Darden, sobbed in front of the casket and dropped to her knees. She then reached into the casket and appeared to straighten Gray's tie. Flanked by eight floral arrangements, the casket was placed in front of the pulpit.
Thousands are expected at the funeral.
Broderick Johnson, assistant to President Barack Obama and Cabinet secretary, who also chairs the administration's My Brother's Keeper task force, was scheduled to attend. He was to be joined by Heather Foster, an adviser in the Office of Public Engagement, and Elias Alcantara, with the Office of Intergovernmental Affairs, according to the White House.
Also among the expected mourners will be a group called Families United for Justice, which includes relatives of Eric Garner, who died last July after a New York City police officer put him in a chokehold. Protests erupted after a grand jury declined to indict that officer. Other members of the group include relatives of Amadou Diallo, who was fatally shot by New York police officers in 1999.
Baltimore officials are scheduled to submit their findings into the death by Friday. Five of the six officers have been interviewed by police as have several witnesses, including some who shot video of at least one of the stops made by the van.
Exactly what happened to Gray remains a mystery.
Officials have said he died of a severed spine, confirming the family's original claim. The family has said Gray's voice box was crushed and his neck snapped before he slipped into a coma and died a week after his arrest.
Police on Saturday arrested 35 people, including four juveniles, at a protest and rally that turned heated.
Gray's twin sister on Saturday night condemned the violence.
"My family wants to say, 'Can y'all please, please stop the violence,'" Fredericka Gray said Saturday night. "Freddie Gray would not want this."
On Friday, Baltimore Police Commissioner Anthony Batts said he was appalled that Gray did not receive proper medical care immediately when he said he needed his inhaler. He also said officers should have given Gray timely medical care many times during the transport to the police station.
Batts also said there are no excuses for the fact that Gray was not buckled into the transport van.
(c)2015 Los Angeles Times, Distributed by Tribune Content Agency, LLC.
Photo: Susan Melkisethian via Flickr